A lot of the people who really want to embroider items like clothes, shoes, hats, or anything else need an embroidery machine. Selecting the right kind of machine can be a little complicated because you will find many different types. The most notable difference in models is usually between high-end commercial machines and low-end cost-effective machines. The higher-end ones cost more but are easier to use and may have features that will make them worth the investment for some households.
If you do not have enough budget or you do not any intention to use your embroidery machine professionally then you may proceed further and choose a cheap embroidery machine. Usually, you do not need professional embroidery features for your household use. Buying a low-cost embroidery machine is the best choice. In this case, you can spend less money and still get a wide range of features.
This article is going to be about an inexpensive embroidery machine that is cost-effective and good for beginners. I'll go over what an embroidery machine does and why you should consider buying one in the first place. We'll touch on some of the more popular models on the market today (both new models and older models).
List of the Best Cheap Embroidery Machines
Here is the list of the top but cheap (affordable) embroidery machines in 2023,
Edit: We have removed YEQIN Single Needle Embroidery Machine because of its unavailability.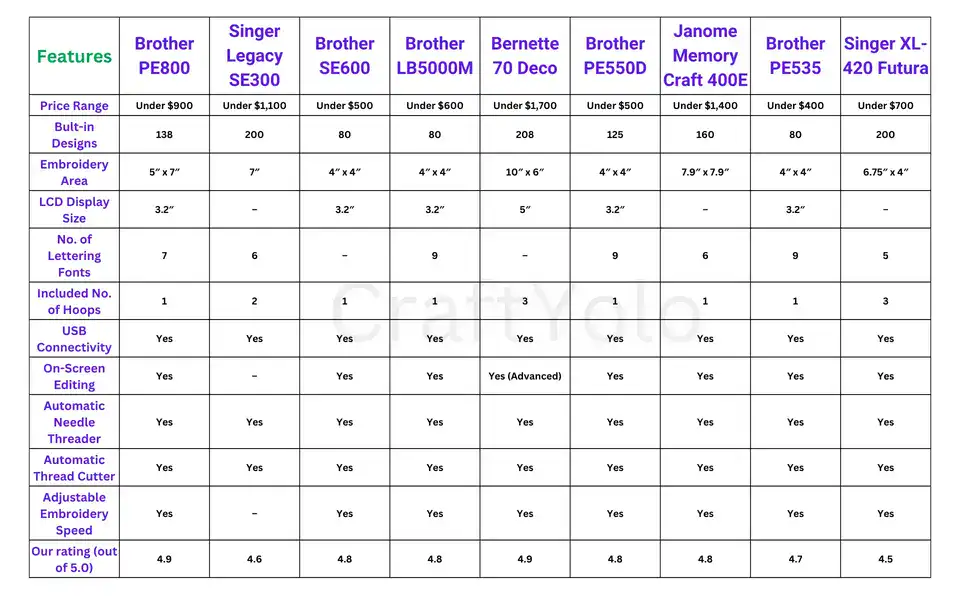 Brother SE600 Embroidery Machine: Under $500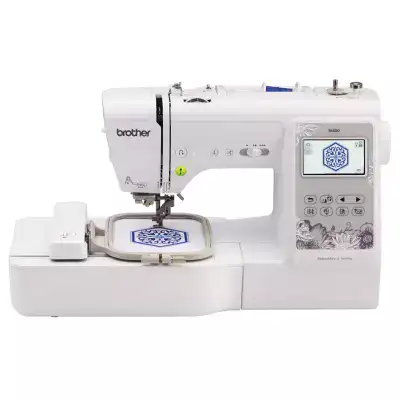 The Brother SE600 is one of the most popular cheap embroidery machines on the market and is known for its great performance and remarkable results. There are numerous embroidery designs and stitches that just add to and enhance your creativity.
Moreover, the machine is suited to the use of both experienced sewers and beginners as the instruction manual is pretty comprehensive, and it teaches you how to operate the machine through easy instructions.
Plus, the machine also comes with a sewing function which really makes both embroidery and sewing accessible through this affordable machine. Also, it's important to highlight that the sewing function in this machine does not compromise the embroidery function; both of them go hand in hand and help you achieve amazing results with embroidery.
Besides, the large LCD screen allows you to view the embroidery designs in several colors making it more convenient for you to understand what embroidery will look like on the fabric.
Features of Brother SE600
4×4 embroidery field
Embroidery foot
4×4 hoop
Embroidery arm
80 embroidery designs
103 built-in sewing stitches
Automatic thread cutter
LED lighting
The automatic needle threading system
Embroidery speed on 400 stitches per minute
Availability of speed adjustment
Pros
Color LCD screen
Lightweight and portable
Automatic needle threader
Commendable illumination
Good value for money
Cons
Not a strong and sturdy machine that you can rely on for years
Few automatic features
Singer Legacy SE300 Embroidery Machine: Under $1,100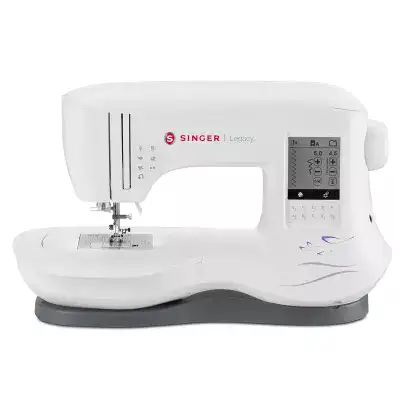 The singer has been manufacturing the best sewing, embroidery, and quilting machines since the 1850s, and this company really knows its game in the industry. The singer has loads and loads of expertise and experience in producing high-quality embroidery machines, and so we decided to introduce you to the Singer Legacy SE300 embroidery machine.
Singer Legacy SE300 also has the complementary functions of sewing, but the machine primarily focuses on the embroidery function. The machine comes with a large embroidery working space, so it's easy and convenient; for you to do embroidery on this machine.
Moreover, you don't have to worry about the skill level to use this machine as certain automatic features and the easy-to-understand interface of the LCD screen make it easy to operate even for newbies.
You'll get an automatic needle threader, automatic thread tension control, speed control, adjustable stitch, and width length as prime features in the machine. Singer Legacy SE300 has around 200 embroidery designs for you to get creative with your embroidery projects.
Features of Singer Legacy SE300
200 embroidery designs
250 built-in stitches
Automatic thread cutter
Automatic thread tension
Automatic needle threader
Start/Stop button
LED lighting
Drop feed system
700 embroidery stitches per minute
LCD screen
2 snap-on embroidery hoops
Bobbin winding feature while embroidery
10 snap-on presser feet
Pros
Variety of built-in designs
High-speed embroidery
Portable
East to set up and use
Comes with a large working area
Cons
Doesn't come with a black and white screen
No cover
Brother PE800 Embroidery Machine: Under $900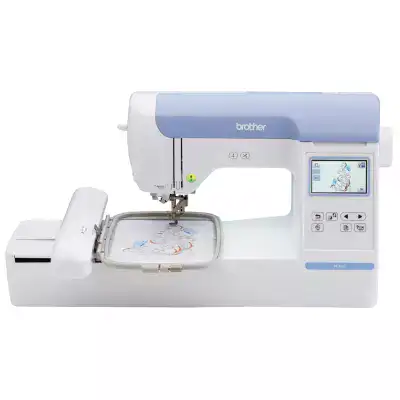 Next on our list of best cheap embroidery machines is the Brother PE800. Brother PE800 is an embroidery-only machine which means you won't find the added function of sewing in this machine, thus making it specialized equipment for embroidery.
This machine has several embroidery designs, fonts, frames, and borders. Plus, its remarkable feature of transferring designs from computer to machine ensures no end to your creativity and the variety of options available to bring your ideas and designs to life.
Furthermore, the large working space and 5×7 hoops make your big embroidery projects easy to handle and efficient. Brother PE800 comes with 138 embroidery designs which are less than Singer's SE300, but it is fully dedicated to the embroidery machine.
Plus, Brother PE800 has a colored touchscreen, unlike Singer's SE300, hence concluding to the fact that all of the mentioned machines will have several features and most of them may be distinct from each other, so it's up to your requirements and preferences as to which one suits you the best. Apart from this, Brother PE800 has many automatic features like an automatic needle threader and automatic thread cutter to provide you with convenience.
Brother PE800 is also on the list of the best Brother Sewing Machines.
Features of Brother PE800
7 embroidery letter fonts
Drag and drop editing is available
10 frame designs
5×7 embroidery hoops
650 embroidery stitches per minute
Color LCD screen
LED lighting
Automatic needle threader
Automatic thread cutter
USB compatibility
Quick set bobbin
Pros
Reliable computerized embroidery machine
Fast stitching
Inexpensive
Relatively easy to use embroidery only machine
Cons
Doesn't come with additional functions like sewing and quilting
Bernina Bernette 70 Deco Embroidery Machine: Under $1,700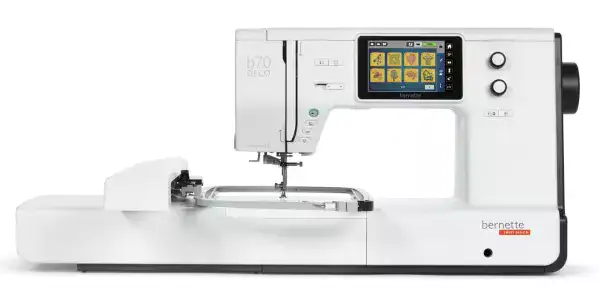 Bernina is known for manufacturing high-end sewing and embroidery machines. However, usually, these machines do not come under the umbrella of affordable machines, but there is one Bernina that you can call the best cheap embroidery machine in Bernina's diverse product portfolio.
The Bernina Bernette 70 deco is a versatile machine that comes with a lot of useful and appealing features. This high-end Bernina embroidery machine is easy to use and set up because of its computerized properties that include a touchscreen which comes in handy when you want to conveniently edit and select the embroidery designs.
Moreover, the machine equips three different sizes of embroidery hoops along with a hoop detection feature. Plus you can easily open and close the hoops with a rapid-release system. Bernina Bernette has the most embroidery designs as compared to the machines mentioned above. And lastly, this machine comes with Bernina's signature precision and fine quality stitches.
Features of Bernina's Bernette 70 Deco
5-inch color touchscreen
Multi-purpose knobs
3 distance sizes of hoops
Hoop detection
260×160 mm embroidery working area for large projects
208 built-in embroidery motifs
Lower and upper thread sensors
Drop-in hook system
850 stitches per minute
Pros
Accurate stitches
High-speed stitching
Variety of designs available
Easy to use the touchscreen
Affordable Bernina embroidery machine
Cons
Not suited to beginner use
Does not come with sewing functionality
Not a machine suited to travel as the design isn't portable enough
Check here for more Bernina Sewing and Embroidery Machines.
Brother PE550D Embroidery Machine: Under $500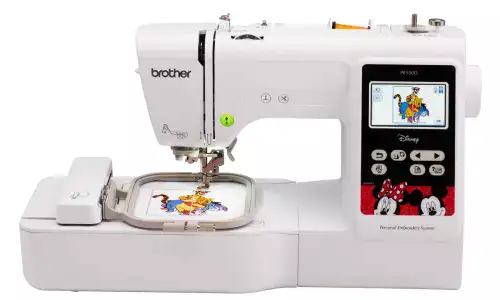 Whereas other manufacturers may not focus on portability or the weight of the machine, Brother produces machines that are lightweight and portable which makes them perfect for travel purposes. Just like that, Brother PE550D is also a lightweight and portable embroidery-only machine by Brother. It's one of the most affordable options on this list and perfectly fits the position of a cheap embroidery machine.
At this price, you may not receive a lot of features but still, the ones you get are pretty amazing and enough at this price. The machine comes with 125 built-in embroidery designs, along with an LCD touchscreen for quick selection and editing of the embroidery designs.
Brother PE550D also has USB compatibility, which means you can easily upload or transfer your designs from the computer to the machine and easily achieve your desired design. Also, the machine has an automatic needle threader to cut back hassle for you.
Features of Brother PE550D
125 built in embroidery designs
7 feed dog points
Automatic needle threader
LCD display touchscreen
650 embroidery stitches per minute
LED lighting
Quick set bobbin
USB port
4×4 embroidery hoops
Pros
Produces good quality stitches
Easy to use
USB compatibility
Lightweight and portable
Cons
Less variety of stitches
Limited features
Small embroidery hoops
Janome Memory Craft 400E Embroidery Machine: Under $1,400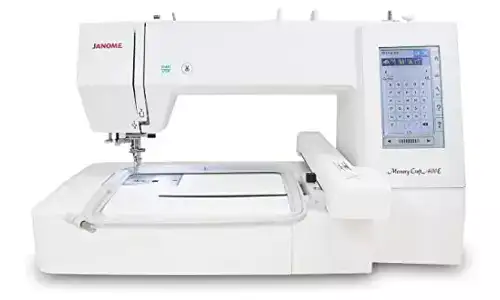 Janome Memory Craft 400E is a computerized embroidery machine that comes with a working space of 7.9×7.9. It is a durable and affordable machine which the manufacturer Janome is known for in the market.
Janome MC400E is capable of stitching fabrics at the speed of 850 SPM (stitches per minute). This kind of stitching speed under the banner of cheap embroidery machines is definitely a plus point and worth investing in if you're looking forward to productivity and efficiency.
Also, when combined this feature with other features, like the programmable jump thread and adjustable hoop system, this kind of speed can help you achieve accurate and precise embroidery stitches that'll ultimately enhance the quality of your work.
Janome Memory Craft 400E comes with a range of 160 built-in embroidery designs to stimulate your creativity using these designs. However, the number of built-in designs in this machine may be less than the other machines, but if you think that is enough for your requirement, then this Janome is the best pick for you.
Features of Janome Memory Craft 400E:
160 built-in embroidery designs
7.9×7.9 embroidery working area
6 monogramming fonts
Stitching speed of 850 stitches per minute
On-screen editing
LCD display
Top holding rotary hook system
Automatic thread tension
Programmable jump thread
Adjustable hoop positioning
Pros
Produces high quality and precise embroidery stitches
Convenient on screen editing of the embroidery designs using the LCD touchscreen display
Fast stitching
Easy to set up
Comes with all necessary accessories
Cons
Not suitable for beginner use
Not a travel-friendly machine
Brother PE535 Embroidery Machine: Under $400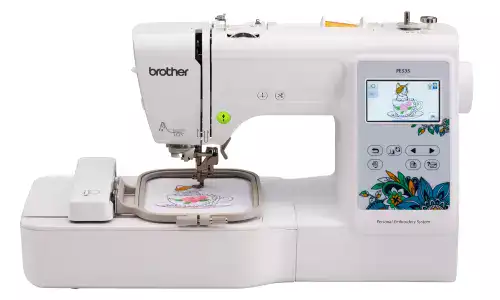 We've reviewed a PE model from Brother earlier too, but this one is more beginner-friendly and also cheaper than the above-mentioned PE550D as it is an older model. However, if you have a similar Brother embroidery model, but that is an obsolete one, and you want to go for an update, but not a fully professional machine, then you can go for the Brother PE535.
This machine comes with a larger and colored touchscreen, unlike the previous models. Besides, it is very easy to operate and set up, so it won't be a problem getting the hang of it in less amount of time. Also, Brother PE535 will help you achieve even and remarkable stitches throughout your embroidery projects.
And if you want, you can upload additional designs from your computer to the machine using the USB port, which means if you think the built-in designs are not enough, then you can always go for uploading your designs to maintain the creative workflow.
Features of Brother PE535
80 built-in embroidery designs
6 lettering fonts
Automatic needle threader
Embroidery speed: adjustable
3.2 inches LCD display
4 x 4 inches embroidery field
LED Lightning
Built-in tutorial
USB Connectivity
Computerized embroidery machine
Automatic Needle threader
Pros
A versatile embroidery machine
Easy to operate
Good value for money
Easy to set up
Portable
Cons
Limited features
Few built in designs
Not suitable for the use of experienced and professional sewers
Singer XL- 420 Futura Embroidery Machine: Under $700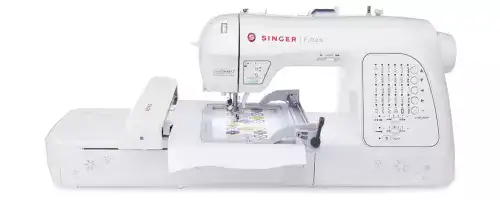 Singer XL-420 is known for being one of the best dual machines in the market. A machine that produces high-quality stitches for both embroidery and sewing. The machine comes with around 200 embroidery designs along with 30 built-in stitches for sewing.
Besides, it can be connected to a computer through the USB port to transfer additional designs so that there are no obstacles in your embroidery ideas and bring those ideas to life using the Singer XL-420. Moving on, the machine comes with embroidery hoops of three different sizes which provide you with ample flexibility with the embroidery projects.
Moreover, the automatic needle threader in this machine will save your time and eyes from strain as you don't need to thread the needle by yourself anymore. The feature of connecting computers is awesome, but do keep in mind the machine doesn't support Mac or OS computers. Hence, if you've Windows, then only you'll be able to transfer the designs via computer.
Features of Singer XL- 420 Futura
200 embroidery designs
30 sewing stitches
Different sized hoops
USB probability
5 fonts for monogramming
SwiftSmart Threading System
LED lighting
1 step Buttonholes
Knee lifter
Large sewing area
Programmable Needle Up/Down
Automatic Tension
Speed Control Lever
Heavy Duty Metal Frame
Pros
Versatile machine
Easy to use
Easy to set up
Durable and reliable
Great value for money
Cons
No display screen
It isn't compatible with Mac or OS computers
Brother LB5000M Marvel Embroidery Machine: Under $500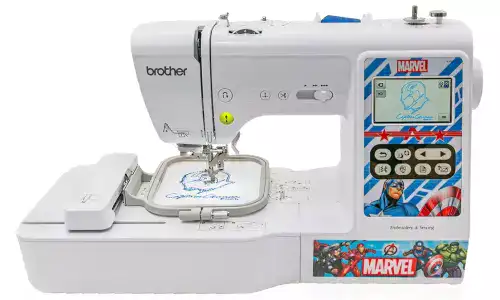 This is a special edition Marvel embroidery machine by Brother, which means you can also stitch your favorite avengers using the Brother LB5000M. It is a great machine for hobbyists and people who want to start learning how to do embroidery. Moreover, the machine might not be ideal for the use of professionals, but it's a great and affordable choice for casual learners.
Features of Brother LB5000M
Marvel faceplate pack
Marvel design pack
4×4 embroidery field
Color LCD touchscreen
80 built in embroidery designs
9 embroidery letter fonts
103 built-in stitches
7 sewing feet
Automatic bobbin winding system
Pros
Interchangeable Marvel front plates
Easy to use
More embroidery designs apart from the Marvel theme
A perfect pick for hobbyists and newbies
Cons
Small hoops and embroidery area
Limited features
Not a durable machine because of cheap build quality
FAQ about Best Affordable (Cheap) Embroidery Machines
What is the best and cheapest embroidery machine in 2023?
I have added the 9 best embroidery machines that provide you the quality and also are the most affordable. But, if you want a clear winner as the cheapest embroidery machine then it is, Brother PE550D. Brother PE550D is the most affordable (under $500) yet powerful embroidery machine available as of 2023. If you want a second option then consider Brother LB5000M as this is also the cheapest yet best embroidery machine after Brother PE550D.
What is the best brand for the cheapest embroidery machines?
You might have noticed that I have added most of the options from Brother embroidery machines. I have added more Brother embroidery machines just because Brother produces the best quality mid-range embroidery machines. If you want to go commercial then these mid-range embroidery machines from Brother are not the perfect match for you, go for Melco Embroidery Machines or Juki Multi-Needle Embroidery Machines.
What is the best but cheap multi-needle embroidery machine?
You can not have a multi-needle embroidery machine with a low budget because of the high quality of such embroidery machines. There are many embroidery machines that can cost you up to $5,000 but still, they contain single-needle composition. For example, Brother Persona PRS100 can cost up to $5,000 but does not come with multi-needle composition. You must have a higher budget if you do want to have a multi-needle embroidery machine. There is no embroidery machine with a multi-needle structure on this list because I have to put the most affordable embroidery machines.
What is the best cheap computerized embroidery machine in 2023?
Brother PE550D is the best option to consider if you are looking for an embroidery machine that is computerized but does not cost much. It is a very cost-effective embroidery machine with an LCD display. You can get Brother PE550D easily only for $400. You can find almost every function that a basic computerized embroidery machine should have under such a small price tag.
What is the best cheap embroidery machine with USB Port?
Almost every embroidery machine listed above on our list does offer USB Connectivity except a few. You can compare their other features also and decide which suits you best. But, if you want a clear winner, I will recommend you Brother PE550D Embroidery Machine which comes with USB Port to import your designs.
What is the best cheap embroidery machine for shirts?
If you're looking for an affordable embroidery machine specifically for embroidering shirts, the Brother PE550D and Brother LB5000M are top options to consider. These machines are known for their quality and affordability, making them suitable for adding embroidery designs to shirts and other garments.
With features such as LCD displays, USB connectivity, and a range of built-in designs, these Brother machines offer a cost-effective solution for shirt embroidery projects without breaking the bank.
Why are embroidery machines so expensive?
Embroidery machines can be pricey due to various factors. One of the main reasons is the technology and features they offer. Advanced features such as multiple needles, larger hoop sizes, touchscreen displays, and automatic thread cutters can increase the cost of an embroidery machine.
Established brand reputation also plays a role, with well-known brands commanding higher prices due to factors like customer loyalty and quality assurance. Moreover, the high-quality materials, durable construction, and research and development costs involved in creating embroidery machines add to their price.
Demand and supply dynamics also impact the cost of embroidery machines. It's important to consider that while embroidery machines may seem expensive, they are an investment for serious embroiderers, and it's essential to carefully evaluate features, specifications, and budget to choose a machine that best fits your needs and budget.
Final Thoughts
Purchasing a good quality embroidery machine can often be heavy on your pocket, but there are some affordable options in the market to choose from, which we can also call the best cheap embroidery machines. In this guide, I've listed the 9 best cheap embroidery machines to buy in 2023, you'll find a detailed review along with the list of prominent features and pros and cons of the mentioned embroidery machines. We hope this article turns out to be informative and helpful for you.