If you're a professional sewer or a beginner and you want to purchase a Bernina machine. However, if you don't know where to start and which are the best Bernina machines, don't worry this article will provide you with solid information about the 10 best Bernina machines to purchase in 2023.
But before we proceed, I would like you to have a look at the list of remarkable Bernina machines. After that, you can continue with a detailed review of the best ones.
Best Bernette And Bernina Sewing Machines List 2023
Here below is the list of best Bernina Sewing Machines list to consider in 2023.
Bernina 720: Under $5,000
Note: We have removed Bernina 540 and added Bernina 720 in its place.
Bernina 720 is a great option to consider. Indeed, it is the best sewing machine by Bernina which can be considered the best allrounder for sewing, quilting and embroidery. Bernina 720 is a computerized sewing machine that comes with an array of features that are sure to make your sewing experience a satisfying and fun one. This sewing machine is designed to allow users to maximize their creativity as it offers over 681 stitches, 300 built-in embroidery designs, and 1048 stitch patterns so everyone can explore their creativity.
Its touch screen display of 4.3″ allows users to view, create and store the design they want digitally through the built-in memory card. When you need extra help, you can count on the included instructional DVD which provides all the information you will need to get started with your new sewing machine. It is the best for beginners and advanced sewists and provides an all-in-one experience for Sewing, Quilting, and Embroidery. You get all kinds of automatic features in it like Automatic Needle Threader, Automatic Thread Cutter, and much more.
Overall, this is a great quality machine with great features. It is easy to use and can be used for both newbies and professionals.
Features of Bernina 720
Stitching speed of 1,000 SPM
300 decorative stitches
1048 stitch patterns
Automatic buttonholes
Automatic Needle Threader
Automatic Thread Cutter
4.3″ color touch screen
Maximum stitch length of 6.0 mm
Maximum stitch width of 5.5 mm
Start/stop button
8.5″ free-arm length
Free-arm embroidery option
Large embroidery hoop of 15.7″ × 8.3″
Pros
Large embroidery hoop size of 15.7″ x 8.3″
Free-arm embroidery supported
681 decorative stitches
Large number of stitches styles
Cons
Bernina's Bernette B79: Under $2,000
Bernette B79 is part of Bernina's 70 sewing machine range launched just 3 years ago. It comes with a combination of features from the other two machines in this range: the B70 DECO and B77. The machine is suitable for both sewing and embroidery.
Plus, it also has a 6"×10" embroidery field, so you can easily add embellishments if you want. Moreover, Bernina Bernette 79 comes with a lot of other features like a built-in walking foot, programmable foot pedal, knee lift, etc.
Furthermore, the machine includes an LCD screen to make it convenient for sewers to view and select stitches and embroidery designs easily. The Bernina Burnette B79 provides you with a range of 550 built-in stitches; for any type of sewing project, you can't possibly go out of creative ideas with the variety provided by this sewing machine.
Check here the detailed review of Bernette B79
Features of Bernina's Bernette B79
Sewing Speed of 1000 SPM (Stitches Per Minute)
Embroidery Speed of 850 SPM (Stitches Per Minute)
Multi-purpose knobs for quick operations
Large sewing and embroidery area
550 built-in stitches
Dual feed system
Programmable foot
LCD screen
Built-in walking foot
Colored touchscreen
Stitch width 7mm
Drop-in hook system
208 embroidery designs
17 one-step buttonhole designs
Pros
Affordable sewing and embroidery combo
File format compatibility
Remarkable illumination
The built-in walking foot makes it convenient to stitch multi-layered fabrics
Cons
It's a heavy machine that makes it unsuitable for traveling
Takes time to turn on which may prove to be inefficient for some people
Lack of a machine manual
Bernina's Bernette B77: Under $1,500
The B70 series by Bernina is just not a sewing machine range but rather a range of distinctive combos with different functions. Just like Bernina Bernette B79 is an embroidery and sewing combo, Bernina Bernette B77 is a computerized and easy-to-use quilting and sewing combo. This machine can sew a variety of thick and thin clothes; from chiffon to leather, you can rely on Bernina's Bernette B77 for everything.
Moreover, the machine is also capable of remarkable quilting and provides a range of 35 different quilting stitches to take your designs to the next level. Apart from that, Bernina B77 has utility and decorative stitches too, which sums up to a total of 500 built-in stitches, along with the perk of 17 designs of buttonholes.
This machine is an affordable option for beginners as it is equipped with the right features to aid them in the early stage of sewing and quilting. On the other hand, it provides them with enough options and designs to choose from, which will let them play around with different stitches and designs to push their creativity.
Do not you need a combo machine? Well, you can consider other sewing machines of Bernina if you want to have an embroidery-only machine. You can consider our review of Bernette 70 Deco Embroidery Machine which is a great choice among all the other Bernina embroidery machines.
This machine is recommended by many experts in the industry, one of those videos recommending this machine is here below.
Features of Bernina's Bernette B77
Semi-automatic needle threader
500 built-in distinctive decorative, utility, and quilting stitches
Multi-purpose knobs for fast operation
5-inch colored touchscreen
LED lights for illumination
7mm stitch width
Drop-in hook system
8 presser foot
Extension table
Sewing consultant for tips and suggestions
Dual feed and programmable foot control
Pros
Good value for money
Portable
Suitable for beginners
Cons
No front-loading bobbin
No automatic tension
Bernina 770QE: Under $7,000
Bernina 770 QE is an excellent machine for high-quality and precise stitches. Moreover, Bernina's Adaptive Thread innovation helps set the best tension for each stitch by electronically adjusting the tension according to the stitch length and width. Moving on, this machine is capable of embroidery and comes with a large working space for quilting which makes this machine an ideal 3-in-1 package.
Furthermore, Bernina 770 QE has a unique feature of a large bobbin that holds 70% more thread than normal bobbins which will eventually rid you of the hassle of refilling the bobbin again and again. Although this machine is capable of high-speed stitching of around 1000 stitches per minute yet it doesn't produce noise or uneven stitches. Lastly, the machine also comes with a patchwork foot designed especially for straight stitches when patching the fabric.
Features of Bernina 770QE
The Sewing Speed of 1000 SPM (Stitches Per Minute)
Color touchscreen
Stitch width of 9 mm
Automatic presser foot lift
Over 900 built-in stitches
Manual multi-step buttonhole
LED sewing lights
Semi-automatic needle threader
Manual thread cutter
Adaptive thread tension
Slide speed control
Lower thread indicator
Large bobbin
Creative consultant
Pros
Ideal tension for excellent stitches
Ample workspace for large projects
Quiet machine
Produces precise stitches even on high speed
Cons
Requires frequent maintenance
Lock stitch at the start of every stitch because of its computerized nature
The screen size could be larger
Bernina 590: Under $8,000
Bernina 590 has more automatic features than the two sewing machines mentioned above. This Bernina is also a 3 in 1 one package allowing sewers to sew, embroider, and quilt with the help of convenient and efficient automatic features like an automatic presser foot lift, automatic threader, and a large LCD touchscreen that lets you switch to different modes with just one touch.
Moreover, the machine is suitable; for stitching almost all kinds of fabrics including thin, thick, and slippery fabrics. The machine comes with a large front-load bobbin keeping you on the go without any distractions. Besides, you can sew at a high speed without the noise annoying you as this model too is a quiet sewing machine.
Features Bernina 590
Color touchscreen
Automatic presser foot lift
Stitching without foot control with the help of the start/stop button
Triple stitch ability
Programmable securing function
1774 built-in stitching patterns
Automatic buttonhole system
Speed of 1000 stitches per minute
16 LED sewing lighting
Multi-purpose knobs
11 needle positions
Semi-automatic needle threader
Automatic thread cutter
Bernina dual-feed system
Adaptive thread tension
Slide speed control
Color wheel for embroidery
Bernina Artlink embroidery software
Thread away mode
9mm of maximum stitch width
Pros
Automatic features bring more efficiency
Produces quality stitches
Variety of quilting, embroidery, decorative, and utility stitches available
Quiet and fast sewing machine
Can handle all sorts of fabrics
Cons
Expensive
Better suited to an experienced sewer
Bernina 475 QE: Under $3,000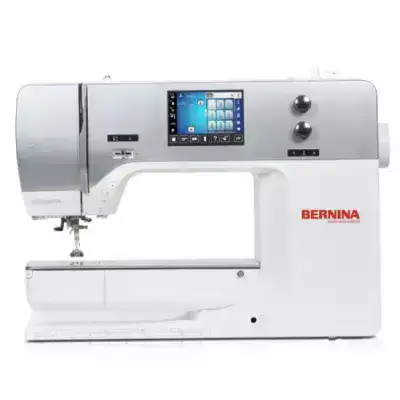 Bernina 475 QE is a quilter's edition mid-ranged sewing and quilting machine. Along with quilting, this machine also provides amazing performance and results in the sewing domain too, but it just has some extra features for quilting as it's the QE edition.
This machine has more features than a basic sewing machine, however fewer features than in a higher range Bernina sewing machine which is why it is referred to as a mid-range machine.
This Bernina model has relatively small stitch sizes than the other mentioned models, if you are interested in quilting but want bigger stitch sizes then, you should consider all of the features in a machine as you can very well quilt on the other models too.
Moreover, you will not find the dual feed system in Bernina 475 QE. Although it does have fewer features than a Bernina 790 it's a good pick to start from and experiment with, as well as experience sewing with Bernina.
Features of Bernina 475 QE
Jumbo bobbin
Patchwork foot #37 available
Automatic thread cutter
The sewing speed of 900 stitches per minute
Color touch screen
Automatic securing function
Free-hand system
840 built-in stitch patterns
Automatic buttonhole
Reverse sewing available
8 LED lights illumination
Pros
Great for quilting
Jumbo bobbin
Automatic features to but back hassle
Relatively affordable than other high ranged models
Cons
Doesn't come with a large stitch size
Less throat space
Doesn't come with BSR
No dual feed feature
That's all for Bernina 475 QE. Is it not this best quilting machine for you? Well, check here our recommendation of Handi Quilter Moxie Longarm Quilting Machine.
Bernina 335: Under $1,500
Bernina 335 is a compact powerhouse of a sewing machine. It can fit anywhere and easily be carried to any place with you, yet it is capable of sewing through any type of fabric. This is a real innovation that manufacturers like Bernina have brought up. Now, you don't need a machine to be large-sized and bulky to define its quality.
Bernina 335 can not only sew all kinds of fabrics, but you can put on embellishment too using this Bernina. Plus, this machine is a perfect example of a helpful and convenient product, you can easily start sewing by pressing the start/stop button rather than reaching out for the reverse switch button or the foot control. Moreover, its compact and portable design makes it easier to carry when you're traveling or going to take some sewing classes.
Also, the machine has plenty of space to work, which makes it suitable for large sewing projects as well. Overall, it's a durable, affordable, and versatile sewing machine which is great for beginners but can be used by experienced and professional sewers too.
Features of Bernina 335
The sewing speed of 900 stitches per minute
LCD screen
LED sewing illumination
Stitch width of 5.5mm
2 spool holders
Semi-automatic needle threader
Reverse sewing
Manual thread cutter
Start/stop button
Slide speed controller
221 built-in stitch patterns
Automatic buttonhole feature
Pros
Ideal stitch width for quilting
Portable and lightweight
Quiet and smooth functioning sewing machine
Suitable for any kind of fabric
Easy to set up and use
Cons
Limited amount of stitches
No automatic thread cutter
Expensive
Bernina 880 Plus: Under $15,000
Bernina 880 Plus comes from a high-end range of sewing machines. This machine produces fine and high-quality stitches that are just so appealing that you can't take the eye off this art. Bernina 880 Plus features a separate embroidery unit and a 7 inch colored touchscreen to provide you assistance in choosing embroidery designs and stitch patterns within a matter of time. Furthermore, the transparent bobbin feature enables you to make sure you've enough thread to continue with your sewing.
Excellent illumination is not even a question with Bernina 880 plus as it is lit with 30 LED lights. Apart from this, you'll find two USB ports and a headphone jack for computer connectivity for upgrades and downloading new designs. Bernina 880 Plus brings you innovation and creativity along with durability and convenience, which makes it a sewing machine worth investing money in. Plus, it has a whole range of 176 built-in stitch patterns.
Features of Bernina 880 Plus
Sewing speed of 1200 stitches per minute
300 mm sewing space right to the needle
7 inch colored LCD
30 LED lights lighting system
Stitch designer and distortion feature
Free hand system
360 degree directional sewing
1764 built in stitches
Automatic and manual multi step buttonhole
Floral and cross stitch patterns
Stitch width of 9mm
3 spool holders
Pros
Quiet and fast
Produces fine stitches
Fast and capable of prolonged sewing and embroidery
Large sewing and embroidery workspace
Cons
Expensive
Not suitable for leather, fur, and reptile skin fabrics
Not for beginners and amateurs
Bernette 38 has an aesthetically pleasing and simple design, and the LED screen found on the front of the machine is not at all distracting or inaccurately placed. It's quite easy to use and set up, plus it comes at a relatively economical price. Given the price of the machine, it has many features such as an automatic thread cutter, adjustable speed, extended table, etc.
The machine is capable of handling all kinds of fabrics from silks to muslin, Bernina Bernette 38 can sew anything, which is truly an appealing feature as you won't have to worry about the compatibility of your machine and the fabrics you want to use. Lastly, it's perfect for hobbyists and beginners, and it won't be wrong to say Bernina Bernette 38 is a versatile and durable option for casual sewers and newbies.
Do you want to see its sewing smoothness in action? Check this video below.
Features of Bernette 38
Drop-in hook system
7mm stitch width
394 built-in stitch patterns
8 one-step buttonhole designs
Speed of 820 stitches per minute
Pros
High-end sewing machine
Provides good value for money
LED screen and variety of stitches available
Durable
Cons
Can be a costly investment
Heavy
No embroidery function
Bernina 790 Plus: Under $13,000
Bernina 790 Plus is a high-quality and reliable sewing machine that makes using it easy. This machine features a built-in design that provides you with more sewing space, more speed, and more convenience as it is lightweight with a simple one-step mechanism. Besides this, the LED lighting system offers ample illumination in dark areas so you can sew in any condition or place. The LCD panel offers enhanced visibility to see every detail and stitch pattern in the best possible way.
The Bernina 790 Plus allows you to perform a variety of stitches with ease like stretch stitches, decorative stitching, and freehand embroidery too. All these are made possible by its advanced twin needle technology that delivers exceptional performance. Additionally, the machine has a wide and deep workspace to ensure you have enough space for working with any kind of fabric. In short, the Bernina 790 Plus is a complete and amazing machine for both experienced and beginner sewers.
Most sewing machines only come with a 6 or 7 mm stitch width but it offers you adjustable stitch width of 9.0 mm and stitch length of 6.0 mm which is enough for any stitches. 7″ touch screen display is also very easy to use and very understandable.
Features of Bernina 790 Plus
Maximum stitching speed of 1,000 SPM (Stitches Per Minute)
Sewing, Quilting & Embroidery Area of 10″
7″ touch color screen
LED Lighting
Multi-function knobs
Maximum stitch length of 6.0 mm
Maximum stitch width of 9.0 mm
11 needle positions
2 spool holders
Automatic needle threader
Automatic thread cutter
Adjustable presser foot pressure
BERNINA Dual Feed (BDF)
Adaptive Thread Tension
Create and save stitch combinations
Memory (short-term/altered stitches)
Memory (long-term/altered stitches)
32 total stitches
15 buttonhole styles
Automatic buttonhole length measuring system
Automatic buttonhole
Manual multi-step buttonhole
Button sew-on program
506 decorative stitches
34 quilting stitches
37 cross-stitch programs
28 skyline stitches
8 sewing alphabets
332 built-in embroidery designs
18 embroidery alphabets
Embroidery design formats: EXP, DST, PES, PEC, JEF, SEW, PCS, XXX
Pros
All-in-one sewing machine (sewing, Quilting & Embroidery)
Large working space of 10″ for Sewing, Quilting, and Embroidery
A large number of built-in designs and alphabet
Cons
Embroidery speed could be improved
Things to Consider While Buying Bernina or Bernette Sewing Machine
I have mentioned the list of best top-valued Bernina and Bernette sewing machines. And, there are links added to buy these machines with discounts online but you might not consider buying these online. In such a case, I am adding some points to consider before buying a Bernina or Bernette sewing machine either from your local dealer or somewhere else.
Skill Level
First of all, you have to check your sewing skill level. You might be a beginner and will not be able to use an advanced sewing machine. Make sure that you know your skill level to your best and always buy a Bernina sewing machine as per your skill level.
By having an idea of your skill and taste, you will be able to choose the best sewing machine. If you are sure about your skill and you think of yourself as a beginner then Bernina Bernette B77 is a perfect match for you. And, on the same time, it is not a great option for you if you are an advanced sewer and want something more than high quality. Consider Bernina 880 Plus which is a perfect option available for advanced sewers. Beginners can not use Bernina 880 Plus in the right way as it is an advanced sewing machine by Bernina. That's why I recommend you to choose your sewing machine as per your skill level.
You might need to consider your preference between Mechanical and Automatic too. Never consider an advanced and automatic sewing machine if you are not well aware of the technology and advanced features coming in the new sewing machine. Mechanical sewing machines are preferred by some people and some find them just a piece of garbage and they lack many advanced features. For example, you can not find an Automatic Needle Threader in mechanical sewing machines but automatic machines do have this feature just a single button click away.
Stitching Speed
You have to consider stitching speed as a factor because it is something on the basis of which you also compare sewing machines. It is very important to consider stitching Speed whether you are looking for Sewing Machine, Quilting Machine, or Embroidery Machine by Bernina or Bernette. It is not wise to look for only high sewing speed machines because high sewing speed machines might cause problems for beginners.
I personally recommend you to consider a machine having a sewing speed of not more than 600-800 SPM. Some sewing machines offer variable sewing speed features by which you can adjust the sewing speed of your Bernina or Bernette sewing machine. So, you will not find any problem in your sewing experience if your machine provides variable sewing speed even if you are a beginner because you can adjust its speed as per your preference.
Price
Price is obviously a factor to accept or reject a sewing machine. And, you will take the price of a sewing machine into your consideration even if I do not list it here. Both Bernina and Bernette provide high-quality sewing machines. You might say that these machines are a bit high-priced as compared to other machines but due to their high quality, I will only say, they are worth considering.
This is not the case every time, some of the machines by Bernina and Bernette are high-priced and do not offer what you pay. So, always consider the price before buying a Bernina or Bernette Sewing Machine.
Other Features
You need to consider a variety of other features too to choose the best fit for you. Consider features like Four-Step Buttonholes, Automatic Needle Threader, Bobbin Winder, Automatic Thread Cutter, Adjustable Tension, Adjustable Speed, and Warranty should be considered while buying a Bernina or Bernette Sewing Machine.
If you are looking for a combo, Sewing and Quilting Machine, make sure that the machine provides large throat space or has an extension table included. And, for Bernina Embroidery Machine you have to look for embroidery speed and stitching quality mainly. Consider Bernina's Bernette 70 Deco if you are a beginner and Bernina's Bernette B79 if you want something of high quality.
FAQ about Bernina & Bernette Sewing Machines
Are Bernina Sewing Machines reliable?
Bernina is a good name for manufacturing high-quality sewing machines. Quality is something that Bernina takes seriously while manufacturing a sewing machine. By introducing high-quality sewing machine models i.e., Bernina Bernette B77 and B79, Bernina has proved to be a great brand. Quality is the main reason for which it is listed as the best sewing machine for 2023 by Money.com.
Are Bernette Sewing Machines as good as Bernina? (Bernina vs Bernette)
Yes, Bernette is a part of Bernina as you can see here on the official website of Bernette which clearly states; "Bernette is a brand of the BERNINA Textile Group." Bernette is managed by Bernina and both of these companies are renowned for producing the same yet high-quality sewing machines. Moreover, Bernette Sewing Machines are being sold online by Bernina as you can see here on Bernina Shop.
Is Bernina better than Juki, Brother, and Singer?
Well, Juki has proven years of experience in producing high-quality sewing machines. Their advertisements do not just show a high-quality tag but it has now proved as experts have listed Juki TL-2010q and Juki TL-2000Qi as the best sewing machines for 2023. So, Juki is still a step ahead of Bernina and Bernette whether it be sewing, quilting, or embroidery machine. But, some of the models made by Bernina have really left Brother and Singer behind. Bernina believes in quality instead of quantity that's why Bernina and Bernette have a low number of models available in the market as compared to Singer and Brother.
How many years of warranty do Bernina Sewing Machines provide?
Well, there is no fixed-year warranty when you buy a Bernina or Bernette Sewing Machine. You get a warranty of 10 years when you buy Bernette B79 and of 25 years for B70 Deco. So, their warranty varies from one machine to the other.
Are Bernina & Bernette Sewing Machines good for beginners?
Bernina is an excellent choice for beginners. They are reliable, durable sewing machines that can sew through most fabrics with ease. Their feet are easy to use and the machine itself has a wide range of features making it one of the best on the market today. It's also very reasonably priced. This makes Bernina sewing machines great for newbies who are figuring out what they like and want.
Almost all of the Bernina or Bernette sewing machines are computerized so these are easy to use as compared to mechanical sewing machines. These computerized machines also have many automatic features like built-in stitches, automatic threading, thread cutting, and the ability to create your own patterns. A beginner can use these features to create a lot of different designs with ease.
What is the best mechanical Bernina sewing machine?
Bernette B35 is the best non-computerized Bernina sewing machine. It has all the basic features of a computerized machine and many more except a few like Screen Display. The Bernette B35 definitely has all the features which will solve any sewing problem that might arise, whether in fashion designing or in-home decorating, or in tailoring. Moreover, it is not costly and yet it produces high-quality sewing output. It is a very beginner's friendly and affordable sewing machine, you can buy it only for $299. Paying just $299 for a Bernina sewing machine is not a bad deal at all.
What is the best computerized Bernina sewing machine?
The best computerized Bernina sewing machine is Bernina's Bernette B77. It is a computerized sewing machine with a 5″ screen display on the top panel of the machine. The Bernette B77 has all the basic features of a computerized machine except its screen display. It does come with 500 built-in stitches which are great for sewing and quilting. The Bernette B40 also has all the features like stitch selection, stitch length and width selection, needle position, automatic needle threader, seam ripper, and other great features which make it a must-have sewing machine for all beginners and advanced sewists to work on any kind of project.
Where are Bernina Sewing Machines made?
Every sewing machine manufacturer is struggling to cut their production cost and they have been somehow successful in doing that so. Many sewing machine brands started their production in Japan but later on, they shifted their plants to China, Vietnam, Thailand, and some other Asian countries to cut their production cost. Obviously, this affected the quality of sewing machines also but this was not the case with Bernina. Bernina sewing machines were started manufactured in Switzerland and still, they are holding this status. From 1893 to now, Bernina and Bernette sewing machines are made at Steckborn, Switzerland with the same high quality at which they started.
How often do I oil my Bernina sewing machine?
You need to adopt the habit of regular maintenance of your Bernina sewing machine If you want to avoid Sewing Machine Needle, Tension, Bobbin, or Thread Breaking problems. You should oil your Bernina or Bernette sewing machine every 1-2 months. The oiling period may change depending on your use and also do not forget to clean your bobbin case and the surrounding area after 2-3 days of use.
Where to buy a used Berina sewing machine?
Bernina and Bernette sewing machines are not that much affordable as other sewing machine brands. So, many Bernina lovers can not just buy their expensive sewing machine which makes them buy a used one. You have to regularly check eBay and Craigslist for used Bernina sewing machine ads and buy one if someone wants to sell your favorite used sewing machine. For a detailed guide, you can check how to buy a used sewing machine.
Final Thoughts
Bernina is the manufacturer of the best top-end and professional sewing, quilting, and embroidery machines. In this article, we've enlisted and reviewed the best Bernina sewing machines to consider in 2023. You will find machines suited to different sewing aspects and also get to know which machine is suited to beginners and experienced sewers, along with that; which machine is good for quilting and embroidery.
Have you made a final decision after checking these Bernina and Bernette sewing machine? If not yet or you are confused and want to ask questions, leave a comment below and we will try to answer your question as soon as possible.