Buying a professional long arm quilting is an intimidating process because of all the features and specs and variety of quilting machines available on the market, and it becomes quite difficult to choose the right product.
Handi Quilter Moxie is a long-arm quilting machine that has been designed with the customer in mind. It comes equipped with a 15″ throat, which makes it perfect for any size project and allows you to work on larger projects without having to worry about stitching through the arm of your frame or sewing too close to the feed dogs.
Handi Quilter Moxie also includes one set of hangers and four bobbins so that you can get started right away. The features don't stop there though – Handi Quilter's easy threading system means that even novice sewers can start making their own bedspreads, throws, and quilts more quickly than ever before.
But what if I told you there is an affordable long arm quilting machine that will be great for your house quilting machine? Plus, you'll get to know about the features of the machine through a detailed review. Well, if that sounds helpful to you and makes the process of purchasing a professional quilting machine easy for you, then I'll say you are at the right place to acquire the necessary information for your purchase.
As of today in this article, I'm going to review the Handi Quilter Moxie long arm quilting machine for you in detail. So, without wasting much time, let's get straight to the review!
Features of Handi Quilter Moxie
This quilting long arm machine comes with several different features, but we're going to highlight some of the prominent ones below, and after that, you can find the complete list of specs and features at the bottom of it.
Remarkable throat space
Throat space is extremely important: when it comes to quilting machines as quilters need as much space as possible to avoid the hassle of refolding or repositioning the skill.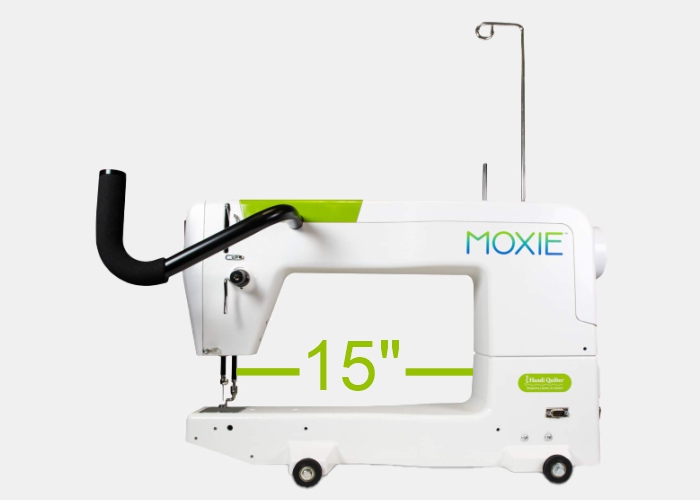 Hence, Handi Quilter Moxie's 15" throat space on an 8-foot Loft frame enables the users to have ample space to effectively and efficiently carry out their free motion quilting without folding or positioning the quilt again and again like the other long arm quilting machines.
Fast stitching speed
Well, everyone wants their work to be productive and efficient, and Handi Quilter Moxie just makes that dream come true as the machine comes with a high stitching speed of 1800 SPM (Stitches per Minute). This kind of stitching speed will let you finish your quilting projects faster than you imagine.
We have also reviewed some other Sewing and Quilting Machines but the speed of Moxie is far better than many. For instance, BabyLock Gallant is although a good Quilting machine still provides you a maximum speed of 1,800 SPM. So, you do not need to be worried about Moxie's speed. If speed is the main thing you want then you may consider Handi Quilter Amara (2,500 SPM) or Handi Quilter Infinity (3,100 SPM)
8 Foot HQ Loft Frame
I mentioned the 8 Foot Loft Frame very briefly above but let's look at it in detail and see what advantage does it bring to the users of this machine.
This Loft Quilting Frame by Handi Quilter ensures professional level quilting, and the sturdy structure of the frame does a better job of holding the batting, backing, and quilt top. You can also add the extension with this 8 feet frame and you can have 8,10 or 12 feet loft frame with Moxie.
Manual Thread Tension Control
While automatic thread tension is a pretty awesome and convenient feature, it doesn't provide you the flexibility of setting tension to your desired level that is more precise and according to your preference. But manual thread tension brings that precision and control over the thread tension.
Large Capacity M-Class Bobbin
It's great to have a good throat space for more efficiency and productivity, but how will it be of use if you'll have to keep wasting time on refilling the bobbin multiple times.
So, to make that convenient and efficient, Handi Quilter Moxie comes with a large capacity M-Class Bobbin that rids you of the hassle of multiple refilling of the bobbin and just enables you to continue with your quilting with minimum stops for bobbin refilling.
High-Speed Rotary Hook
If you don't know the importance of a machine with a rotary hook that too high speed then, let me explain to you how important it is and how impactful it can be on the performance of any kind of machine.
Well, a rotary hook system involves a hook rotating constantly around a stationary bobbin to catch the thread. Now, the higher the speed of this rotary hook will be the more precise and smooth the machine will run with minimum noise along with producing high-quality professional quilting results without continuous thread jams.
Complete Features and Specifications of Handi Quilter Moxie
Front handlebars and full-color display
User-friendly icon-based display
1,800 stitches per minute
LED light ring
Handi Feet mount with quarter-inch ruler foot installed; open-toe foot included
Two modes of HQ stitch regulation: Precision and Cruise
Manual thread tension control
Consistent stitch quality from 4 to 18 stitches per inch
Needle-stop positioning control
Easy software updates
High-speed rotary hook with large-capacity M-class bobbin
Easy needle change with ergonomic thumb screw
Integrated USB port
Five bobbins, 20 needles, thread samples
Built-in diagnostics
Handi Quilter nationwide retailer support
Handi Quilter 10 years warranty & 5 years electrical and mechanical warranty
Real Owner Reviews
One of our members went straight to the Handi Quilter Moxie community on Facebook to get the real owners' reviews. We asked them to post their reviews and added some of them which were validated as real.
Review by Jan Locey-Crooks,

Review by Michelle Enright VanGundy,

Review by Rachel Malone,

Review by Sue Bee,

Who Should buy the Handi Quilter Moxie?
Handi Quilter Moxie is a great long arm machine, but it's not for everyone. This long-arm quilting machine is best suited for home use whether for professional quilting or learning purposes.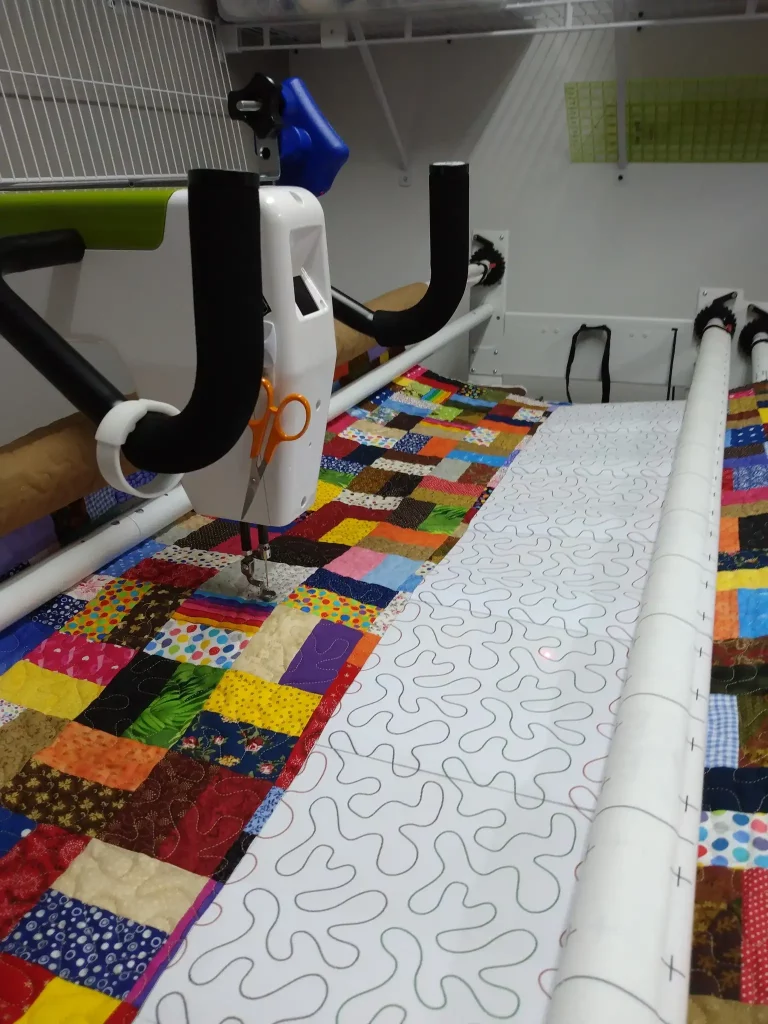 It's a great long arm machine for beginners to start with, as it is easy to use and less complicated than usual long arm quilting machines.
However, you can not use it for very large commercial projects as the throat space doesn't provide that much capacity or working space, and it can become a problem when quilting large pieces of fabric. If you want an ultimate quilting experience then you may check Handi Quilter Infinity which we have reviewed here in the best long arm quilting machine section.
So, if you want to use it for your business or other large commercial quilting projects, you might want to reconsider that choice.
Just like every other machine, the Handi Quilter Moxie also has its advantages and disadvantages. Some of the major pros and cons are highlighted below to provide you a better evaluation of the machine.
Pros
Easy to Use
The first and most important advantage this machine provides is the ease of use. Usually, long arm quilting machines are pretty complicated and difficult to use, it needs a lot of practice to get a hang of those machines, but thanks to Handi Quilter now, you have got a long arm quilting machine that is easy to use.
Light on pocket and affordable
Another appealing aspect of this machine is its affordability, it is cheap as compared to other professional quilting machines. You can purchase a professional-grade long arm quilting machine for just $5000 again, thanks to Handi Quilter.
The strong and best stitch quality
Handi Quilter Moxie is a strong and sturdy machine capable of withstanding years of wear and tear and still stay durable. Moreover, the stitch quality this machine provides is professional quality and just amazing to look at; truly something to look forward to when purchasing a quilting machine.
Quick Setup
Handi Quilter Moxie has a pretty easy and quick setup as compared to other long-arm machines. Plus, the manufacturer makes the process of assembly easier with its 3D image application to help you understand the components better and assemble them easily in less time.
Cons
Inadequate throat space for large projects
The throat space this machine comes with isn't sufficient for large commercial projects. This might not be suitable for business owners who've to deal with large quilting orders.
Lack of automatic features
The machine is surely beginner-friendly, but people who prefer automatic features over the manual, for example, automatic thread tension over manual thread tension will have trouble using this machine as they aren't used to the technicalities of a manual quilting machine.
Handi Quilter Moxie Accesories
Here are the accessories of HQ Moxie if you purchase it from SewingMachinesPlus.
3-Piece Leader Set
How-To-Quilt Kit
Accessory Kit with 5 bobbins, 20 needles, Pin-Point Oiler, Needle Threader, and Side Clamps
Quarter-inch Ruler Foot and Open-toe Foot
Decorative Decals to Personalize Your Machine
Stand-alone Bobbin Winder
And, you can also buy these optional accessories with your HQ Moxie. Although this machine does not come with these accessories, these will enhance its features and make your quilting experience better.
Quilt from the Back Kit (Rear handlebars, laser light)
Table-top Kit
Groovy Board Adaptor and Stylus
HQ Easy-Fit Ruler Base
Interchangeable Handi Feet
Horizontal Spool Pin
HQ Handi Light
If you have ordered your HQ Moxie, make sure to set it up by watching this quick start guide from Handi Quilters on YouTube.
Handi Quilter Moxie vs BabyLock Gallant vs King Quilter II Elite
| Features | Handi Quilter Moxie – In-Depth Review | BabyLock Gallant – In-Depth Review | King Quilter II Elite – In-Depth Review |
| --- | --- | --- | --- |
| Stitching Speed | 1800 SPM | 1800 SPM | 2,200 SPM |
| Throat Space | 15 Inches | 15 Inches | 18 Inches |
| Quilting Frame Size | 8-Foot included (10-Foot optional) | 8-Foot included | 8-Foot included (10-Foot optional) |
| Rear Handlebars | Compatible (But optional) | – | Compatible (But optional) |
| Presser Feet in the box | 2 | 2 | 2 |
| Display Screen | Touchscreen LCD | Full-color LCD Display | Tocuhscreen LCD |
| Bobbin | M-Class | M-Class | M-Class |
| Stitch Quality (Per Inch) | 4-18 Stitches | 4-18 Stitches | 4-18 Stitches |
| LED Light | Yes | Yes | LED |
| Warranty | 10 Years | 25 Years | 10 Years |
| Our Rating | 4.90/5 | 4.85/5 | 4.95/5 |
| Price | $4,995 | $5,999 | $6,299 |
| Buy Now | Check here | Check here | Check here |
Why considering Handi Quilter Moxie?
Handi Quilter Moxie is one of a kind. It has an all-metal frame so it will not warp or bend like some plastic frames do over time. The frame also provides rigidity to the machine which increases stability, accuracy, speed, handling ease, and reduces vibration – in addition to being more durable than many others on the market today. Handi Quilter's Quick Connect System makes changing from one size block to another quick and easy without using any tools. In addition, there are no exposed belts that can get dirty or damaged while you're sewing on your project.
You can also set your Handi Quilter Moxie up easily using BILT App as you can see here below.
Handi Quilter Moxie allows for a smooth, stable, and accurate sewing experience. The frame is lightweight yet durable which means that it can handle even heavy projects with ease. It also comes with a wide array of accessories so you have everything at your fingertips when you need it most – including an extension table and an extra set of hand tools. Adjustable lighting makes working on darker fabrics easier while the built-in storage hooks allow me to keep my supplies within easy reach. I could go on but this is already too much information about such a great product :).
Customer Reviews
Here below is the list of the customer ratings for Handi Quilter Moxie. Amazon, SewingMachinesPlus and Handi Quilter are some of the platforms where Handi Quilter Moxie verified customers have left an average rating of 4.9/5.0
Expert Opinion
Adam Rateliff from Adamsewfun at Stitch House Texas has this to say,
"So, this is the HQ Moxie it's the apple compared to other people's pc I love the green accents and the other great thing about this is when you get it you kind of get the handy quilter starter kit um this is the only machine that comes with it you get some practice fabric you get stickers for your bars one of the really hard things when people are loading their machines is remembering which way those bars turn and like maybe they'll wrap it the wrong way there's a whole sticker pack that you can decorate your machine but you can also put those stickers on the bars and it tells you like turn the bar this way turn the bar that way.
So, they've really thought I've thought of it as the new the new long arm this is where you can start and any quilt you have as long as it fits on the frame you can quilt on this machine."
While Chris has this to share with us,
"So far it has been a great upgrade from a Husqvarna mega quilter midarm. The frame is much more solid and better made than its grace frame competition. (The) only issue so far is the BILT app says it takes one hour to install it took about 3! Very happy with the purchase."
Where to buy Used Handi Quilter Moxie?
If you want to buy used Handi Quilter Moxie you can still have some better options to go. Although, Moxie is a very affordable and I believe the cheapest long arm with these features other than King Quilter II but still it might not be possible for many to buy this. So, let me share with you some of the best sources where actually you can buy Handi Quilter Moxie.
Handi Quilter Community
Did you know Handi Quilter has an official community for their users? You can discuss stuff with your fellow quilters or ask the experts in this community. While there is a dedicated section for Buying/Selling Handi Quilter long arm quilting machines.
>> Here is the link <<
So, check out this community and make sure to keep tracking the new moxie listing on this selling section or you can post there and ask members if someone is selling.
Facebook Group
Another thing that might help you is to join the community of Handi Quilter Moxie customers on Facebook. There are several Facebook groups but I do have experienced one which I will recommend to you too.
>> Here is the link <<
In case, the above link is not working for you you can search "Handi Quilter Moxie Owners" on the Facebook and you will find it.
Video Tutorials about Handi Quilter Moxie
FAQs about HQ Moxie Long Arm Quilting Machine
Do you have any questions about HQ Moxie? Well, here I have added some common questions and their answers. I hope so you can find your answers to these questions but you can also contact us to get any of your questions answered also.
Is Handi Quilter Moxie worth buying?
Well, this is the best budget-friendly long-arm quilting machine. Although you can not use a long frame of more than 8-Foot with HQ Moxie still it is the best in its price range. It is also offering you great speed which will cover you back while you are working on the projects and want to finish them as soon as possible. And, when I was checking its tutorials and projects done by this machine I was just amazed by its stitch quality.
So, you can consider this machine if you want to do the quilting in your home for business or other purposes.
What is the Handi Quilter Moxie price?
Price may vary from one platform to another but HQ Moxie Quilting Machine comes under $5000. You can check its latest price with a discount on SewingMachinesPlus or Amazon.
Can I extend the Loft Frame in HQ Moxie?
Handi Quilter Moxie is a 15-inch longarm quilting machine and comes with an 8-Foot & 10-Foot Loft Frame. Unfortunately, this is the largest size of the Loft Frame it comes with. And, if you want to use your own custom long frame then sorry to say but you can not use your custom frame also longer than an 8-Foot or 10-Foot Loft Frame. The basic variant comes with an 8-Foot Loft Frame but there is another variant available on Amazon with a 10-Foot Loft Frame which will cost $500 more to buy it.
Is Handi Quilter Moxie a Long-Arm Quilting Machine?
Yes, Handi Quilter Moxie is a longarm quilting machine. It does come with longarm of 15 inches and the quilting machines with their longarm less than 13 inches may be called as mid-arm quilting machines.
Final Thoughts
Handi Quilter Moxie is a great entry-level long-arm quilting machine for household use. It's beginner-friendly and easy to use, but experts can also utilize this long arm machine for home quilting projects such as making quilts for a family member or maybe to gift to a friend.
Overall, the machine is a great value for money and economical as compared to other high-quality quilting long arm machines. I hope this article was able to provide you a detailed review of the Handi Quilter Moxie quilting machine.
---
Are You Still Confused?
Can't you decide whether HQ Moxie is the right quilting machine for you? Well, you can contact us and our team will try its best to answer your questions. You can also ask your other questions for FREE by leaving a comment below.