The King Quilter II Elite longarm quilting machine is undoubtedly a significant investment manufactured by the USA. It's an amazing invention with the correct features and capacity for your requirement. King Quilter II, the longarm quilter machine is quite easy to use and uncomplicated working on large projects.
King Quilter II Elite is one of the best long-arm quilting machine. It has many features that make it a favorite of experts and beginners alike. The design is sleek, with an aluminum frame for durability. Operation is simple so even seasoned users can find success quickly without having to learn new skills or techniques.
The machine comes with many accessories so you can get started right away. The King Quilter II Elite also has a long warranty to back it up if anything goes wrong, and the customer service is outstanding even though you're pretty much guaranteed not to need them.
Another great thing about this machine is that it's affordable for just about anyone who wants one of their own or needs it as an upgrade. There are a few machines out there that offer such good qualities at such a reasonable price, which is what makes King Quilter II Elite stand out among its competition. It's clear that in design and function the King Quilter II Elite will satisfy your sewing needs whether they be personal or professional.
The model of the machine is easy to use having 18″ of throat space, a top speed of 2200 stitches per minute. It also has an innovative touch pad interface that gives easy access to stitch patterns and applications.
This machine includes free accessories like bobbins and bobbin case, needles, thread mask, spool stand, screwdriver, pin oiler, lint brush, power cord, and a user manual.
Who Manufactures King Quilter?
I am going to answer this at the very start of the review because people are more interested to know its manufacturer than its features. Manufacturer matters a lot especially when it comes to longarm quilting machines because there are a lot of longarm quilting machine brands and some of them are most popular among people while others are not. There are some brands that are known for their quality like APQS, Gammill, Innova, Nolting, etc. While some are among the most selling and popular brands like Handi Quilter.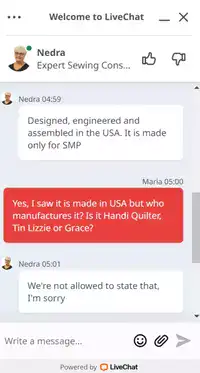 King Quilter II Elite is basically only available on SewingMachinesPlus and has not been featured by any other brand. So, I personally contacted SMP and asked about the manufacturer, and here is the response that I got.
"We're not allowed to state that, I'm sorry" (SewingMachinesPlus)
But, as per my own research and sources I have found that Handi Quilter manufactures King Quilter. King Quilter II Elite is completely manufactured by Handi Quilter and is the same as others but just a rebranding for SewingMachinesPlus.
Handi Quilter started manufacturing King Quilter about 3 years ago for SewingMachinesPlus. Before that, Tin Lizzie was manufacturing King Quilter but there were some issues with quality and cost. So, SewingMachinesPlus made a contract with Handi Quilter and stated that one as NEW King Quilter.
Regardless of the manufacture, it is confirmed that it is engineered, manufactured, and assembled in the USA which is also a great point to consider while looking for a longarm.
Features of the King Quilter II Elite
Speed of 2,200 SPM (Stitches Per Minute)
10 or 12-foot quilting frame
18″ x 8″ Throat space
M Class Bobbin
Laser Light kit
7″ or 4.3″ color touch screen
4 to 22 stitches per inch
Bobbin winder
Stitch exactness mode
4 options for needlework stitch
Stitch Manual mode
Stitch transportation mode
Light Ring Included
Front and rear handlebars
Built-In Micro Handlebars
Quilt Alarm
Quilt Timer
Stitch Counters
Bobbin Low-Thread Detector
Low Bobbin Alarm
8-Watt LED Power Consumption
Needle up and down control
5mm Sew Foot Stroke/Lift
35.3 mm Needle Bar Stroke
73 mm Take-Up Stroke
Warranty (Casting/Mechanical/Electrical): 10yr/5yr/5yr
Now, let's have a deep look at some important points from the above-listed complete features of this Longarm quilting machine.
2,200 SPM Speed
It comes with speed of 2,200 SPM (Stitches Per Minute) which is great for finishing your projects faster. In my opinion, it is the best quilting speed and you deserve it too. At the same price range, you have other long-arm quilting machine options too which come with a speed of 2,200 SPM or even more.
Does quilting speed really matter? Well, the answer to this question is, obviously yes. Would you mind finishing your quilting projects late when you are doing quilting business? Well, no one wants to do it. Either your customers would not like it too. Your time is money in quilting projects and you have to finish the projects as soon as possible.
And, if you want to have a small business or home-based quilting business then you can consider some low-speed long-arm quilting machines like Handi Quilter Moxie or Baby Lock Gallant. Obviously, these are not low-quality machines but are for low-end users and come with a low price tag.
10/12-Foot Quilting Frame
You can use a 10-Foot or 12-Foot Quilting Frame with King Quilter II Elite. It does not come with your machine purchase and is not included with it but is compatible to use with it. You can use a 10-Foot quilting frame if you do not have enough room to store it and it is the standard size also, comes with most of the long-arm quilting machine.
But, if you are a serious quilter and want a large quilting frame, consider a 12-Foot quilting frame. Make sure that you select your desired quilting frame as an addon before placing your order for this machine.
18″ x 8″ Throat space
I just want to make one thing clear that the large throat space you get, the easier it becomes to work on your projects. There are many quilting machines that come with 18 inches long throat space but they cost high too.
It provides you 18 inches in length and 8 inches in height as throat space so that you may never feel short at short working space. If you want to go beyond this, consider Handi Quilter Amara which comes with 20 inches of throat space.
M Class Bobbin
It comes with an M-class bobbin which provides you vast space and is also in large size by which the thread stays longer. You do not need to wind the bobbin thread again and again because of its large size. Did I forget to mention that the bobbin is made up of aluminum? It will not become rusty soon and you will not need to buy a new bobbin again and again. You do not need to buy any bobbins for years because it comes with five strong bobbins in the box.
7″ or 4.3″ LCD Screen
It comes with a 7 or 4.3 inches LCD Screen with a full-color display. It is a touch LCD screen and of course, you would get such kind of screen with other long-arm quilting machines in its price range. It becomes so easy to control King Quilter II Elite with this LCD screen because of the clean user interface of the application installed and the large screen size.
Bobbin Winder
It makes it very easy to wind your bobbin when it is empty because of its Bobbin Finder feature. Although other machines also do provide single-touch bobbin thread load. It is worth mentioning here because this machine also comes with it.
Low Bobbin Alarm
Do you want to be known when your bobbin is empty? Well, King Quilter 2 Elite will provide you with this facility. You will be get notified by an alarm whenever your bobbin thread is low.
Front & Rear Handlebars
You might have seen long-arm quilting machines with front handlebars. These handlebars provide ease to your quilting and you can handle your machine or move your machine easily through these handlebars. But, this machine comes with rear handlebars too along with front handlebars. Do you want to control your quilting machine from the rear side for any cause? If yes, King Quilter II Elite is for you because you can easily control it either by front or rear handlebars.
Other long-arm quilting machines come with front handlebars but rear handlebars are only offered as an optional add-on in the price range as of King Quilter Longarm Quilting Machine. Some of the best competitors of this Longarm are Handi Quilter Moxie and Baby Lock Gallant but both of these do not have rear handlebars added in the box.
Pros
First of all, this longarm machine is well built and reliable and the quality is unquestionable. It is completely manufactured in the United States like some other Made-In-USA Sewing Machines.
The stitching speed per minute is 2,200 SPM, which is quite fast as most of the other Longarms have 1,800 SPM or 2,000 SPM in its price range.
Rear handlebars are added to the box when you purchase it online on SewingMachinesPlus.
In case you are not satisfied with the machine, it can be replaceable with three years warranty.
It offers great functionality regarding different stitch modes like precision mode, batch stitch, and cruise mode.
This machine's quality ten to twelve-foot frame provides the quilter with a comfortable stand-up experience.
The King Quilter II Elite machine is more reliable than the old version of King Quilter Longarm Quilting Machine.
Cons
This machine needs a temperature-controlled space.
It is more expensive than the old version of King Quilter.
Types of King Quilter II Longarm Quilting Machine
King Quilter II is available in three different models based on the features and accessories.
King Quilter II
King Quilter II Elite
King Quilter Site-Down
King Quilter II
King Quilter II is the standard version of this Longarm quilting machine manufactured by King Quilter. This standard version offers you some fewer features than the Elite one but there is a huge price difference.
This standard version offers you a Touchscreen LCD of 4.3 inches instead of 7 inches. Also, the rear handlebars are not included in the box and are offered as an optional add-on. Moreover, there is a bobbin alarm or other thread sensors.
King Quilter II Elite
King Quilter II Elite is the ultimate version of this series by King Quilter. There are more features than the standard version and you can enjoy your quilting experience at its best.
It comes with a Touchscreen LCD of 7 inches, not unlike the 4.3 inches of the standard version. Also, rear handlebars are included in the box and Low Bobbin Alarm is added to this.
King Quilter II Sit-Down
This version is newly introduced for those users who are interested in sit-down Longarm quilting machines. This version is the same as the standard version but with some differences. As this is a sit-down long-arm quilting machine so it comes with a well-built table of 36 inches in width. Also, there are front or rear handlebars as this is a sit-down Longarm quilting machine and you do not need to control it by them.
Moreover, the LCD screen size more reduced from 4.3 inches to 3.5 inches.
Owner Reviews
One of our team members asked the owners of King Quilter II Elite to share their opinions and genuine experience. We asked for the reviews on the Facebook Group which is a community of King Quilter II Elite owners. So, here are those real reviews of their owners.
Review by Christian Chamberlain: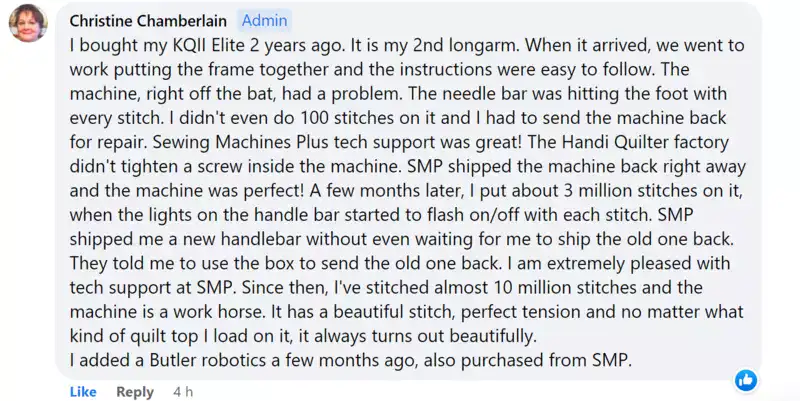 "I bought my KQII Elite 2 years ago. It is my 2nd longarm. When it arrived, we went to work putting the frame together and the instructions were easy to follow. The machine, right off the bat, had a problem. The needle bar was hitting the foot with every stitch. I didn't even do 100 stitches on it and I had to send the machine back for repair. Sewing Machines Plus tech support was great! The Handi Quilter factory didn't tighten a screw inside the machine. SMP shipped the machine back right away and the machine was perfect! A few months later, I put about 3 million stitches on it, when the lights on the handle bar started to flash on/off with each stitch. SMP shipped me a new handlebar without even waiting for me to ship the old one back. They told me to use the box to send the old one back. I am extremely pleased with tech support at SMP. Since then, I've stitched almost 10 million stitches and the machine is a work horse. It has a beautiful stitch, perfect tension and no matter what kind of quilt top I load on it, it always turns out beautifully.
I added a Butler robotics a few months ago, also purchased from SMP."
Review by Linda Smith:

"This is my 2nd longarm machine. I owned a Voyager17 before this one. I've owned my King Quilter II Elite now for 3 years. I absolutely love how it stitches. Putting together the the frame took my husband and I 3 days. We're in our mid sixties and late 70s. So we work a bit slower than most. The machine was pretty simple to setup too. I added Qbot robotics to it which is super easy to use too. I use Glide thread which looks great, no lint as it's polyester thread, and prewound bobbins. The instruction book that comes with it is easy to understand. Mine came with the ruler plate and some rulers. I hope to start using them in 2023. There's plenty of light to see what you're quilting. It glides beautifully on the frame too. I have the 10′ frame. If you have any questions, just ask. I'm happy to help if I can."
Review by Leah Seals: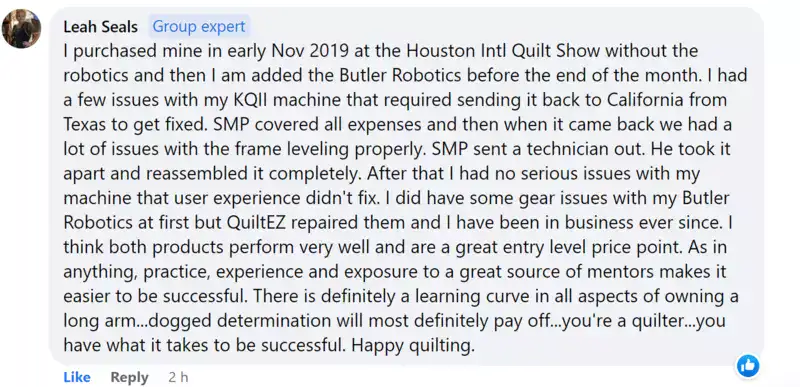 "I purchased mine in early Nov 2019 at the Houston Intl Quilt Show without the robotics and then I am added the Butler Robotics before the end of the month. I had a few issues with my KQII machine that required sending it back to California from Texas to get fixed. SMP covered all expenses and then when it came back we had a lot of issues with the frame leveling properly. SMP sent a technician out. He took it apart and reassembled it completely. After that I had no serious issues with my machine that user experience didn't fix. I did have some gear issues with my Butler Robotics at first but QuiltEZ repaired them and I have been in business ever since. I think both products perform very well and are a great entry level price point. As in anything, practice, experience and exposure to a great source of mentors makes it easier to be successful. There is definitely a learning curve in all aspects of owning a Longarm…dogged determination will most definitely pay off…you're a quilter…you have what it takes to be successful."
King Quilter II Elite vs Handi Quilter Moxie vs Handi Quilter Amara
Features
King Quilter II Elite –
In-Depth Review
Handi Quilter Amara –
In-Depth Review
Handi Quilter Moxie –
In-Depth Review
Stitching Speed
2,200 SPM
2,500 SPM
1,800 SPM
Throat Space
18 Inches
20 Inches
15 Inches
Quilting Frame Size
Not Included
(But available)
5-Foot included
(10-Foot or 12-Foot optional)
8-Foot included
(10-Foot optional)
Rear Handlebars
Included
Compatible
(But optional)
Compatible
(But optional)
Presser Feet in the box
2
2
2
Display Screen
Touchscreen LCD
Touchscreen LCD
Touchscreen LCD
LCD Screen Size
7 Inches
7 Inches
Bobbin
M-Class
M-Class
M-Class
Stitch Quality (Stitches Per Inch – SPI)
4-22 Stitches
4-24 Stitches
4-18 Stitches
Handlebar Buttons
Programmable
Programmable
–
LED Light
Yes
Yes
Yes
Warranty
10 Years
10 years
10 Years
Our Rating
4.95/5
4.80/5
4.90/5
Price
$6,299 (Buy here)
$11,799 (Buy here)
$4,995 (Buy here)
Video Tutorials about King Quilter II Elite
Here below are some helpful videos about King Quilter II Elite Longarm quilting machine.
FAQs about King Quilter II Elite
Are there two variants of King Quilter II- Long-Arm Quilting Machine?
Yes, there are two editions of this quilting machine. The first one is King Quilter II (Standard) and the second one is King Quilter II Elite. There are some differences in both of these editions like Quilting Speed and some accessories. King Quilter II is the lite version of King Quilter II Elite. Have a look below at the comparison of both of these long-arm quilting machines.
What is the price of King Quilter 2 and King Quilter 2 Elite?
As there is a difference between the features and specifications of both models so there is a price difference also. King Quilter 2 (Standard) comes under $4,500 while King Quilter 2 Elite comes under $6,500. You can check the latest prices with discounts on King Quilter II and King Quilter II Elite now. You can also rent a Longarm quilting machine if you can not buy a new one.
Do I get a quilting frame with King Quilter II or King Quilter II Elite?
No, a quilting frame would not be included in the box. You can purchase a 10-Foot or 12-Foot optional quilting frame with it. The largest quilting frame compatible with it is 12-Foot if you want a large quilting frame then you have to consider another long-arm quilting machine that can support a longer quilting frame than 12-Foot.
Is there any compatible Quilting System for King Quilter 2?
Yes, Pro-Stitcher is completely compatible with King Quilter II and King Quilter II Elite. You can purchase it too along with your King Quilter II if you are a serious quilter and this is not recommended for beginners. It is a vector-based editing software too and enables you to create or edit your own custom designs right on your screen. You can also preview the design path on your screen before quilting it.
Where is King Quilter 2 Elite Manufactured?
It is a proud moment for the United States because King Quilter 2 and King Quilter 2 Elite is designed, programmed, and manufactured purely in the United States. There are other brands too you rely on that are not originated from the US like Singer, Janome, Juki, etc. If you are looking for made in USA quilting machine, consider this long-arm quilting machine.
Is King Quilter II better than other long-arm quilting machines?
There are other options available too for log-arm quilting machines by Handi Quilter and Babylock. You can consider Handi Quilter Moxie and Babylock Gallant as an alternative to this quilting machine if you do not have enough budget. Obviously, King Quilter II Elite is far better than both of these machines but these can give a hard time to King Quilter II and also are cheaper than the ultimate version of King Quilter II Elite.
Final Thoughts
If you want an exceptional longarm quilter machine then the 18″ frame machine will be the best option with the best functionality and features. It is highly recommended for both home quilters and industry quilters. It is easy to operate and that's why recommended for beginners and advanced quilters also will not be disappointed by its advanced features.
Do you still have doubts or want to ask any other questions? You may leave a comment below to ask in case you have any questions. Or, you can contact us to get help for FREE.