If you are a quilter, it is worth investing in the right fabric. Choosing which one to use for what type of sewing project can be challenging for many people. When deciding what materials to use for your quilting project, you should consider the weight of the fabric and how much it will be used in relation to the other fabrics in a particular piece.
If this is your first time sewing with these types of materials, try experimenting on scraps before jumping into any huge projects that require a lot of fabric. If you are using a pattern that is designed to be quilted, choose the best batting and backing material for your project. The type of stitching in the design should also be taken into consideration when choosing what materials will work with it.
You can also subscribe to the monthly Quilting Subscription Box that comes with the best quilting fabric and other stuff that make your quilting experience smooth.
There are a lot of other things to consider while choosing the best fabric for quilting, I will be explaining each one below. So, let's start.
List of the best fabric for quilting
Here below is the list of the best fabric for quilting,
Quilter's Weight Cotton
Cotton Flannel
Quilter's Linen
Decoration Cotton
Voile
Felt
Quilter's Weight Cotton
Undoubtedly, Quilter's Weight Cotton is the best choice when it comes to quilting fabric. That is because it's sturdy and will not easily fray or tear due to the thread count which runs high. It's also fairly easy to work with and the stitches are very clear in its fabric.
While many sewing projects use cotton for its durability and ease of use, Quilter's Weight Cotton is the most suitable choice because not only does it work with any project but there are so many different colors that you can choose from!
All in all, if you're looking to start a new quilt or sew a new project, Quilter's Weight Cotton is the fabric for you. It's a great idea when choosing the type of cotton that you will be using for embroidering or sewing projects because it has high durability and clarity in stitches, but can also be a little pricey per yard. Quilter's Weight Cotton comes in so many colors and patterns that the price per yard goes down when you order more at once. With all the time spent on each quilt square or block, it's important to make sure your fabric is top quality for these projects.
Quilter's Weight Cotton is not the best because it shrinks. It might be a good fabric to use when you're just starting out with sewing, but for quilts and other long-term projects that require colorfastness, Quilter's Weight Cotton is not the best choice. Quilter's weight cotton also has one more downfall: color bleeding. When it comes to certain colors, like blue, for example, the color will bleed and change if you don't pre-soak your fabric in cold water before cutting it out or sewing with it.
Cotton Flannel
Cotton Flannel is a great option for quilters because it's very soft and comfortable. It also has a nice drape to it which makes the fabric more forgiving when sewing bulky seams, so you can get them to lie flat with no problem at all!
Most of all though, Cotton Flannel is not stiff like other fabrics are, but instead is very pliable and easy to work with. The best part about Cotton Flannel though is that it also doesn't fray or tear easily as other fabrics do.
If you're a quilter looking for the perfect fabric, Cotton Flannel is it. Quilters love cotton flannel because of how soft and comfortable they make their projects feel when sewing them up. Cotton Flannel is also easy to work with and doesn't fray or tear easily, which means it's a great choice for quilters in the long run.
Cotton Flannel is not the best because of how stiff it can be. While this might make sewing easier for some people, others will find that they're unable to seam because the fabric is too stiff and won't allow them enough movement with their hands.
If you're looking for a fabric with less stiffness or more color options, then Cotton Flannel might not be the best for you. Cotton flannels are very soft and fluffy which makes them very comfortable to work with. They also have a nice drape to them so they're easy to work with and don't bunch up when sewing. Cotton Flannel is also not the best because it doesn't come in very many colors, which means that you're limited on what could work for your project. You can use Cotton Flannel for,
Baby quilts
Blanket quilts
A skirt, shirt, vest, or even jacket
A pillowcase
Quilter's Linen
Did you know that linen is made from the flax plant? Besides being a natural fabric, it's also soft and cool. That makes it ideal for all sorts of weather conditions. But, Linen's open weave makes it susceptible to tearing when pulled apart and woven into a pattern. So, how do you avoid these tears? Well, the very first step would be to hand wash your linen fabrics.
As a reminder, never put them in the dryer because it will break down those fibers and weaken it over time. It's also important that they are not left soaking for any long periods of time. Ideally, linen should be washed in lukewarm or cold water with a delicate detergent.
As quilters, we are always looking for the perfect fabric to use in our projects. Quilts may be adorned with bright colors and novelty prints, but there is a different type of linen that many have been using lately- it's white! This type of Linen has become popular because it can be washed over and over again without showing any wear.
Quilter's Linen is perfect for quilts because it can be used to create a cool, crisp look. When mixed with other fabrics and colors, the white linen will provide visual contrast without overshadowing any part of your project. Quilters have been using this material in their projects as foundation layers- its smooth texture goes well with any of the other fabrics.
Linen is also great for creating a soft texture, which can be desirable in certain quilts where the fabric will touch your skin. This type of material has been used by many as backing on baby blankets to keep them super soft and cozy. Quilters have mixed linen with cotton or lightweight wools to create a soft, smooth textured fabric that is perfect for use in clothing.
The versatility of this material makes it an excellent addition to any quilters' studio. It can be used as the main focus or just one layer among many. Quilts made with linen have been gaining popularity because they are so versatile-this fabric is perfect for any type of project!
In conclusion, Quilter's linen has become a popular choice in quilters' studios because it can be used as the main focus or as just one layer among many. It's always important to use the right materials- and this fabric will not disappoint you with its versatility.
Decoration Cotton
Decoration Cotton is a cotton fabric that is not only soft but also resistant to wrinkling and shrinking. It also comes with different designs making it perfect for quilts, curtains, or any other projects you may want to complete in your home.
The only thing I do not like is its weight. It is not the lightest fabric but this does offer durability and quality.
Decoration Cotton is available in a variety of different colors so you can find the perfect fabric for your project. There are also many other types of fabrics that Decorative Cotton work well with, such as Linen and Silk. The best part about this cotton because it has high levels of elasticity which means even if you accidentally make a mistake while sewing, it will still look as good as new.
This type of cotton can be used for many different projects and is perfect for quilting because Decoration Cotton has a beautiful design on the fabric that won't fade away over time.
Voile
If you're looking for a softer drape, then voile is the best fabric because it doesn't have that typical crisp look. The lightweight design of Voile makes this fabric an excellent choice as a backing material for your quilts and other projects.
They are also great to use on their own in garments or home décor. Voile has a beautiful sheen and silky feel that is perfect for quilting projects. The soft look of the fabric may also make it an attractive choice when making garments or other home décor items. Another bonus to this type of cotton, voiles are available in many colors so you can find one that matches your needs.
The fabric is popular for quilting projects because of the lightweight and transparent qualities that can be used with any color of thread or batting to create a beautiful finished product. It's also affordable which makes it perfect for beginners since you don't have to worry about budget and being left with some expensive pieces at the end.
Felt
If you can not find any of the above-mentioned fabrics online or over the online store, Felt is the last choice to make your quilting experience pleasant.
Felt can be used as a batting material but can not provide as good results as pure cotton. Because it is usually made of 100% polyester that would make it not shrink even a bit. You may have a very bad experience after washing the quilting which is created with Felt as a Batting material.
A common misconception about Felt is that it does not have any stitch definition. However, if you use a good quality Felt that is dense and has a high stitch count per inch, the stitches will not show through to the front of the fabric.
What is the best Quilt Backing Fabric?
The Quilt backing Fabric is a fabric used to back a quilt. It is the part of the quilt that you do not see on the front.
It can be made either from cotton or wool, and you need to choose one that does not snag easily and is smooth. The backing should be bigger than your quilt so that it gives a nice finish as well as is stretched on the frame. The backing helps to keep the batting in place and prevents it from moving around while you are doing your quilting. If you are new to quilting, then we recommend using some cheap old sheets for your first few projects.
If you have not come across the wrong fabric yet, then please find out what you should look for. Take a good look at the quality of the fabric, check whether the thread has been horizontally or vertically woven, and then see if there is any weight or thickness to it. Also, have a look at the type of weave used on it as this will affect how quickly your quilt will shrink or stretch.
Quilter's Weight Cotton which is listed on top of our list above is also our first choice for quilt backing fabric. It is the best quilt backing fabric because it is smooth, flat, and does not snag easily. Quilter's weight cotton is thinner and fairly thicker than bed sheet cotton. The cotton comes in different color shades, and designs, and is good for quilts that you intend to give as gifts to your friends or relatives.
How to wash quilting fabrics?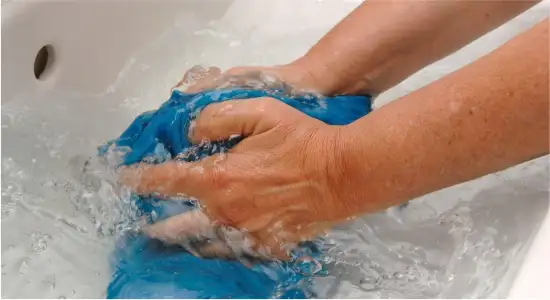 How to wash quilting fabrics? Quilting is about creativity and style. The most fascinating part about quilting is the creative process. There is no point in making a quilt if you do not have suitable materials to back it. Well, I know that you may feel hesitant to purchase the materials without having a clue about how to wash them, but you do not have to worry because we are going to guide you with this step-by-step guide. Follow these steps carefully and make sure that your quilt is absolutely clean when it comes to effect.
Step 1 – The first and the most important thing is to make sure that your quilt backing fabric is dry before you can begin washing it. Therefore having a t-shirt on when doing this step may help you because it will not allow you to have an accident.
Step 2 – Next, use a small amount of liquid detergent in a bowl and dissolve one tablespoon of vinegar in it. After doing this gently squeeze the fabric while moving it around so that all the detergent gets dissolved into the water.
Step 3 – Now take the drum out of your washing machine and place it in a tub filled with lukewarm water until it becomes slightly soft to touch. Be careful not to make it too soft.
Step 4 – Now that the drum is placed in the tub, place your quilting fabric on it and gently push down. This is important because this will help you to have even friction all over the fabric making sure that it does not snag or stretch in any particular area.
Step 5 – Use some wringers to move your quilt backing fabric from one side of the drum to another so that the water and detergent can get completely absorbed into your backing. Again, be extra gentle so as not to snag or stretch out any part of your quilt fabric.
Step 6 – After this process, take the drum out of the tub and let it drain.
After washing, it is important that you make sure to block your quilt before you start quilting as this will help to stretch out your quilt so that it will not shrink or stretch while you are sewing. Also, remember to use white thread because this helps your quilting to look neat and clean as well. If you decide not to wash your quilting gear or materials then be sure to keep the components in a plastic bag whenever they are not being used. This will keep them fresh and free from dust.
FAQ about Quilting Fabric
Can you use any fabric for quilting?
Yes, you can. The fabric must be soft and lightweight so that it does not pucker or bunch up while you are quilting. If the fabric is not only soft but also durable, then it will make your quilting experience more pleasant. The best and most recommended fabric is quilter's weight cotton because
What is good batting for quilts?
A cotton batting is considered to be the best batting for quilts especially if you are a beginner. Cotton have been used to make quilts because of its lightweight and breathable characteristics. Therefore, if you want to find a good batting for your quilt then cotton is the best one for this purpose.
Can quilting fabric be used for clothing?
Yes. You can use quilting fabric for clothing as well because it is soft and comfortable to wear. The best thing about quilting fabric is that it does not shrink, fade or pill easily, which makes it an ideal choice for making clothes.
Can quilting fabric be used for upholstery?
Yes, you can use your old quilting fabrics to upholster the chairs of your home, but it is better if you first prewash and dry them so that they become softer and easier to handle.
Does quilting fabric need to be prewashed?
Prewashing and drying your quilting fabrics before cutting them can save you from a lot of work as you will be able to cut them easily. In order to ensure that all the excess dye does not bleed onto other fabrics, make sure that you wash them with warm water, and some detergent for about half an hour. Then rinse it thoroughly before drying it. This will help in preventing any kind of leakage of color into the fabrics that you are using.
Does quilting fabric fray?
Yes, Quilting fabric can fray if it is not stitched or is made using a different type of material. The fiber content and the thickness of the fabric are the main causes of fraying. The dye will also cause a fraying if it is not washed soon enough or has been exposed to a lot of heat and high humidity.
Can you use quilting fabric for dressmaking?
Yes, you can use quilting fabric for dressmaking because it is soft, durable, and comfortable to wear. However, before using quilting fabrics for this purpose make sure that they are prewashed and ready for wearing. After all, it is no fun to wear something that does not look good on you or does not fit properly.
can I use quilting fabric for curtains?
Yes, you can use quilting fabrics to make curtains but before using them for this purpose, you must first prewash and dry them. This will help in making it soft and easy to handle. It is also better to use a liner on the curtain because this will give your room a softer touch.
How to quilt fabric for a jacket?
To quilt your fabric for a jacket, you need to make sure that your fabric is washed thoroughly in order to prevent any leakage of color on the jackets when they are washed or dried. You can use a trimming material that is similar to your jacket so that you can match them well.
How much quilting fabric to buy?
It is always better to buy more than enough quilting fabric in order to avoid running out of it halfway through your project. So, it is recommended that you buy around 20% more than what you really need.
where can I donate quilting fabric?
You can donate your used or old quilting fabrics to a thrift store or a second-hand shop near your area because this will not only help the other community members but will also reduce the pressure on landfills and thus help in protecting the environment as well.
Is quilting fabric good for face masks?
Yes, it is because both the silk and cotton fibers will help in making your skin soft and beautiful by removing all the dirt from it. In addition to this, it is also helpful in cleaning your pores and thus helps in reducing the appearance of fine lines and wrinkles.
Can quilting fabric be used for embroidery?
Yes, you can use your old quilting fabrics to make embroidered work. All you have to do is to wash them first, and then use a pre-released stabilizer on the fabric before you start with your embroidery in order to ensure that the embroidery does not become uneven and look ragged.
Final Thoughts
We hope that now you have a good understanding of the quality of quilting fabrics. We would recommend using the one that is listed above in our article as they are of top quality. However, it is also important to remember that there are many quilting fabrics out there and anything can be used for quilting. This will depend on your personal preference and the type of project that you are undertaking.
We would like to remind you though, that before using any fabric for any project, make sure that it meets all requirements for your particular project.
In the end, I would recommend you to check our latest research about the best long arm quilting machines.