I travel a lot with my sewing machine, so I thought, why not share some tips? In this post, I talk about how to pack your machine, what to do before and during travel, as well as troubleshooting tips if you find yourself in a dangerous situation. There's also a section about using your sewing machine abroad for more than just basic repairs.
Basically, you can travel with your sewing machine whether it is your journey on an airplane or a train. You might be thinking about whether sewing machines allowed you to take along with you. Yes, they are allowed to carry if they are in the proper carry bag and fulfill the other requirements under your specific ticket. It would be hard for you to travel with your sewing machine if it is not properly packed in any bag.
There are some parts of the sewing machine that might damage the seats even if you want to travel with your sewing machine in a car but do not pack it in a bag. Some sewing machines' body is purely made of metal parts and that might hurt you also if not taken care of properly. So, TSA also approves the sewing machine to be taken with the passenger and does have any issue with it unless it is not well packed, is very bigger in size, and does not fulfill other specific requirements.
So, let's now talk about this detail. Whether you are allowed to travel with it based on your travel type and what precautions you can take to make this whole process safe for you.
Can I Travel With My Sewing Machine On An Airline?
No problem, but don't forget to check the rules. You wouldn't think it, but most airlines have strict rules about in-flight items, except for liquids and gels.
Here is what you need to know:
Check your information and always double-check your baggage before you depart.
If you are traveling with more than just your machine, you need to check the plane's weight limit for any carry-on bags. If you are over the limit, you either need to pay for a checked bag or eliminate a couple of items.
Contact your airline to inform them that you will be carrying a sewing machine and perhaps the last-minute security officials will ask you to remove the machine from your carry-on bag and place it in a separate secure area.
It's also a good idea to check and reassess the size and weight before you take your machine on board. The rate at which it is transported will also put extra wear and tear on the machine.
How Can I Travel With My Sewing Machine?
Whether you are traveling by air, train, or via road, to carry your sewing machine safely you should follow these tips. Here's how to pack your machine,
Take off all the regular accessories that come with the machine, such as the pressure foot and screwdrivers.
Put the item that you need to sew into your bag, upside down. That way it won't snag on the zipper. If a part is bulky, like an extra long zipper foot, I put it in a plastic bag and drop it into my bag in sections.
If you have any boxes or other bulky items that you want to take with you – get rid of them first or they will take up too much space in your luggage and slow you down if they are your first stop when arriving at your destination.
Put your machine into your bag, with the handle through the clothesline or backpack straps. The handle should be in front of the machine, so it will rest on top of the bag and not drag on the floor.
If you haven't already done so, take off all accessories from your machine, feet, zipper pulls, etc., and put them somewhere in your luggage with a safe zipper that won't catch anything. I use wide nylon belts for this as they have buckles that don't snag my clothing if they protrude outside a bag.
Wrap up your sewing machine in a towel or soft cloth to protect it from dirt or scratching. This is especially important if you're taking the machine on a plane where it will be moved around and also quite dangerous if it breaks arrive at your destination.
Can You Take Sewing Tools In Your Hand Luggage?
If your machine is small enough to fit inside a plastic bag and fits in the overhead bin or your seat, you can take it on the plane. Just remember you'll have to fold up the carrying case so that it doesn't slide around as you go from one part of the airport to another.
You can take hand luggage on board that has tools on, as long as they are not sharp. If they are sharp, they must go in your checked-in luggage. This includes needles, pins, thread, and fabric scissors.
What Kind of Sewing Machine is Perfect For Traveling?
Here are some other things to think about when choosing your new travel sewing machine.
The lightest sewing machine would be easier to handle and more comfortable on your back for long periods.
If you are traveling long distances, you should choose a machine that is not heavy or bulky and has thread counter adjustments. This will help compact the overall size of your machine, which would also save space in your bag and make it easier to carry as well if you are traveling by car or train.
You should also look for a machine that can sew through layers of fabric because no matter how many layers you are sewing at home, you will be sewing even more layers when you travel, it's inevitable.
You should also choose a machine that is sturdy and it doesn't overheat in extreme temperatures. I have seen many machines break down while they were being transported to foreign countries and they don't work after they are returned home again.
If you are not sure how long your trip will take, you should consider choosing a machine with an automatic needle threader or an automatic fabric cutter attachment that can work through layers of fabric.
Look for a machine with a storage compartment below the machine, which will hold several accessories. The size of the storage compartment should be calculated to snugly fit within your sewing kit bag.
Duel power supply machines are more compact, easy to handle, and use less electricity. They have a long life and tend to run longer before the motor needs to have the electricity replaced.
Select a sewing machine that is usually made of metal and can stand up to the abuse of being transported back and forth, as opposed to a plastic machine. Plastic sewing machines are more prone to breaking, while metal sewing machines last longer.
Look for a sewing machine that has presser feet that are easily removed, allowing you to carry them in your sewing kit bag without snagging on the zipper or tearing at the fabric of your bag or clothing.
Many sewing machines have an automatic thread cutter system, which is necessary when you're on a trip and need to take your time with each stitch as you go through layers of fabrics and fasteners.
Can I Bring A Sewing Machine Through TSA?
Yes, you can bring a sewing machine on your flight, as long as it fits in your carry-on luggage or personal item. It's one of the few items that have no limits on the number of items you can bring through security.
If you're traveling with a bulky item like a sewing machine, keep in mind there are different rules for checking baggage and traveling with carry-on luggage:
Checked baggage – If you are checking your baggage at the ticket counter or the airport, any oversize or overweight charges may apply based on current policies.
Carry-on baggage – If you're traveling with carry-on luggage, the TSA may levy charges after you pass through security if your bag is too heavy, too large, or oversized. The rules vary depending on your airline and its policies. For more information, visit the TSA website and look up the Transportation Security Administration web page for your airline or read the statement from your carrier regarding cabin weight & size restrictions.
The TSA recommends that if you do bring a sewing machine on board with you, it should be in a hard-sided suitcase. Another option is to place your sewing machine in a checked bag.
Do You Need A Sewing Machine In The Car?
Some people like to take their sewing machine along with them when they travel, but I don't think it is necessary. You can sew on the go if you choose, but it can be time-consuming in both time and patience and you will be limited with what kinds of materials you can use. It is also quite annoying if your gears break down as it will take even longer for you to get used to a new machine.
Can I Take A Sewing Needle In My Hand Luggage?
Airlines have different regulations when it comes to what you can bring on board, so make sure you check with your airline before packing your suitcase. Different categories of needles may not be allowed on flights at all, such as sewing needles that don't have a blunt end. Certain types of needles are seen as dangerous in countries where they are banned. In any event, you should always check with the airline before packing your suitcase.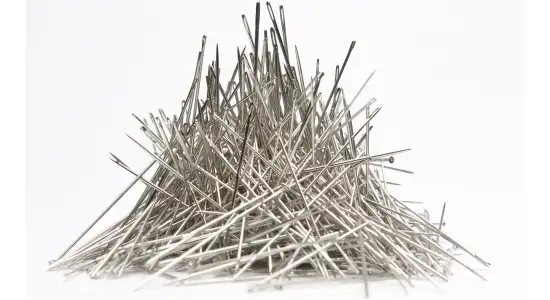 Final Thoughts
In the end, it's your decision as to whether or not you will pack your machine in carry-on luggage or check it on the plane. If you are going on a long trip, consider having the sewing machine shipped ahead of time if there is a possibility that you might need it. You can also buy one at your destination if there is a store nearby that sells them.
---
SOURCE: