Ever wanted to give quilting a try but don't have access to a quilting machine? If so, you're in luck! You can still do quilting with your regular sewing machine. Do not have access to a sewing machine also? Well, you can rent a sewing machine if you do have the energy to work with full enthusiasm.
If you're not familiar with the terms, "quilting" and "sewing" are two different things. Quilting is what happens when several pieces of fabric are layered together and hand or machine-stitched together into one cohesive piece. Sewing is when you stitch or glue two pieces of fabric together (usually without any layers).
Do not have any idea about where to start? Well, you can consider quilting subscription boxes to get ideas and work on the projects to learn quilting fast.
Can You Use A Regular Sewing Machine For Quilting?
The short answer is, Yes. You can use your regular sewing machine for quilting with proper arrangements if your sewing machine lacks quilting features. Quilting is a form of sewing and now it has become more trending so there are a lot of dedicated quilting machines. But also there are some sewing machines that have special features that make quilting easier, like the ability to sew on three sides instead of just two. 
Quilting machines are built to sew a more durable type of stitching that can go through several layers of fabric. That's why quilting machines have a wider presser foot, and you cannot sew the same layers together on this machine as you would on a regular sewing machine.
But before you go trying to learn how to quilt, it's important that you know what is necessary for quilting. Quilters do not use pins because they may mark your fabric. There are special needles made just for quilting, as well as rulers and cutting mats suited for cutting fabrics into even strips so they all stitch up the same way when pieced together. Quilting machines also need special presser feet that can handle sewing several layers of fabric, and they'll come with their own bobbin as well.
Regular sewing machines are fine for your basic hemming, mending, and other household tasks. There are even specific stitches some machines have that are made for quilting. While the regular sewing machine is great to use with lighter fabrics, you can still do heavier sewing projects on your regular machine if you want to. Just make sure to match the needle and thread weight accordingly, so they don't break under the pressure.
How To Do Free Motion Quilting With A Regular Sewing Machine?
Yes, you can do free-motion quilting on your regular sewing machine. You can do free motion quilting on any sewing machine without considering the Throat Space, Brand, Sewing Machine Size, or Features.
So, the real question is, how?
Well, there are main two things that you can do to enjoy the free motion quilting on your sewing machine.
Cover the Feed Dogs
Remove the old Foot
It is important to cover the feed dogs because they get entangled between your fabric and the sewing machine when you try to do free-motion quilting. The rest part of the sewing machine is okay and does not create any issues with fabric movement.
Also, make sure to use remove the old foot from your sewing machine and it is much more important too. A normal sewing machine foot is designed for sewing which can not be used for free motion quilting.
How To Convert A Normal Sewing Machine To A Free Motion Quilting Machine?
It is quite simple to do free-motion quilting with your normal sewing machine. You can just do simple tweaks to enjoy free-motion quilting on your normal sewing machine.
You need to hide the feed dogs and for that purpose, I will recommend you Supreme Slider. It has an adhesive back which makes sure that it adheres to the surface of your sewing machine.
Note: Supreme Slider will not leave a permanent effect as it is a temporary solution. So, it can be easily removed after you are done with your project.
Using the Supreme Slider, feed dogs would not be there in the way of your sewing machine and fabric. Also, the surface of Supreme Slider is a bit slippery which will make sure that your fabric may move freely on your sewing machine bed.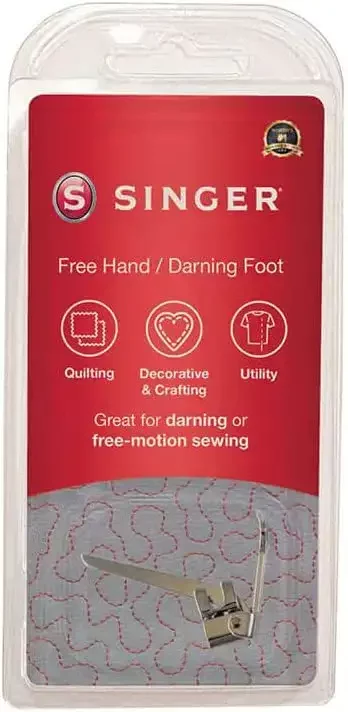 You need to remove your old foot and use a Free Motion Quilting foot if it comes with your sewing machine. Does not your sewing machine come with a free motion quilting machine? Well, you do not need to be worried. You can use a darning foot in place of your old sewing machine foot.
First of all, remove your sewing machine feet.
After changing and removing your old presser feet on your sewing machine, you need to attach this darning foot to your sewing machine. You can follow the above mentioned video tutorial if you do not know how to change the presser feet on your sewing machine.
How to Quilt With A Regular Sewing Machine?
You can also do quilting with a regular sewing machine, without the fancy features. Here are some of the steps that work well on a regular sewing machine while quilting:
Note: Make sure to change your needle at first. In normal sewing, you only need to do stitching with one or two layers at a time but there is batting also in quilting along with your fabric layers.
Step 1: Start by preparing your pattern pieces. Pattern pieces are used for drawing lines onto the fabrics so that when you're sewn together they'll line up perfectly. The pattern pieces can be drawn by hand or with a compass.
Step 2: Set your sewing machine to a straight stitch, using the basting stitch width to mark on the paper. Basting stitches are small stitches that can be removed after sewing. Mark the holes on one side of the paper using your sewing machine.
Step 3: If you're using a large piece of fabric, fold it in half so that your lines are easier to trace. Lay the pattern down on top and trace the lines onto both sides of the fabric. You can also draw your lines directly on the fabric.
Step 4: Using a metallic thread and a straight stitch, stitch along the lines that you've marked. The stitches will be small, so use the widest length possible to prevent skipping.
Step 5: If you're using linen or other fabric that frays easily, it's recommended to finish the edges of the fabric before sewing. This will make it easier to keep your quilting on track and prevent fraying when you're done. To do this, simply use a zig-zag stitch and sew around the edge of the fabric.
Step 6: Make sure to sew the seam together so that the entire line of stitching is cut off. If you don't, the fabric will fray.
Step 7: To finish off both ends, turn the quilt right side out and flip it over on its side so that it lays flat on a table. Fold back one side of the paper to mark a line from top to bottom. Place your hand through the corresponding line at the other end of the paper, and fold back as well.
This makes it very easy to turn your quilt right side out and flip it over on its back with no risk of getting stuck inside the sewing machine when you're done. Make sure to fold the corners correctly, as this will create your quilt's four corner points. Before you sew your lines together, make sure to use a thread that matches the color of your fabric so that it blends in well.
Step 8: Use a straight stitch and sew 2 or 3 stitches over the fold line and then stop. You may want to do this on both sides and then go back through at the end after you've sewn both ends together. Make sure not to pull too tightly so that you're able to match up your lines before sewing them closed.
Step 9: Once you're done sewing all of your lines together, cut off any excess thread with a pair of scissors, if you choose.
What Features Do You Need To Consider To Quilt On A Regular Sewing Machine?
Before you quilt, it is important to know how many layers and how thick the fabric is that you are going to sew. Here are some of the features you will need for quilting on a standard sewing machine:
Throat Size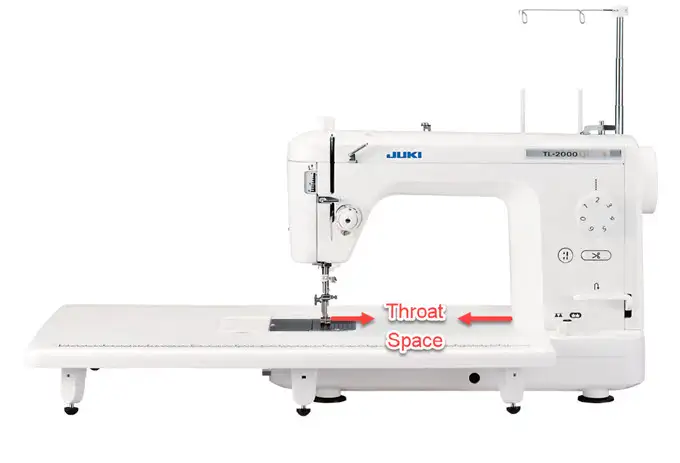 The throat size is a measurement between the sewing machine arm and the needle of the sewing machine. This helps to sink the needle into the fabric and keep the fabric from puckering. The regular sewing machine with a quilting function has a throat size of 6 to 9 inches. Open stitch is best on a regular sewing machine, as it has less tendency to leave holes in your work which makes it easy to see when you're done with all of your stitching. Make sure to have more throat size in your sewing machine as it would be easy to handle your long quilting projects.
You can also check the best sewing machines with large throat space.
Adjustable Feed Dogs
The adjustable feed dogs help to help feed the fabric under the needle from front to back, rather than side to side. The feed dogs are used to feed the fabric at a regulated rate and are adjustable by the user. The user can adjust the feed of the fabric to avoid stretching and also maintain even stitches.
Adjustable Presser Foot Pressure
Foot pressure is used to regulate how hard or light the foot presses on your fabric while sewing. It is important to note how many feet will come with the machine because feet play an important role in the speed of the machine.
Free motion or darning feet are the most effective foot to use when free motion quilting.
You can move the fabric freely under the needle while using this foot to ensure proper stitch formation, reduce skipped stitches, and keep your fingers safe. Freehand quilters, especially those just starting out, will find it particularly useful.
Adjustable Stitch Length and Width
Stitch length is how long your stitches are. When quilting, you want long stitches that sink into the fabric and hold it in place while you are sewing. Stitch width is referred to as the distance between the needle eye and presser foot during sewing, but for quilting, you only need one stitch, which is wide enough for the fabric. Machine quilting stitch lengths usually range from 4 to 9 stitches per inch.
Sewing Speed & Stability
The sewing speed of a sewing and quilting machine is measured in SPM (Stitches Per Minute). The higher the number, the faster your machine can move. A higher speed will help you to turn out more quality work in a shorter amount of time. The stability of the machine comes from how it is built and its weight. A slimmer, lightweight frame will allow for easier movement when quilting large pieces.
Extra Stitches
Many machines have decorative stitches which can be used for quilting. These are small, unique stitches that add interest and texture to your work.
Traditionally quilting is done with only one thread color, usually white, but there are many other options available today. Choosing the right thread color will depend on the effect you want to achieve.
Needle Down Selection
A quilting needle has a larger eye than a regular needle, but the eye is still small enough to fit into the fabric. The back of the fabric must be released from the bobbin when you are ready to start sewing, so you need to raise the presser foot lever.
After you have both hands on your presser foot, insert your tip into the fabric. Gently push down until you have it in place and then lift up and remove your hand from around it.
You can help your machine by pushing down on both ends of the needle with your opposite hand. You also want to check for tension on both sides of your stitches so that they won't come undone later.
Assortment of Extra Feet
It is important to have an assortment of feet at your disposal. If you are just starting out, you should have the following feet:
Presser foot − It is used in general sewing. It provides air feed and also helps to sew thicker fabric and multiple layers of fabric at once.
Darning foot − Usually made of metal, it is used when you need to stitch on top of a quilt without piercing through the quilt surface. The darning foot has a spring attached to help them move up and down for free-motion sewing.
Variable Speed Control
You have several options to regulate the speed of your sewing machine when you choose a quilting machine. You have different types of speeds available on a standard sewing machine, with the one being the slowest and the top speed being the fastest.
FAQ about Quilting with a Sewing Machine
How to bind a quilt with a sewing machine?
Before you bind a quilt, it is important to know the type of stitch you want to sew. You can then select the appropriate settings on your machine. There are several types of stitches that can be used on the machine. A regular straight stitch is used when you want to sew a straight line on the quilt top that you have sewn with a regular sewing machine. This option is available in most sewing machines today, but make sure that your machine has enough needle threads to do this as well as all other stitches required for your project.
Can you quilt with your Brother Sewing Machine?
Brother makes a variety of machines that are compatible with quilting. Select your machine depending on how much you can spend and how much you need to accomplish. Home quilters usually do not need very high-end machines and will be fine with a basic model from Brother. The Brother SQ9285 Computerized Sewing and Quilting Machine is extremely affordable and a great deal for someone just starting out. 
What is the best sewing and quilting machine for beginners?
There are lots of options on the market, but some quilters prefer to use the Brother SQ9285 Computerized Sewing and Quilting Machine because of its excellent reviews and reputation for quality. The Brother is an extremely affordable machine and one of the best to get started with; however, you can upgrade later on when you are ready.
How do you quilt with a ruler on a regular sewing machine?
The rulers come in many different shapes and sizes, from small to large. The size of your ruler will determine the size of the quilt you sew as well as the time it takes to complete. Choose a ruler that is meant for your type of sewing machine and comes with instructions on how to use it properly for best results. You can also choose one that has a grid pattern meant to aid in the piecing process, but rulers are not necessary for sewing.
How to quilt a blanket with a sewing machine?
When quilting a blanket, the best results can be obtained with sewing machines with decent walking feet. When quilting a blanket, you can use a single or double layer of fabric. A single layer is usually done when you don't want to see a seam, but would rather have one continuous piece of fabric. When quilting with 2 layers, the procedure is the same as with any other quilting project. The only difference is that you need to make sure that the lower layer of fabric gets under the presser foot. This can be done by placing the ruler (also called guide or marking) underneath your quilt and then moving your presser foot down to sew over it. Don't forget to lift up your needle after sewing through both layers of fabric so that it will release from your base layer.
Final Thoughts
Quilting is a popular hobby among many. The satisfaction of making a project that is both functional and beautiful is what it's all about. It can take time to master, but the reward, in the end, will be well worth the effort.
The best way to get started is to purchase one at your local quilt store or online.
When choosing the right sewing or quilting machine, there are a lot of things to consider. It is important to know what kind of sewing or quilting you plan to do so that you can find a machine that will be able to handle some minor repairs as well as take on more advanced projects.
If you choose an affordable and quality model, the machine will last you many years and serve your needs very well. No matter which one you pick, make sure you get service if something goes wrong.