Handi Quilter Amara longarm machine is a marvelous production in the world of quilting possibilities having experience quality and precision. This longarm machine is the perfect fit for quilting from baby quilts to king-size for your style of quilting. The HQ Amara longarm machine is a 20-inch longarm machine that comes with a 10-foot or 12-foot HQ Studio2 Frame.
Handi Quilter Amara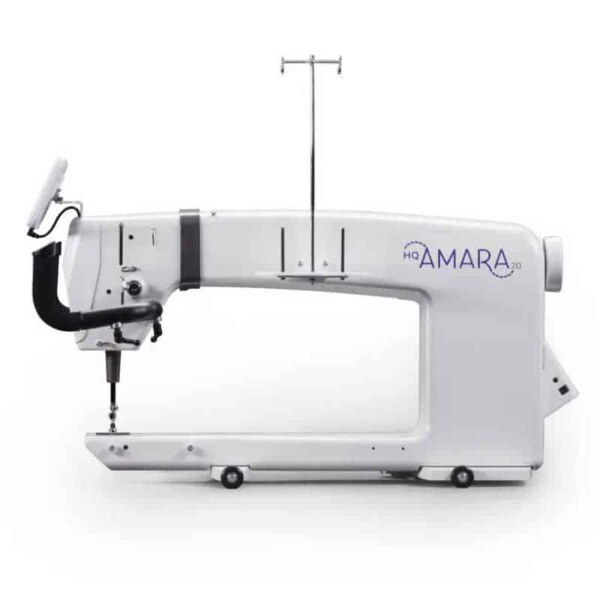 Stitching Speed

:

2,500 SPM

Availability

:

Yes, Online
Handi Quilter Moxie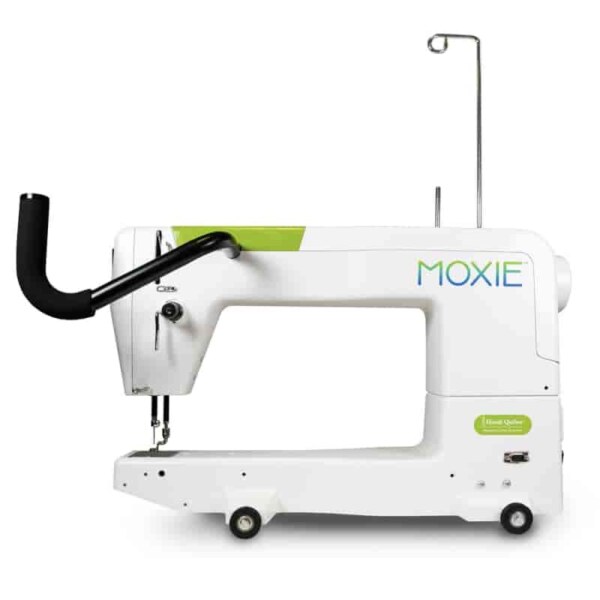 Stitching Speed

:

1,800 SPM

Availability

:

Yes, Online
You can start stand-up quilting anywhere you want, at home, cabin, studio, and make quilts of any size, small, or king because you can quilt up to King size on the Little Foot Frame. This machine has 20 inches of brightly lit throat space. Because it has the Menu-controlled QuiltMaster LED Lighting Package. Its bobbins and needle bar are also brightly lit. Moreover, the pinpoint needle laser ensures accurate needle placement from the start to the end of the quilt design.
The seven inches touchscreen controls the machine from the back and it helps to set the machine the way you want. Hence its rear soft textured and easy gripped Handlebars have programmable buttons and are easy to install. These handlebars can be adjusted and turned at any angle that you need to make a minute design on your quilt.
Furthermore, the two great ways to quilt from the back with the help of Pantograph and Groovy boards. These two amazing features allow you to edge patterns.
This quilter machine is optionally providing a Pro-Stitcher system, Quilt from the Back Kit: rear handlebars, laser light, and pantograph, Groovy Board stylus, HQ Glide foot, HQ Steady-Fit Ruler Base, Horizontal Spool Pin, and HQ Couching Feet, HQ Echo Feet, and HQ Sure-Foot.
Have a look at the official introductory video from Handi Quilter about the brand new Amara.
Features of Handi Quilter Amara
Stitching Speed of 2,500 SPM (Stitches Per Minute)
Throat Space of 20 inches
Pinpoint Needle Laser
Easy-Set Tension
7-inch Color Touchscreen
Compatibility with Pro-Stitcher
Adjustable Front Handlebar
Offers perfect stitches every time by QuiltMaster servo-controlled stitch regulation
Programmable handlebar buttons
It has consistent stitch quality from 4-24 stitches per inch
Two modes of stitch regulation are Precision or Cruise
This machine has Five convenient built-in tie-off stitches
High-speed rotary hook with large-capacity M-class bobbin
Manual mode is available with three customizable preset speeds
All necessary cabling is pre-installed inside for the Pro-Stitcher
Ruler foot and open-toe foot is compatible with Handi Feet
An on-screen handwheel is available
Magnetic Tool Minder Collar help to hold things like scissors etc
Estimation of the number of turns by Bobbin-use estimator
Front power switch
Useful Thread-break sensor and alarm
It can count the number of stitches through the Stitch counter
The needle can be easily changed
Needle control like stop, up, and down control
Providing Five different basting stitches
Pros
This longarm quilter machine is providing 20″ throat space brightly lit which allows easy and comfortable quilting.
The 7″ touch screen helps you to operate the machine according to your requirements
The pinpoint needle laser ensures accurate needle placement
The stitching speed is more than 2500 stitches per minute
You can also control the machine with the help of handwheels
The adjustable handlebars can turn at any angle and ensures a minute design pattern
The handlebars' programmable buttons are very useful
This machine is apt for a tight space to stand able quilting machine
This HQ quilter can stitch 4 to 24 stitches per inch in two modes
Most importantly it has two stitching modes like pantograph and groove boards. Pantographs are paper templates that can be drawn using laser light. Similarly, groove boards are plastic templates that are traced with a groove board stylus.
The HQ quilter provides ten years of warranty against defective material, five years on electrical components and mechanical failure, and ninety days for free parts and labor.
Cons
Before quilting, you have to make sure that our tension is correct in our bobbin tension.
It is a bit more expensive than other quilter machines.
Handi Quilter Amara VS King Quilter II Elite VS Handi Quilter Moxie
| | | | |
| --- | --- | --- | --- |
| | Handi Quilter Amara – In-Depth Review | King Quilter II Elite – In-Depth Review | Handi Quilter Moxie – In-Depth Review |
| Stitching Speed | 2,500 SPM | 2,200 SPM | 1,800 SPM |
| Throat Space | 20 Inches | 18 Inches | 15 Inches |
| Quilting Frame Size | 5-Foot included (10-Foot or 12-Foot optional) | Not Included (But optional) | 8-Foot included (10-Foot optional) |
| Rear Handlebars | Compatible (But optional) | Included | Compatible (But optional) |
| Presser Feet in the box | 2 | 2 | 2 |
| Display Screen | Touchscreen LCD | Touchscreen LCD | Touchscreen LCD |
| LCD Screen Size | 7 Inches | 7 Inches | |
| Bobbin | M-Class | M-Class | M-Class |
| Stitch Quality (Stitches Per Inch – SPI) | 4-24 Stitches | 4-22 Stitches | 4-18 Stitches |
| Handlebar Buttons | Programmable | Programmable | – |
| LED Light | Yes | Yes | Yes |
| Warranty | 10 Years | 10 years | 10 Years |
| Our Rating | 4.80/5 | 4.95/5 | 4.90/5 |
| Price | $11,799 (Buy here) | $6,299 (Buy here) | $4,995 (Buy here) |
| | | | |
User Reviews
I found 5 total verified reviews by the owners of Handi Quilter Amara on various platforms. The average rating for Handi Quilter Amara is 4.75 which is not bad at all if we compare it with other best long arm quilting machines.
| | | |
| --- | --- | --- |
| Source | User Review | No. of Reviews |
| Handi Quilter | 5.0 out of 5 | 1 |
| SewingMachinesPlus | – | – |
| Google Reviews | 4.5 out of 5 | 4 |
FAQs about Handi Quilter Amara
What is the price of Handi Quilter Amara?
Handi Quilter Amara is one of the best long-arm quilting machines for only serious quilters and not for beginners. So, it comes with a high price that a beginner usually can not afford as per his/her budget. The price of the Handi Quilter Amara- 20 Inches Long-Arm Quilting Machine is under $11,500. You can check its latest price with a discount on SewingMachinesPlus now.
Which quilting frame is included with Handi Quilter Amara?
Handi Quilter Amara- Long-Arm Quilting Machine comes with a 5-Foot Studio2 Frame and this quilting frame is included in the box. You can use other quilting frames i.e., 10-Foot and 12-Foot. Both of these quilting frames are optional and you have to buy them separately if you want these.
Is there any Quilting System for Handi Quilter Amara?
Well, Pro-Stitcher is a Quilting System compatible with your Handi Quilter Amara but it costs almost as much as your Handi Quilter Amara does. It is a bit pricy but worth it if you are a serious quilter and want to work on bigger and more complicated projects.
Is there any best alternative Handi Quilter Amara with a low price?
Yes, there are other options available too if you are a beginner or just can not afford Handi Quilter Amara. Obviously, you have to compromise over some features such as Stitching Speed, LCD Screen, and Other stuff. You can consider Handi Quilter Moxie and Baby Lock Gallant if you have a low budget. But there is also a perfect alternative with low price than Amara but a bit higher than Moxie and Gallant which is King Quilter II Elite.
Does the Handi Quilter Amara come with any software?
Yes, the Handi Quilter Amara comes with Pro-Stitcher, which is a software program that allows you to create and edit quilting designs on your computer and then transfer them to the machine for quilting. Pro-Stitcher also features a variety of pre-loaded designs and patterns for you to choose from, as well as the ability to create your own custom designs.
Final Thoughts
As for the best quilting is required, the Handi Quilter Amara is an excellent invention for a baby quilt to king size quilt. It can stitch up to 2500 stitches per minute. It is easy, durable, and more reliable. This machine is easily adjustable in tightly spaced areas. By adding a pro stitching system more features in dream quilting will be possible. Hence it is highly recommended under all these considerations.