Thinking about a Long Arm Quilting Machine? Well, here is the best fit for you if you a fan of Baby Lock. Keep reading this in-depth review of Baby Lock Gallant Longarm Quilting Machine.
So, today I am going to review a long-arm quilting machine by Baby Lock named Gallant.
Unanimously great for larger projects; this high-performance machine is packed with high-quality features and includes everything to get your hands on. Specifically designed for sewing king-sized quilts, bedsheets, and blankets due to its large capacity and time-saving features. If your big-sized quilting projects are pending; you are at the right place! Let's break down its machine frame and probe into every part to have a good review of this product.
All folks out there related to the textile profession (especially sewing) must have gone by this famous cliche: "if you are a beginner sewer then a long-arm quilting machine is not for you; rather you should go with a home sewing machine or a sit-down quilting machine." Is a long-arm quilting machine only for advanced-level hobbyists? Well, not really!
Every product packed with perky features is best for all alike and novice practitioners can learn and enhance their productivity in a convenient way. In this article, I am going to introduce to you a competent candidate and a safe-to-spend option in the realm of long-arm Quilting machines. We would also try to figure out the edges and Pros, a long-arm quilting machine has over its other conventional counterparts.
Features of Baby Lock Gallant
Why am I recommending you this Longarm Quilting Machine? Well, here below are the reasons, check the complete features offered by Baby Lock Gallant.
Speed of 1800 SPM (Stitches Per Minute)
Vast Throat Space (15″ x 8.5″)
8-Foot Villa Frame
Overspeed Alarm
LED Light
Needle Threader
Bobbin Winder
Needle-stop positioning control
LCD Display
Hex keys (2.5mm, 3.0mm, 4mm)
Front Handlebars
25 Years Warranty
Free 60 Days Online Trial Classes (*SewingMachinesPlus)
Compatible with BILT App
Weight 32 lbs. (14.5 Kg)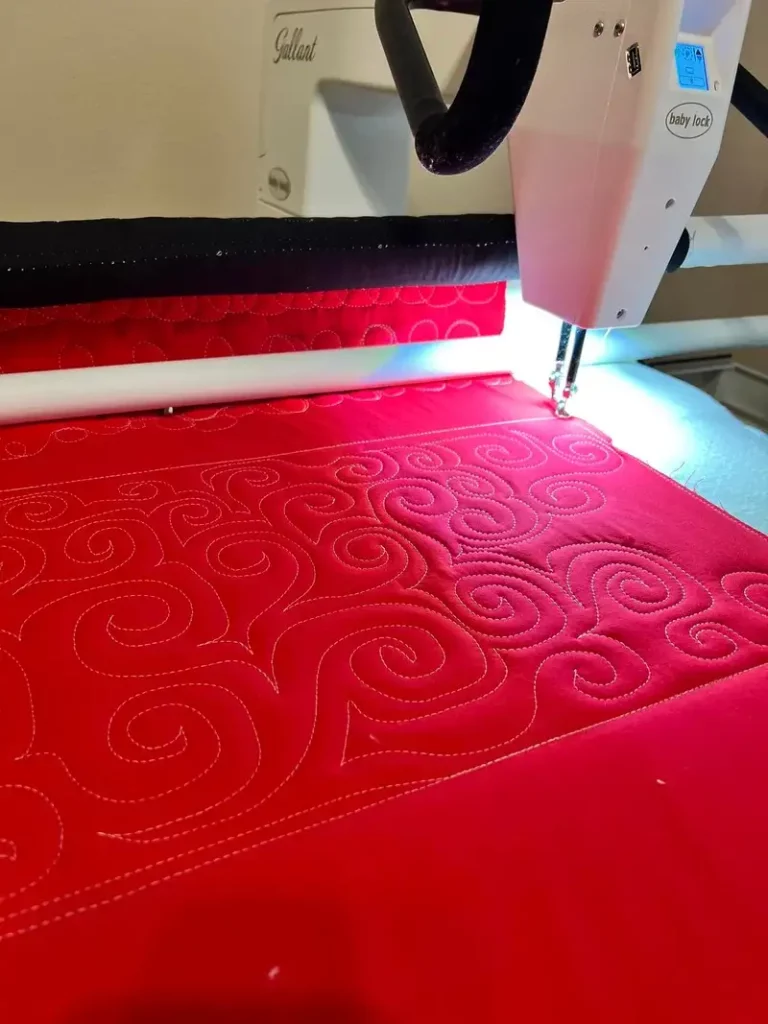 Large Quilting Workspace
Baby Lock Gallant provides you with a large enough workspace to exhibit your creativity with its 15 inches wide workspace and 8 inches height on the Baby Lock Gallant.
M Class Bobbins
Baby Lock Gallant uses a large-capacity M class Bobbin, which is 40 percent larger in size than a standard size Bobbin. It means that you don't have to change the bobbin again and again. This is the same Bobbin case that you get with Handi Quilter Moxie Long-arm Quilting Machine.
Speed of 1800 SPM
This feature greatly justifies that it is in a bit high price range: Your work gets done quite before you know it. Its stitch rate goes as far as 1,800 SPM (Stitches Per Minute) and 4-18 stitches per inch.
In-built Stitch Regulator
Baby Lock Gallant comes with an in-built stitch regulator with dual modes for Cruise and Precision. A stitch regulator is used to adjust the speed of the needle going up and down and to create the perfect stitch length according to the thickness of the thread and the thickness of the shapes being quilted. With the help of this regulator, We can select shorter stitch lengths for small and intricate designs and switch to longer ones for open quilting patterns.
LED lights
Above the needle unit 'you have dazzling and flashing (not dazzling actually) LED lights; This is no less than a bliss for old people or the ones having weak eyesight or experiencing any kind of eye fatigue or soreness eyes. It also enables you to keep sewing for longer periods without experiencing back or neck pain. Therefore, your productivity is enhanced.
Manual Thread Tension Control
To ensure that the same amount of thread follows simultaneously from the needle and the bobbin, producing a symmetrical stitch all machines have a tension control assembly. While many modern-day sewing and quilting machines have automatic tension regulating mechanisms; Baby Lock Gallant comes up with the manual one i.e.three discs controlled by a dial or keypad on the front of the machine which can regulate two threads at once.
Needle Stop Positioning Control
Normally, the sewing machine is set to leave the needle in the fabric when sewing is stopped. But modern machines have a needle up /needle down feature for raising the needle when sewing is stopped. Baby lock Gallant offers you this amenity for sure.
8-Foot Villa Frame
Baby lock Gallant provides its consumers with an easy assembly and an 8-foot free-standing frame. Sitting arrangements could be customized like the table's height -adjustable and has leveling feet that adjust to floor surfaces. Loading mode can be switched between high and low and ratcheted pole end provides hold quite firmly for perfect stitching.
Supplementary accessories
The package also includes an M-style Bobbin case, pen oiler, Bobbin case screwdriver, lint brush, spool pin, thread mast,10 packs of needles in each size:100/16 and 110/18, and a quick change hopping foot.
Pros
It comes with many great features but there are some that are worth mentioning and make it stand one step ahead of other Long-arm Quilting Machines. Here are the advantages of Babylock Gallant,
Lightweight
High Speed
High-Speed Rotatory Hook
Vast Throat Space
Lightweight
It weighs only 32 lbs. without including the weight of the quilting frame. It is a great plus point of Babylock Gallant that makes it easy to shift it from one place to another. Its low weight makes it the best portable long-arm quilting machine.
High Speed
Everyone wants to finish the quilting projects as fast as possible whether it is a quilting business or working at home. Thanks to the 1800 SPM speed of Babylock Gallant which keeps you finishing your projects faster.
High-Speed Rotatory Hook
Your Sewing and Quilting experience gets more expedient smooth and time-saving when already bulk thread holding Bobbin is coupled with the high-speed rotatory hook. This feature is a great boon for handling large-scale projects e.g. sewing big, bed-sized quilts.
Large Throat Space
You have to deal with different sizes of stuff if you are going to do quilting business or even if want to do quilting at home. Imagine quilting a large blanket or curtain, it will be very difficult quilting such large stuff if you have a small quilting area. Vast throat space of 15″ x 8.5″ enables you to quilt the large stuff easily without any hassle.
Cons
These might be reasons to not consider the Babylock Gallant Long Arm Quilting Machine,
No Bonus Kit
No Rear Handlebars
No Automatic Thread Tention Regulator
Small Display Screen
No Bonus Kit
While some quilting and sewing machines also include bonus kits in their package which include bonus accessories like a blind hem foot, a 5 pack of heavy-duty needles, scissors, an all-purpose foot with spring assist, etc; Baby Lock Gallant doesn't offer this bonus kit.
No Rear Handlebars
Baby Lock Gallant does not come with rear handlebars which is not good at all for all those quilters who want full control of their long arm quilting machine. If your long-arm quilting machine has rear handlebars then you can operate it from the both back and front sides. If you are working on a large project then definitely you need to operate your machine both from the front and backside which is really easy and provides you great access to your quilt.
Manual Thread Tension Regulator
In computerized sewing machines, the thread tension control system is automatic i.e. you can select stitches and adjust stitch length, and stitch width via screen settings on LCD. However, Baby Lock Gallant comes up with the manual tension control assembly in which regulating discs are operated by a dial or keypad on the front of the screen.
Small Display Screen
Baby Lock Gallant comes with a touch LCD display but the screen size is very low. Sometimes, you feel difficult to operate this long arm quilting machine because of the small LCD size. A good long-arm quilting machine has a vast full color and touch LCD screen like Handi Quilter Amara.
Here is the short video from Baby Lock explaining its features officially.
Long-arm vs Home vs Sit-down Quilting Machines
Why go for a longarm machine? Why not sort out things in a conventional way? Of course, you can go with the traditional machine quilting route i.e. home sewing machine and sit-down quilting machine but, if you're sewing a particularly large quilt, you may find it inconvenient to work with such a large piece on your home sewing machine and sitting too much can havoc your back muscles!
Another great reason to consider a long-arm machine is time – this long-term equipment can save you plenty of time, and there is no need to waste when using the long-arm machine. You can use up this extra time for watching your favorite tv shows!
FAQ about Baby Lock Gallant Quilting Machine
How Much Does Baby Lock Gallant Cost?
The price of BabyLock Gallant may vary from time to time due to some discounts available on this long-arm quilting machine. The original price of BabyLock Gallant is $5,999 and you can also check its latest price with a discount right here.
Is the Quilting Frame extendable in BabyLock Gallant?
BabyLock Gallant comes with an 8-Foot Quilting Frame and this is the longest frame size that is compatible with Baby Lock Gallant. You can not add a quilting frame longer than 8-Foot and if you do want to use a large quilting frame then consider Handi Quilter Moxie, Handi Quilter Amara, or King Quilter II Elite.
Handi Quilter Moxie vs Baby Lock Gallant vs King Quilter II Elite
Do you like Handi Quilter Moxie and also can not ignore BabyLock Gallant? You have to choose only one from these quilting machines and this comparison will surely help you.
| Features | Handi Quilter Moxie – In-Depth Review | BabyLock Gallant – In-Depth Review | King Quilter II Elite – In-Depth Review |
| --- | --- | --- | --- |
| Stitching Speed | 1800 SPM | 1800 SPM | 2,200 SPM |
| Throat Space | 15 Inches | 15 Inches | 18 Inches |
| Quilting Frame Size | 8-Foot included (10-Foot optional) | 8-Foot included | 8-Foot included (10-Foot optional) |
| Rear Handlebars | Compatible (But optional) | – | Compatible (But optional) |
| Presser Feet in the box | 2 | 2 | 2 |
| Display Screen | Touchscreen LCD | Full-color LCD Display | Tocuhscreen LCD |
| Bobbin | M-Class | M-Class | M-Class |
| Stitch Quality (Per Inch) | 4-18 Stitches | 4-18 Stitches | 4-18 Stitches |
| LED Light | Yes | Yes | LED |
| Warranty | 10 Years | 25 Years | 10 Years |
| Our Rating | 4.90/5 | 4.85/5 | 4.95/5 |
| Price | $4,995 | $5,999 | $6,299 |
| Buy Now | Check here | Check here | Check here |
Video Tutorials about Baby Lock Gallant
Conclusion
Packed with a plethora of awesome and convenient features, the Gallant longarm quilting machine stands out from the competition. One of the reasons why it's highly recommended is its unparalleled utility for long sewing and quilting projects that simply can't be denied. Plus, when compared to other brands of long-arm quilting machines, the price range of the Baby Lock Gallant is competitive, making it a smart choice for budget-conscious buyers.
One of the standout features of the Baby Lock Gallant is the extensive range of accessories that come with it. Unlike other machines where optional accessories are not included, the Baby Lock Gallant comes with a bonus kit that provides you with even more value for your money. From different presser feet to specialized needles, this machine has everything you need to tackle various sewing and quilting projects with ease.
In conclusion, the Baby Lock Gallant is a top-notch choice for anyone looking for a high-quality long sewing/quilting machine. With its impressive features, competitive pricing, and generous accessory package, it's a worthwhile investment for both beginner and experienced sewists alike. Don't miss out on the opportunity to own this fantastic machine that combines functionality and affordability in one sleek package!