Most people want to have a combo (sewing + embroidery) machine and usually, combo sewing machines are not so features-enriched. But, Bernette B79 is a special sewing machine that combines the features of an embroidering and sewing combo machine and it is the best choice for embroidery as well as sewing enthusiast.
The Bernette B79 is a sewing and embroidery combo machine that combines the best of both sewing and embroidery. It has all the features you need for traditional stitching but also makes it easy to create your own designs with its computerized design system. This feature-rich combination device can give you great satisfaction in sewing as well as embroidering, plus you can enjoy all the features that both worlds have to offer.
Bernette B79 has a great variety of stitch patterns and embroidery designs, which are among its most notable features. There are 500 stitches in total for sewing and 208 designs for embroidering. It offers over 208 different embroidery designs for embroidered flowers or motifs on clothing, accessories, or home décor in the same machine with an included database so that you can enjoy the same efficiency with embroidering as well.
Edit
:
Bernette B79 is now on Black Friday Sale at SewingMachinesPlus. You can get FREE Bernina Embroidery Software if you buy this sewing machine during Black Friday Sale.
Bernette B79 is a sewing and embroidery combo device, which has more features than an ordinary machine. With the help of its touchscreen display, you can quickly and easily set up your machine for any embroidery task. Bernette B79 supports all common formats like EXP and ART as well as many more software programs that are available on the internet today.
The sewing speed is around 1000 SPM (Stitches Per Minute) while the embroidery speed is 850 SPM (Stitches Per Minute). Honestly, its sewing speed is not so fast because there are many sewing machine models which can easily offer 1,500 SPM sewing speed even at the lower price range. The sewing speed is an important factor because you can complete your projects on time. And, its embroidery speed is good enough and comparable to other embroidery combo machines.
If you do want an even more fast embroidery machine then you may look around at commercial embroidery machines.
The (fast) feeding system of the Bernette B79 makes it possible to feed the fabric through the machine in a fast and even way, which means that your embroideries come out perfect too. The Bernette B79 also comes with an automatic needle threader as well as a dual-feed system and back-kick foot control.
These features are usually only found on more expensive sewing machines, but Bernette B79 offers them all for an affordable price. Bernette B79 is a reliable machine that can sew without problem as well as embroider the most intricate designs with ease and fulfill all things that must be considered before buying a sewing machine.
Features of Bernette B79
The sewing speed of 1,000 SPM (Stitches Per Minute)
Embroidery speed of 850 SPM (Stitches Per Minute)
500 Sewing stitch patterns
208 Embroidery designs
Embroidery area of 260 x 160 mm
Stitch width of 7mm
Adjustable thread tension
Vast sewing and embroider area
3 Embroidery hoops
Touch color screen of 5 inches
Automatic thread cutter
Semi-automatic needle threader
8 presser feet included
Extension table included
Bernette B79 Presser Feet
Following is the list of presser feet that are packed in with Bernette B79.
Zigzag foot (DA)

To sew practical, decorative stitches and hems.

Embroidery foot (JK)

To sew buttonholes, appliqués, and decorative stitches.

Zipper foot (JB)

Used to sew with dual feed. To sew in zippers.

Buttonhole foot with slide (RJ)
Blindstitch foot (DM)

To sew blind-stitch hems with Dual Feed.

Button-sew-on foot (RC)
Overlock foot (DI)

Used to sew with dual feed. Overlock stitches over the fabric edge.

Free motion foot (RX)

For embroidering, darning, and free motion quilting.

Embroidery foot (JL)

For embroidering, darning, and free-motion quilting.

Hopper embroidery foot (JX)

For embroidering, darning, and free-motion quilting.
Bernette B79 Accessories
Here is the list of complete accessories that come along with the Bernette B79 Sewing & Embroidery Machine.
Bobbin (3x) Felt disc
Spool net Second spool pin
Needle package (2x) Touchscreen pen
Brush and seam ripper Seam guide
Spool disc large Screwdriver
Spool disc medium Soft Cover with pocket
Spool disc small (2x) Power cable
CutWork/Straight stitch plate
Foot control
3 embroidery hoops (160 x 260 mm, 120 x 180 mm, 50 x 70 mm)
Knee lifter
Lubricator
Slide-on table
Do not have any idea about these accessories? Well, you can check the detail of these in our guide on sewing machine parts.
Pros
Fast embroidery speed
Automatic thread cutter
High-quality stitches
Touch color screen
Speed controller
Fast embroidery speed
Bernette B79 comes with high embroidery speed which makes it one of the best sewing machines for embroidery. This machine has a maximum embroidery speed of 850 stitches per minute meaning that it can complete any job within the shortest time possible. Whether you are using it for personal purposes or business, time is the only thing that matters. And, with Bernette B79 you can embroidery different kinds of stuff in a very short time.
Automatic thread cutter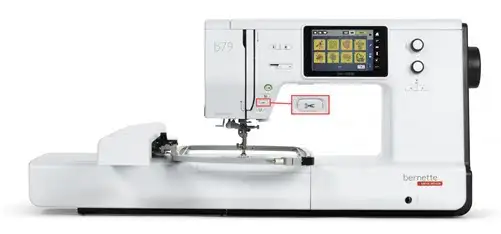 Bernette B79 comes with an automatic thread cutter which is a great feature for any sewing machine because it saves you time and effort of manually cutting the threads after completing a job. It also has an automatic needle threader, so if you are not used to doing things such as this then Bernette B79 can take care of this for you.
If you really love to work with an automatic thread cutter, you may check some of the best sewing machines with an automatic thread cutter.
High-quality stitches
Bernette B79 is a professional sewing machine and its stitching quality is just amazing. You do not need to be worried about its stitch quality because Bernette always takes care of quality. I know you are going to invest a reasonable amount of money to buy this sewing machine and you might be curious to know about its stitch quality. You can have peace of mind before and after buying this sewing machine because of its stitch quality.
Touch color screen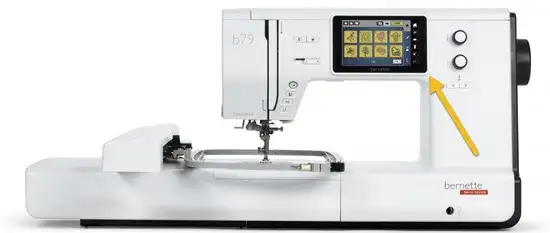 Bernette B79 comes with a touch display which is one of the most advanced features. The size of this screen is five inches and it provides clear visuals for you to work better without any problem whatsoever. You can do on-screen editing to your embroidery designs and also make adjustments to the machine's settings.
Speed controller
It does come with a speed controller? Although its sewing and embroidery speed fit for both beginners and professionals still there is a speed controller. Some beginners can not sew at the sewing speed of 1,000 SPM and some even can not embroider stuff at 850 SPM. Do remember, there are some kinds of stuff where you need to slow down your sewing speed otherwise it might not be stitched properly, and in that case, you need a speed controller. So, if you want to adjust your sewing or embroidery speed you should not worry while using Bernette B79 sewing and embroidery machine.
Cons
A bit high priced
Slow sewing speed
High Price Tag
I added this just to remind the beginners that this might not be the right fit for them. Beginners usually do not have a lot of money to invest just to learn the basics of sewing and I also do not recommend buying a costly sewing machine as a beginner.
Beginners usually do not need a bunch of advanced features in a sewing machine because they are more interested in basic things so you can just ignore this sewing machine if you can not afford it. And, I would also like to say it is a bit highly-priced and credit goes to Bernina :). Bernina sewing machines are always of high quality but come with a high price tag too.
If you can not afford it due to its high pricing then you may look around at cheap embroidery machines or have an idea about how much does an embroidery machine cost?
Slow sewing speed
You might be confused when you saw fast speed in the list of PROS. Actually, its sewing speed is not so admirable but it does come with fast embroidery speed. There are some sewing machine models from other brands which can provide you with sewing speed of up to 1,500 SPM even at a low price point than the Bernette B79. Although, it is a combo sewing machine and it could be difficult to manage such high sewing speed along with the same high quality at a reasonable price. But, there are some sewers who are working professionally and consider their time as money. So, to work fast on the projects they need a high-speed sewing machine and here, unfortunately, Bernette B79 lacks one.
User Reviews
I found 61 total verified reviews by the owners of Bernette B79 on various platforms. The average rating for Bernette B79 is 4.70 which is not bad at all if we compare it with other Bernette Sewing Machines.
| | | |
| --- | --- | --- |
| Source | User Review | No. of Reviews |
| Amazon | 4.0 out of 5 | 36 |
| SewingMachinesPlus | 4.7 out of 5 | 15 |
| SewingMachineSales | 5 out of 5 | 6 |
| TheSewingStudio | 4.75 out of 5 | 4 |
FAQ about Bernette B79 Sewing, Quilting & Embroidery Machine
What are the Bernette B79 hoops?
Bernette B79 (Sewing, Quilting & Embroidery Machine) does come with three embroidery hoops. The first one is the large embroidery hoop with a size of 160 x 260 mm, the second one is the medium embroidery hoop with the size of 120 x 180 mm and the third one is the small embroidery hoop with a size of 50 x 70 mm.
What is the size of the bobbin of Bernette B79?
The size of the bobbin of the Bernette B79 Sewing and Embroidery Machine is Class 15. Like most of the other sewing machines, Bernette B79 uses a Class 15 bobbin. You will find 3 Class 15 bobbins in your package if you buy a new Bernette B79 online or you can buy more online.
What embroidery format does Bernette b79 use?
Bernette B79 supports .exp embroidery file format which is supported by all Bernina embroidery machines. But, B79 is not limited to just one format, there are a lot of other file formats supported by it. Almost every widely used embroidery file format is supported by Bernette B79 like BMP, VP3, VIP, XXX, PEC, HUS, DST, EXP, JEF, PES, PHB, etc you do not need to convert one format to another anymore.
Final Thoughts
So, I hope you find this whole review of Bernette B79 good and find some valuable insights about Bernette B79. If still, you have any questions related to Bernette B79, you may just leave a comment below or you can contact us to get your question answered.