Needle threaders are used to ensure a clean, easy and safe sewing experience. It can be difficult to thread a sewing machine without the help of an automatic needle threader, as the eye of the needle is extremely tiny. Also, if a person does not have perfectly straight fingers, it may be difficult to pull the thread through.
With all of this in mind, it's easy to see why an automatic needle threader would come in handy for just about everyone who sews from time to time. Overall, this makes it much more convenient for users, as they don't have to worry about missing vital pieces of their projects due to a poorly threaded needle.
What is an automatic needle threader?
The purpose of needle threaders on sewing machines is to make threading needles easier for users. They are a small mechanism built into the machine, which allows for the needle to be threaded at a speed that is much quicker than it would take an individual who is unfamiliar with such tasks.
Threading a needle requires the use of a small arm that extends over the needle's eye. On the bottom, there is a small opening that allows it to be slipped into place. Once in place, there are two pieces located on either side of the opening, which can be turned to move closer to each other. This movement locks the threader arm in place and allows it to continue holding onto the thread without allowing it to slip out.
Once this is accomplished, all that needs to be done is for it to be pulled up from underneath and threaded through the eye of the needle before being placed back down over it. The user can then proceed with stitching away as normal, knowing that their needle will always remain properly threaded for their next project.
The purpose of the automatic needle threader in most machines is not just to save time, but also to eliminate frustration and the risk of eye injury from attempting to hand-thread needles. It's an easy-to-use device that almost anyone can use with little trouble – though some people may need practice typically because they don't sew often enough.
How does an automatic needle threader work?
An automatic needle threader saves the user a lot of time. Instead of manually threading their needles, they can rely on the machine to do this for them. Once, I used Singer 3337 Machine and found it great to work with an automatic needle threader. I was frustrated with the process of threading a needle manually. This is especially helpful for those who are more familiar with other aspects of sewing and just need to focus more on what they are trying to make. These devices are also very easy to use, making them an excellent asset to any sewing machine.
The automatic needle threader itself is small and compact, usually being no more than a couple of inches long and taking up little to no room in a machine. The gears inside the device allow it to instantly adjust to the correct position over the eye of a needle. When this happens, the needle threader arm will be automatically locked into place; once this occurs, only an easy pull will be required to move it back out of position where it can be removed easily.
How to use an automatic needle threader?
The thread should stay near the eye of the needle. When you get to the last step, pull up on your hand wheel until your machine kicks into gear. Your needle should now have threaded through it!
Keep repeating this process until your needle is threaded. Here are some tips to get the best result from an automatic needle threader:
Needle Size Matters
Because a needle threader is designed to fit on various sewing machine needles, make sure you check for its size specifications. If your machine requires a .75 millimeter needle and your threader measures .80 millimeters, it won't fit and it won't work. The main thing to remember is to read the specs before you buy it.
Needle threaders are not designed to work with every type of thread. In fact, some types are too thick for it to handle and you can bend the arm out of shape if you push too hard. Because of this, make sure your thread matches the threader – sewing machine needle type and size-wise. And, before you start finger twirling, check that the thread is not frayed or tangled in any way – this can cause a jamming issue that won't allow your needle threader to lock into place properly.
Finally, don't forget that your sewing machine will only work correctly when it is threaded correctly. If you are using a slick thread and your needle is not inserted correctly, the threader won't be able to tell that it's there and will disengage. Make sure you're using a needle threaded properly.
Some Common Fixes
It doesn't mean that your needle threader can't be fixed merely because it's defective. There are a few common solutions to get this rolling again.
Push Down On The Threader Arm
Press Down On The Arm With Some Pressure
Turn The Arm Up A Bit
Needle Position Matters
Your needle threader won't work if your needle hasn't been placed correctly. Make sure your needle is at the top of the arm and that it is facing forward. If you have a top-loading bobbin, make sure there isn't any thread in the bobbin before you try to thread it.
Make sure that the needle is positioned properly when you insert the thread into the machine. Then thread should be at least an inch or two away from where your needle is inserted. If not, the arm may be too far away from the eye of the needle when you pull it out, causing the threader to disengage.
Also, make sure the arm isn't bent out of shape so it doesn't hit your machine during use. If it is bent back (try pulling your arm down with a bit of pressure), this can cause issues as well.
You'll know that everything is correct when you pull it back out and see that there's no resistance as you push it into place.
Thread Matters
Your machine may not work with certain types of thread. Some thread is too thick for the automatic needle threader to handle effectively, which is why you should always make sure to check the specs on your machine and match it with the same type of thread.
If your needle threader won't work even when you use proper thread, try using a thinner form of it. Thinner thread requires less force to push through and may pass through easier than thicker types.
Sewing Machine Models with Automatic Needle Threader
Singer 3337
Brother CS7000X
Singer 4423
Brother XM2701
Janome 3160QDC
Singer 3337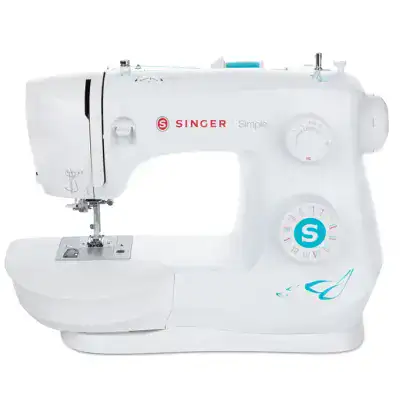 The Singer 3337 is an automatic needle threader machine that automatically threads the needle and bobbins. It takes care of any complaints that Singer models may have regarding the threaders not working effectively. It has the ability to change the distance between stitches to adjust the appearance of the stitch. The stitch function can also be used for appliques, basting, and more.
The features of this machine is that it has a Top Drop-in Bobbin, a Quick Change bobbin system, and an automatic needle threader. The automatic needle threader works very well with any size of thread and can easily be adjusted if you need to compensate for thick or thin threads.
The Singer 3337 also has some nice stitch features such as the Box Stitch, a buttonhole stitch, three-step buttonholes, an automatic needle threader/auto twin needle, and an easy-touch tension dial that allows for easy tension adjustment.
The Singer 3337's extra-large sewing space and exceptional ease of use make it the ideal choice for quilting.
Accessories
Buttonhole Foot
Zipper Foot and the Singer Sew Easy Foot
Auxiliary Spool Pin
Seam Ripper/Lint Brush
Button Sewing Foot
Darning Plate
Pack of Needles
Spool Cap and Edge/Quilting Guide
General Purpose Foot
Bobbins (Class 15 transparent)
Brother CS7000X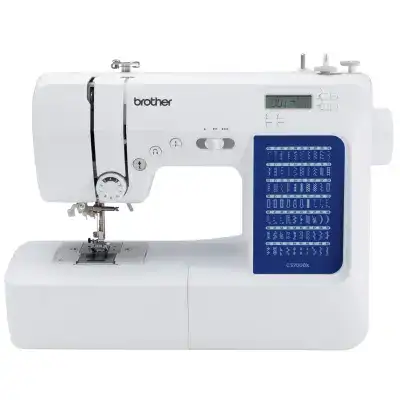 Brother CS7000X is one of the good machines on the market. The ability to be able to sew with a computer and convert it into a sewing pattern is wonderful. It has an automatic needle threader, an easy-touch tension dial, and 70 built-in stitches for you to play around with on your machine. The needle threader is also built-in meaning it does not require additional attachments when purchasing this machine which makes changing threads much easier than other models. This sewing machine also has speed control and a good speed of 750 SPM and comes with a load of accessories so you don't have to buy them specifically for your machine which saves a lot of money.
The programming features are actually just a fancy term for how easy or difficult it will be for you to learn to sew on your machine. A machine high in programming features usually means that it is easier to learn to sew on than others but must be backed up by very good things in other areas of the machine.
Automatic Needle Threaders, are a series of mechanisms in sewing machines that accurately thread the needle and bobbin automatically during operation. This feature is helpful for beginners or those who prefer hands-free operation. If you want to manually thread your needle, it will be a great help if your machine has an automatic needle threader built inside it. This feature helps you save time when dealing with the tedious job of manually threading a needle.
Accessories
Sewing Machine Hard Case
Plastic Bobbins for Sewing and Embroidery
Walking Foot 5mm
1/4″ Piecing Foot
Number of accessories feet (zigzag, monogram, blindstitch, and so on)
 SINGER 4423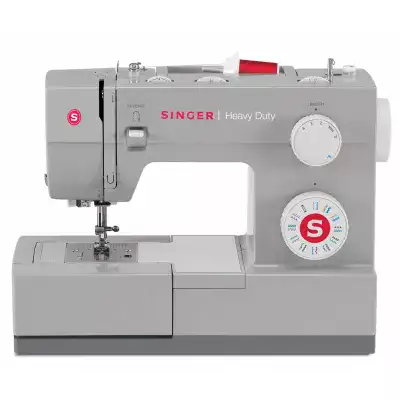 The Singer 4423 sewing machine is a heavy-duty and durable machine that promises to deliver a smooth and powerful performance. It has been engineered to handle tougher fabrics like denim, corduroy, home dec, upholstery, and more. The Singer 4423 has an automatic needle threader that easily threads the needle so you don't have to hassle with it manually. The extra-high presser foot lifter helps reduce the strain on your hands when using the machine because it allows you to use your hands for sewing instead of holding up the weight of your project while trying to maneuver around it. In addition, this singer heavy-duty model also has an automatic bobbin winding system which is a great time saver and saves you from having to manually wind the bobbin.
The singer 4423's extra-high presser foot lifter also helps reduce the strain on your hands when using the machine because it allows you to use your hands for sewing instead of holding up the weight of your project while trying to maneuver around it. It is said that this model includes 23 built-in stitches, a one-step buttonhole, and an automatic four-step buttonhole so you can create just about any type of pattern or design easily on this model.
Accessories
Power increases by 50% for thick fabrics
Any fabric can be stitched with 97 stitch applications
Sewing speed that is exceptionally high
The easiest and fastest way to thread
Sewing space: 6.25″ (needle to tower). Height: 4.25″
Transparent bobbin Singer Class 15
Brother XM2701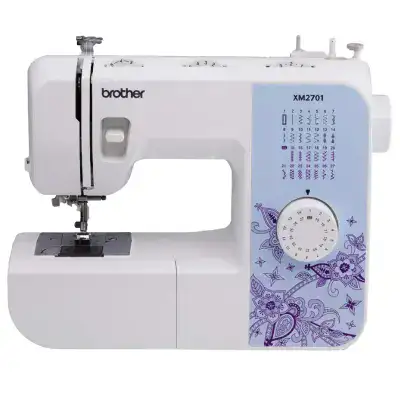 Brother sewing machines are some of the best in quality and performance on the market. The Brother XM2701 is a computerized sewing machine with heavy-duty, durable construction. It is easy to use and comes with an automatic needle threader for increased convenience. It has 27 built-in stitches for you to experiment with such as a one-step buttonhole, four-step buttonholes, and 63 other types of stitches including zigzag, monogramming, and blindstitches.
This model also features speed control that can be set anywhere from slow to fast (800 SPM) which means you have precise control over speed no matter what type of fabric you're using or how difficult your project may seem. This Brother XM2701 also features a speed lever that offers the ability to adjust the sewing speed no matter how it is set regardless of your sewing level and experience.
This brother computerized machine comes with an automatic needle-up threader, built-in stitch selector, easy-to-read backlit LCD screen, dual indexing bobbin winder, and clear table-top case that helps keep the machine free of dust during storage. The product also includes an assortment of accessories such as the quilting foot and decorative feet for added versatility.
Accessories
5300A Sewing Machine Hardcase
8 Piece Prewound White Sewing Bobbins
Brother Universal Sewing Machine Needles (5 pieces)
Plastic Bobbin for Sewing and Embroidery
6-piece Brother Genuine Sewing Thread
Janome 3160QDC
Janome 3160QDC computerized sewing machine is a heavy-duty computerized machine with many great features. The Janome 3160QDC is an excellent machine for the money that has a number of nice features including an automatic needle up threader, built-in stitch selector, and easy-to-view backlit LCD screen that displays all your meticulous designs clearly.
The Janome 3160QDC has a speed lever that lets you set the speed so that you can work on both difficult projects as well as simple ones, and adjust it to the exact speed you are working at. This can be a lot of help for beginners who want to work on projects that require precise adjustments all the time.
The Janome 3160QDC features a dual indexing bobbin winder which makes sure that you don't have to fumble around with winding bobbins manually and also has a clear, tabletop case so you can see all of your sewing projects clearly as you are working on it. This machine also comes with an automatic needle-up threader that works to automatically wind the bobbin after each stitch making sure that your machine is always ready to go.
Accessories
Satin stitch foot
Bobbins
Needle set
Additional spool pin
Spool pin felt
Zipper foot
Overedge foot
Blind hem foot
1/4″ seam foot
Automatic buttonhole foot
Seam ripper/buttonhole opener
FAQs about Automatic Needle Threader
How to fix an automatic needle threader if it is not working?
The first step is to check your needle for the proper size. The second step, check that your machine is threaded correctly. The third step, clean off any excess from the eye of the needle.
In the fourth step, discard any bent needle threader arms. The fifth step, clean off any threads that are in the holes of your machine because this can cause jamming in your machine.
If your machine doesn't work with different types of thread, try a thinner type to make sure that it is not jammed with thick threads.
The first thing to do when you notice that your needle threader isn't working is to check the position of your arm. The arm should be nearly perpendicular to the side of your machine and should be at least a couple of inches away from where the eye of the needle is inserted into place.
Why is my automatic needle threader not working?
If there is an excess of thread on the needle you are using, it could be causing the needle threader to jam. Sometimes the needle threader will not work with certain fabrics. If this happens remove the fabric and try again with a piece of scrap material to see if it works properly on a normal piece of fabric. If your machine isn't working properly with different types of fabrics, try a thinner type to make sure that it is not jammed with thick threads. You may need to adjust how tight you have your machine threaded if it doesn't work when you use thicker or thinner materials.
How do you thread an automatic threader on a sewing machine?
A sewing machine needle threader works by pulling the thread through the eye of the needle and then inserting a guide or sharp point that pulls the thread through to make it easier to pull. You may have to adjust how much pull you want on your needle.
What to do if the needle threader is not working?
If your needle threader is not working properly, the first thing you want to do is check the position of the needle threader. Make sure it is perpendicular to the side of your machine and about a couple of inches above where the eye of the needle is inserted. Next, make sure that it isn't jammed with any excess thread. If there are any threads that are caught between the eye and guide, clear them out by using a pair of pliers or another tool to grab them and pull them through.
What to do if a sewing machine does not have an automatic needle threader?
Some sewing machines will not have an automatic needle threader. There is a way to do this by hand. First, you need to bring the thread up from the bobbin and out at the back of the machine. Then you need to tie a knot on top of where it comes out and make a loop so that it is easier to pass through as you pull through the eye of the needle.
Final Thoughts
An automatic needle threader can make a big difference in the quality of your sewing projects. These handy little items will help to do the tedious work for you so that you are able to focus on much more important things.
It is important to remember that the customer service for each company selling these items is very different and some may be better than others depending on how much you use your machines. It may be smart to purchase auto needle threaders from a company that also offers repair services or extra parts in case yours breaks down or gives trouble but it's definitely worth investing in one.
---