Juki Tajima Sai is a feasible option to think about if you're searching for an affordable machine for domestic use. It includes the majority of the standard features found on larger industrial-grade embroidery machines, plus it is sleek and lightweight enough to take anywhere. Including a touch control panel is unique for a device in this price bracket, however, this one does.
Juki Tajima Sai maintains high efficiency even while working with extreme loads. In a large embroidery area, it can sew 800 SPM (Stitches Per Minute). The position marker enables you to locate the precise location of your design. Including an 8-needle configuration, you'll be able to get your tasks done quickly and effectively with the help of Juki Tajima Sai. Juki Tajima Sai It also features an automatic thread trimmer, which eliminates the need for constant manning of the embroidery machine.
Juki Tajima Sai offers 200 embroidery designs and 31 fonts pre-installed with an additional 1,000 embroidery designs by Pulse. In addition to the built-in embroidery designs, you may add your own using the built-in LAN and USB ports. This results in a unique needlework project that can't be beaten.
Features of Juki Tajima Sai 8-Needle Embroidery Machine
There are following features are included in Juki Tajima Sai:
The embroidery speed of Juki Tajima Sai is 800 SPM (Stitches Per Minute)
More than 200 embroidery designs
31 Built-in fonts
1,000 additional embroidery designs by Pulse
Embroidery area of 7.8 inch x 11.8 inch (200mm x 300mm)
Auto thread trimming between jumps to ensure a clean finish.
The thread detection system detects any thread breakage above or below during design.
6 inches easy to use touch panel
Power Supply of 120V only according to UL specification.
The dimensions of Juki Tajima Sai are 22" W x 26" H x 23" D.
The weight of The dimensions of Juki Tajima Sai is 82 lbs.
A Tubular
Frame of 800rpm
A Cap Frame of 800rpm
"L" style Bobin
LED Bulb On Embroidery Field
Stylish And Compact Machine Design
Included Tajima Software
Some of the most important features are explained below:
Embroidery Speed
Juki Tajima Sai offers a speed of 800 SPM. Even as the thread length changes, JUKI SAI's pace remains consistent at 800 stitches per minute.
Proficient Embroidery With 8-Needles
Embroidering with JUKI SAI allows for multicolored patterns to be created with little thread changes. Fine lines and large spaces may both be tastefully stitched thanks to a design that inherits from the great performance of industrial embroidery machines.
Built-In Designs
There are more than 200 built-in designs and 31 typefaces, plus Pulse provides another 1,000 embroidery designs by additional purchase. With these built-in designs, even a beginner can easily embroider. Designs from Pulse are pre-installed on the machine to suit all kinds of projects, plus the conveniently located USB port allows you to edit existing designs and add your own.
Built-In Fonts
There are six different fonts available on the touch screen to create custom letters for text and a monogram while traveling.
USB Connection
The USB port allows you to edit existing designs and add your own. Design data can be saved on a USB memory device. Even if you do not have design data, text and fonts can be directly inputted via the keyboard. It may also be used to import embroidery designs from other electronic devices such as personal computers or laptops etc.
Automatic Thread Trimmer
Automatic thread trimming eliminates unattractive thread ends at the completion of a project, as well as between color changes.
Easy-To-Use Touch Screen
The 3 1/2″ x 6″ full-color user-friendly touch panel makes setting up the machine to embroider easy for anyone, whether they have experience or are just starting out.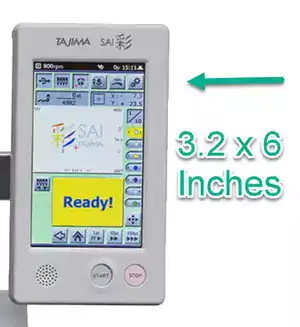 7-Inch Wide Screen With Touch Panel
High-Resolution (600 dpi) screens and touch panel controls allow for easy on-screen editing of graphics and fonts. JUKI SAI's touchscreen display allows for text and image editing. Simple modifications such as cutting, copying, and pasting are easy, while more extensive changes are made by touching the screen. With this function, even the most inexperienced designer appreciates embroidery limitations and capabilities.
Placement Of Embroidery Designs That Is Both Simple And Effective
With the laser positioning technology, there is no more guessing involved in aligning the starting point and drawing the design.
Automatic Threads Detection
If any of the 8 upper threads or the lower thread should break while in operation, it will be immediately identified. When a broken thread is discovered, the machine will turn off immediately.
LED Bulb On Embroidery Field
A 12″ x 8″ stitching area is brilliantly illuminated by LED lights to see the embroidery stitches easily.
Stylish And Compact Machine Design
Ideal for use in a private studio, a shop catering to a niche market, or a traveling embroidery enterprise. The availability of handles facilitates lifting, transportation, and tabletop use.
Small Cylinder Free Arm
You can embroider even on small items with the help of a slim cylindrical free arm. You can do embroidery on small projects like socks, gloves, and pants pockets very efficiently and quickly.
Fast Production With 2 Frames
To save time during production, we've included two of every frame. You may get the next item ready for production as the machine embroiders.
Included Tajima Software
Included in the package is Tajima Writer Plus, a Windows-based digitizer program that provides users with a variety of pre-made layouts as well as straightforward LAN machine connection options.
Accessories of Juki Tajima Sai
Juki Tajima Sai comes with different accessories which include a soft case is included to help protect your machine during travel or storage. The handle on top allows for quick transportation and the front pocket keeps frequently used accessories like batteries at the ready.
Along with your machine, this case will hold all of the accessories that come with it including the needle set, power cord, foot controller, and embroidery design software CDs. The interior contains a special compartment for the 8-cup holder so you don't lose it during transportation. A back strap can be added to hold your LCD monitor but is not included in this package.
There is the list of accessories that are included in Juki Tajima Sai below:
2 Frames (200mm x 300mm)
2 Frames (100mm x 100mm)
1 Industrial Cap Driver
2 Cap Frames
1 Cap Mounting Bracket (Gauge)
Pocket Frame: 45mm x 80mm
Sock Frame: 50mm x 30mm
Mounting Base with Sock Gauge
Round Gauge
M Frame Starter Kit
3 Magnet Frames

80mm x 140mm
40mm x 80mm,
40mm x 50mm

Frame Holder
Pros
Juki Tajima Sai is the best embroidery machine for any family home and for even a professional with little space to spare. The list of the pros is as follow:
Easy to use Interface
Good Thread Capacity
Delicate Point Needles
On-Screen Editing
Embroidery Frame on the Bed
Wide Embroidery Area
Low Noise Level
Easy To Use Interface
Juki Tajima Sai embroidery machine is easy to use as you can simply take it out of the box, set it up, or connect it to the computer if you want and start embroidering. Operating Juki Tajima Sai is also very easy and user-friendly. You do not have to be a skilled expert or have extensive knowledge of the fabric in order to operate and embroider it.
Good Thread Capacity
As mentioned above, Juki Tajima Sai has a great thread capacity, which allows you to begin stitching on large items very quickly and without much hesitation.
Delicate Point Needles
Juki Tajima Sais needle has a delicate point so that your fabrics won't get damaged easily and your stitches won't become too thick or too thin.
On-Screen Editing
Juki Tajima Sai allows for simple modifications such as cutting, copying, and pasting on a touchscreen display. This feature is one of the best features of Juki Tajima Sai because you can customize your work and make it your own without much difficulty.
Embroidery Frame On The Bed
The Juki Tajima Sai embroidery machine comes with two embroidery frames which makes it very easy for the machine to hold large items such as bed sheets, bags, clothes, and more. This feature is helpful for those who need to get large items done quickly.
Wide Embroidery Area
Juki Tajima Has a wide bed area where you can fit multiple designs or patterns in a single stitch. You don't need to take out the embroidery design to adjust, instead, you can be done with your project quite quickly.
Low Noise Level
Juki Tajima Sai is a quiet machine so you don't have to worry about disturbing others if you are working late at night or early in the morning as well as during household activities, such as watching television. You can always work on large projects comfortably. Apparently, its noise level is 60dB or less, so you'll be able to concentrate on your project without being distracted by the noise of the machine's operation.
Cons of Juki Tajima Sai 8-Needle Embroidery Machine
There are the following cons of Juki Tajima Sai:
Low Embroidery Speed
Needle Threader
High Price
Low Embroidery Speed
The Juki Tajima Sai is 800 SPM which is quite low for the embroidery machine of these features and price. As the usual speed of an average embroidery machine is 1000 SPM, you can expect the embroidery speed of this machine to be at least 25% slower than an average machine.
Needle Threader
Juki Tajima Sai's needle threader is pretty simple, it just has a knob to push and pull the needle into or out of its storage slot. It is not very easy to use and sometimes there are cases where you can't thread the needle because of poor or looseness in its motor operation.
High Priced Embroidery Machine
Juki Tajima Sai is not the most expensive embroidery machine on the market but it is not the cheapest either. Although, it has many amazing features but the low embroidery speed is not justified for its price.
Video Tutorials about Juki Tajima SAI
FAQ about Juki Tajima Sai 8-Needle Embroidery Machine
What Kind Of File Format Does Juki Tajima Sai Work With?
Juki Tajima Sai work with .dst, and .tcf file formats for embroidery designs.
Is The Juki Brand Manufactured In China?
Yes, some parts of the Juki Tajima SAI are manufactured in China. However, Juki is a Japanese sewing machine brand. While some Juki sewing machines are manufactured in China, Japan, Vietnam, and Taiwan.
Is The Juki Tajima Sai 8-Needle Embroidery Machine Made In The USA?
No, Juki Tajima Sai 8-Needle Embroidery Machine is not made in the USA. Although its parent company has one of its main supplier offices in America to distribute the Juki sewing machine all around America and Europe.
Is The Juki Tajima Sai 8-Needle Embroidery Machine Difficult To Use?
Even though Juki Tajima Sai has an easy interface, the learning curve is quite steep. There are many technical terms, buttons, and functions which can confuse any beginner or a first-time user at first. Because you need to know beforehand how to use these functions and what each of them does or does not do in order to operate the machine properly.
Who Should Buy Juki Tajima Sai Embroidery Machine?
Juki Tajima Sai can be used by professional Designers, Stylists, Sewers, Quilters, or even domestic users who love embroidery and looking for a lightweight and portable embroidery machine that offers various features. Juki Tajima Sai Embroidery Machine is perfect for anyone who loves embroidering with high-quality embroidery.
Is It Worth Buying A Juki Tajima Sai 8-Needle Embroidery Machine?
Yes, it is worth buying a Juki Tajima Sai 8-Needle Embroidery Machine. This machine has many great features and a reasonable price, especially if you are into embroidering which will be an asset for your home.
Is Juki A Reliable Company?
Juki is a reliable and old name in sewing machines. The company of the founding family оf JUKI is engaged in the production of sewing machines since 1899. Over the past century, this business has produced many innovations in sewing and embroidery machine technology. The company's principle was to create a machine that could sew and embroider so as to make handwork on it impossible for any human being.
What Can You Embroider With The Juki Tajima Sai 8-Needle Embroidery Machine?
You can embroider various fabrics, garments, pillows, and so on. It is a versatile machine for sewing and embroidering.
How Much Space Does The Juki Tajima Sai 8-Needle Embroidery Machine Occupy?
Juki Tajima has a surface that measures 22" W x 26" H x 23" D. The frame is also quite large so it may require space from your floor or table.
How Do You Use The Juki Tajima Sai 8-Needle Embroidery Machine? 
The operating procedures of the Juki Tajima Sai 8-Needle Embroidery Machine are very easy, its display guides you step by step on how to customize and operate the machine to get the best results.
Do The Juki Tajima Sai 8-Needle Embroidery Machine Offers On-Screen Editing?
Yes, Juki Tajima Sai offers on-screen editing, creating and recreating embroidery designs according to your requirements.
Final Thoughts
Juki Tajima Sai is a great machine that is worth the money. It can be used both for beginners and experts. You will have a pleasant experience with it.
I hope that my Juki Tajima Sai 8-Needle Embroidery Machine review can help you in your decision-making process when buying a machine with these features and price range. If you found this article useful do share it with others as well. If you have any questions, please let me know in the comment section.