Here you will learn everything about a Free Arm in a sewing machine. Learn how does a free arm configuration looks in a sewing machine and how to use a free arm configuration. Obviously, every sewing machine does not come with free arm configuration so I have listed some of the best free arm sewing machines also.
Keep reading!
Buying a new sewing machine can be very frustrating if you do not know much about sewing machines. Even, buying a new sewing machine can be a bit difficult for all those who are already sewing because of the number of sewing machines available out there. It is not wise to choose a sewing machine with excess features that you do not even need or know about. And, also it is not good to buy a sewing machine which does not have the features that you need most.
Sometimes buying a machine which suits your needs is always a hard task. Making an accurate choice of the right machine may be difficult if you are not well aware of its working.
The free arm is one of the sewing machine parts that most sewing enthusiasts do not know much about. For those who already have the knowledge, it is important to know the working of the free arm in a sewing machine, its features, and some other things regarding this part. This will help you to make an accurate choice while selecting a sewing machine in the future.
What is a Free Arm in A Sewing Machine?
The free arm is used to work on the little projects which are not easily sewable with a normal sewing machine. Like if you are working on clothes then you might feel difficulty in sewing pockets and sleeves. Because pockets and sleeves are small in size and also they have angles that are not easily sewable with the normal sewing machine.
If you are working on any such clothing or projects then with the help of a free arm you can stitch those areas without any problem. The free arm is also useful for sewing sleeves, collars, cuffs, pockets, and many other things in a very easier way.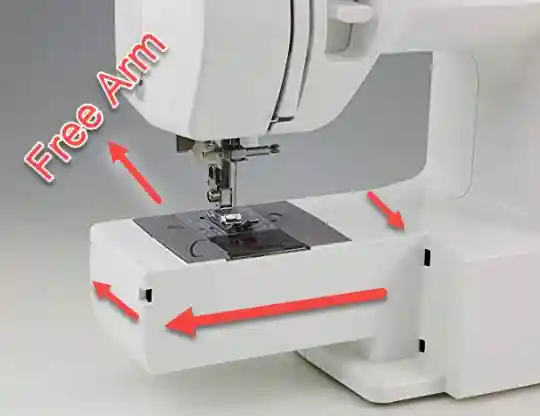 The free arm is part of a sewing machine that is used to hold the fabrics that are not easy to handle with a normal sewing machine. The free arm makes it easier to sew and manipulate any fabric that is shaped and curved. This can be due to its flexibility in terms of working with fabrics of different widths and lengths. The free arm is usually placed under the main part of a sewing machine where it rotates out for ease in working with different fabrics.
The free arm comes as an attachment to most of the new homes as well as professional sewing machines nowadays. If your sewing machine does not have a free arm attachment then it's better to purchase another one because this is one of the first things that you would be needing from your machine. There are also some models where there is no provision for a free arm.
How does a Free Arm work in a Sewing Machine?
A free arm is a device for sewing items that would otherwise be too large for a standard sewing machine to handle, such as cuffs and collars. This can all be done with the help of a free arm machine. The free arm on any machine is actually mounted around an adjustable metal rod in the middle of the table of your machine. You can find this metal rod on the underside of your table.
A free arm is a common feature of most sewing machines. It provides the user with a greater range of motion when working on projects that do not require a flat surface to be sewn on. The free arm can also be used when sewing slippery or stretchy fabrics that would otherwise shift out of place in a regular sewing machine.
In addition to the difference in function, there are also differences in how each model operates and functions. Some machines have detachable arms while others do not have this option at all.
To begin sewing, simply pull out the free arm and make sure that it is in a convenient location. Then, place your fabric on the bed as usual and stitch away. The only change you will notice is that you now have a space for your fabric between the needle and the surface of the bed.
Free arm sewing machines are popular for use with smaller projects because they give you more control over your fabric. This can make them great for anyone who has difficulty with their vision or fine motor skills.
Flatbed vs Free-Arm Sewing Machine
A normal machine is usually called a flatbed sewing machine because it comes with a flatbed-like configuration. A free arm sewing machine comes with a flatbed configuration by default but it can easily be changed to a free arm configuration by removing the surrounding part of the free arm.
In a free arm sewing machine, the free arm is exposed after removing the surrounding part of the free arm but in a flatbed sewing machine, you can not have an exposed free arm because it does not allow that.
Best Free Arm Sewing Machines in 2022
There are several models of free arm sewing machines available on the market today in many different brands. Some models come with advanced features while others do not. You can also check things that you need to consider before buying a sewing machine. It is important to know what kinds of features are available on sewing machines before you buy one. Let's take a look at some of the top free arm sewing machines currently available.
Singer Quantum Stylist 9960
Brother CS6000i
Janome HD3000
Juki HZL-DX7
Janome 3160QDC
Baby Lock Jazz II
Bernette B38
Necchi Q132A
Singer Quantum Stylist 9960
The Singer Quantum Stylist 9960 machine is highly versatile and one of the best Singer sewing machines. It can do so many different things for your sewing projects, from sewing letters on shirts to free motion quilting. It's also perfect for beginners who are looking for something that will grow as their skillset improves over time. The machine is easy to use and comes with many built-in features such as lettering, one-step buttonholes, mirror imaging, and more.
The Singer Quantum Stylist 9960 machine is a great choice for beginners or anyone who wants to take their sewing skills to the next level. It has an automatic needle threader and easy-to-follow threading system making it easier than ever to get started on your project. It's also compact enough for you to take it with you wherever you go thanks to the carry case and other accessories that come with it.
Features of Singer Quantum Stylist 9960
600+ Stitch Applications 
Mirror Imaging 
One-Step Buttonhole (13)
Free arm configuration
Built-In Needle Threader and thread cutter 
Direct Selection Stitches 
Self-Adjusting Tension System
850 stitches per minute (High-Speed Stitching)
The mechanism for controlling speed (mechanical)
13 Presser Feet
Changing needle positions 
The function of the twin needles 
Transparent Bobbin Class (15)
Pros
Wide range of presser feet
Automatic needle threader and cutter
Wide table for working
Direct stitch selection
Speed control system
Cons
Relatively expensive
Comparatively less speed from some models
Brother CS6000i
Brother CS6000i is one of the computerized machines suitable for the use of beginners as well; this sewing machine is made with quite an easy-to-use design, which aids beginners to get the hang of it in very little time and conveniently. Moreover, the machine's hardcover ensures its durability of this machine and protects it against wear and tear.
Not only this, the sewing machine comes with several accessories including, a cleaning brush, oversized table, spool caps and pins, bobbins, a needle set, and nine different presser feet.
Features of Brother CS6000i
60 built-in stitches and 7 styles of 1 step auto-size button
LCD display with easy-to-use stitch selector
Automatic needle threader
Super easy bobbin winding system
Electronic variable speed control
Included oversized wide table for larger projects
Brightly Lit LED Work Area
Built-in free arm for sewing cuffs and sleeves
Pros
Affordable sewing machine
It is a beginner-friendly product, which is easy to set up and use
The sturdy design of the machine makes it more durable.
Cosn
Threading a needle in this machine is a bit challenging
Some parts of the machine are manufactured using poor quality plastic
Janome HD3000
The Janome HD3000 Sewing Machine has a variety of features that make this machine one of the best Janome sewing machines on the market. The 5-piece feed dog comes with it so that your fabric is held in place and you can sew straight, without having to worry about it moving around. 
The Janome HD 3000 Sewing Machine is easy to use and will allow you to sew in any style or method that you need. As long as the size of your fabric is the same, it can sew through cotton, canvas, denim, duck, leather and various synthetics.
It also has stitch width controls and has 18 built-in stitches so that you can create more elaborate designs for your garments. It comes with a hard cover for storage and extra spool pins for when you need more than one thread used at a time.
Features of Janome HD3000
18 number of stitches
Speed of 860 SPM
Built-in needle threader
Reverse stitch lever
Foot pressure adjustment
One-step buttonhole
Automatic Bobbin Winder
LED Light included
Thread Tension Adjustment
Carrying Case included
7-piece feed dog
Pros
Budget friendly
Allow free motion sewing and quilting
Best for beginners
Highly portable and lightweight
Cons
Does not have LCD
Heavy-duty fabrics should not be used continuously
Juki HZL-DX7
Juki HZL-DX7 is one of the best Juki sewing machines in the marketplace. It has over 287 stitch patterns so you can do a number of designs and stitches with this machine. The machine makes use of an advanced computerized system that allows you to adjust the settings accordingly while you are working on a project.
You have complete control over the speed, pressure, and quality of your stitches with this sewing machine.
Features of Juki HZL-DX7
Sewing speed of 1050 SPM (Stitches Per Minute)
LED lights
Automatic needle threader
Free arm configuration
Knee lifting lever
Sewing space of 8.0 x 4.4 inches
Extension table included
Independent bobbin winder motor
16 styles of buttonholes
287 stitch patterns
Free Motion
Automatic thread cutter
Sewing speed control
Pros
A large number of stitches
Automatic tension control dial
Cons
Some customers complaint about bobbin winding
Janome 3160QDC
Janome 3160QDC is another Janome sewing machine to feature a free arm where you can easily access the armhole of your garment, allowing you to sew and finish a garment faster. You will appreciate how smoothly the fabric feeds through, making sewing easier and more enjoyable. Combine this machine with a memory card*, included with select models, to transfer and store up to 100 of your own stitch patterns.
No more hours sifting through patterns or storing hundreds of generic designs. You have the freedom to choose your own unique style and motifs.
The Janome 3160QDC provides a quiet operation so that you can gently and precisely sew multiple layers of fabric if necessary. The Janome 3160QDC has enough power to sew through thick materials like denim, leather, and nylons. Also, the built-in stitch length is adjustable so you can produce your own custom stitches.
Features of Janome 3160QDC
Maximum sewing speed of 820 SPM (Stitches Per Minute)
Adjustment of foot pressure
60 Built-in stitches 
Featuring 6 One-Step buttonholes
Rotating bobbins with full hookups at the top
An easy-to-use needle threader
Thread tension can be adjusted manually
Presser feet that snap into place
Up/down needle memorized
7-piece feed dog system
Pros
Best for quilting
Lightweight and portable
Easy to use
Work well on heavy fabrics
Cons
Does not contain knee lifter
Baby Lock Jazz II
Baby Lock Jazz II has also free arm configuration to offer to its users. It is one of the best Baby Lock sewing machines with maximum stitching speed of 1,000 SPM. And, there is an automatic needle threader also that comes with this sewing machine.
Features of Baby Lock Jazz II
Sewing speed of 1,000 SPM (Stitches Per Minute)
28 Built-in stitches including a one-step buttonhole
6 LED lights that illuminate the needle and work area
Pattern selection and dial indicator window
Needle up/down Button
Needle Stop Position Button
Needle threader
Stretch stitch capabilities
Maximum utility stitch width is 7 mm
Stitch length from 0 mm to 4 mm
Thread tension dial
Hands-free presser foot
Drop feed for free-motion stitching
Pros
Packed with a number of great features
Thread tension control
High quality metal frame
Cons
Heavy weight
A bit old design
Bernette B38
Bernette 38 has an aesthetically pleasing and simple design, and the LED screen found on the front of the machine is not at all distracting or inaccurately placed. It's quite easy to use and set up, plus it comes at a relatively economical price. Given the price of the machine, it has many features such as an automatic thread cutter, adjustable speed, extended table, etc.
Features of Bernette 38
Maximum stitching speed of 820 SPM
Drop-in hook system
Maximum stitch width of 7.0 mm
394 built-in stitch patterns
8 one-step buttonhole designs
8 presser feet included
Extension table included
Automatic thread cutter
Pros
High-end sewing machine
Provides good value for money
LED screen and variety of stitches available
Durable
Cons
Can be a costly investment
Heavy
No embroidery function
Necchi Q132A
Necchi Q132A is mentioned as one of the best Necchi sewing machines on our website. You get 32 built-in stitches with this sewing machine. It also comes with a sewing speed of 1,000 SPM but there is an issue with its speed too. Mostly, you get a Speed Control Slider which can be used to adjust the speed of a sewing machine. But, Necchi Q132A does not come with Speed Control Slider but does have a fast speed which is 1,000 SPM.
You can trim your thread automatically by its automatic thread cutter and also you do not need to thread your needle manually. It comes with an automatic needle threader too that can be used to thread the needle easily. Its stitch length can also be adjusted, the maximum stitch width is 6mm and the maximum stitch length is 4mm.
Features of Necchi Q132A
32 built-in Stitches
1-Step Buttonhole
Automatic needle threader
The horizontal drop-in bobbin system
The sewing speed of 1,000 SPM
Adjustable stitch length (Max 4mm)
Adjustable stitch width (Max 6mm)
Adjustable presser foot pressure
Adjustable needle positions
Drop Feed
LED light
Presser foot lifter
Extension Table
Pros
Fast sewing speed (1,000 SPM)
Affordable price
Extension table
Cons
No Speed Control Slider
No bobbin winder
Where can you use a Free Arm on a sewing machine?
The free arm is used in sewing a variety of different things. These include:
Sewing sleeves and collars of shirt and blouse
Sewing pants, slacks, and other pants accessories like pockets
Working with curved and small fabric items like the back panel of a blouse, sleeves of a dress or skirt, etc.
How to use Free Arm in A Sewing Machine?
When you want to use the free arm in your sewing machine then it is important to understand how it works. Before you start working on the free arm then you have to make sure that it is moved out of its place and also moved to a position where you can easily use it.
To do this, you need to first remove your sewing machine cover so that the free arm can be seen. You also need to make sure that free arm is in a clear view of yourself so that it can be used easily. You will then have to grab the free arm surrounding part with both your hands and move it from the slot where it is placed into a better position for easier use. In this way, you can use the free arm for tailoring any clothes easily.
When to use a Free Arm Sewing Machine?
A free arm sewing machine is ideal for sewing cylindrical items, such as sleeves, pant legs, and circular edges. It is not necessary to use a free arm sewing machine for every sewing project, but it can be very helpful for certain items. Some projects that might require a free arm machine include sewing sleeves, pant legs, and other curved areas. The free arm can also be helpful in sewing projects where the fabric is too long to fit inside the main part of a machine.
Why should you buy a Free Arm Sewing Machine?
The main reason why you should buy a free arm sewing machine is that it can help you to complete those projects which would otherwise be tricky to do with a normal sewing machine. Also, if you are using a regular sewing machine then sometimes it might be hard for you to sew some of the small things like sleeves and collars. That's why if you have a free arm sewing machine then your problems will be solved as this kind of machine has many benefits to offer.
This will help you to save a lot of time because it offers you the ability to have a proper hold over the fabric items. It offers you the flexibility to work in any direction, thus making it easier for you to complete your projects in a very organized way. This is especially helpful for beginners who are just starting with sewing as they can use this machine easily without confronting any problems.
A free arm sewing machine is used by many tailors and designers because it helps them to complete their projects in a very efficient way. This can also be used by beginners who want to learn how to use this kind of machine easily so that they can make themselves familiar with it in no time.
Final Thoughts
In conclusion, when you are in need of a sewing machine then make sure that you buy the right machine that will be able to give all the required results and also will be able to fulfill all your needs. Proper knowledge regarding free arms in a sewing machine can help you. Knowing its working and design will enable you to make proper choices and also it is necessary for making an accurate decision.
So if you want to buy a new sewing machine, then know about its working first. It can be of great help for yourself as well as for your loved ones if you are working on clothes or any other project stuff which is not easily sewable with the normal sewing machine.