Particularly in the world of embroidery, timing can vary wildly depending on the complexity of the project and the supplies used. How long does it take to embroider a simple pillowcase? How long does it take to make an elaborate quilt or afghan down comforter? It all depends on what you're stitching.
This is a question that I've been asked more than once and I've given several answers depending on the type of embroidery, how many hours are worked into the project, what kind of materials are used and how much time is spent on embellishment. Today I would like to give you a single time frame or estimated timetable for certain embroidery stitches.
There are three types of embroidery which are,
Applique
Machine Embroidery
Hand Embroidery
Appliqué uses fabric (or sometimes paper) that has been cut into shapes and then sewn onto the surface being stitched. The appliqué is then finished off with fabric threads or yarns.
Machine embroidery is a form of appliqué, but the fabric and shapes are created on the machine.
With hand embroidery, the fabric and shapes are all stitched by hand. Hand embroidery typically includes various stitches such as running stitches and couching stitches.
Is It Hard To Embroider?
Embroidery is a very common fabric craft. It is not new at all. People have been doing this for ages and it has even evolved. But how can you be sure that you are doing it the right way?
You have to be careful with each stitch and every detail of the fabric. If you cannot do it properly, then your whole embroidery will look bad. You also need to know how long to finish a certain number of stitches so that you can plan.
Always take breaks after every hour of work. It helps in avoiding hand fatigue and relieved the stress on your hands. Make sure that your hands are rested so you can use them again later in the day.
Before starting, you also have to prepare all the necessary materials. Prepare the fabric that you need to work on. Have your needles or machine thread ready. You also have to pre-plan how many stitches per minute you need to finish in an hour.
The time you spend on embroidering is worth it because it produces beautiful works of art. It is one of those things that people love and admire. So no matter how hard it gets, be sure that you will save time and effort by doing it in less amount of time.
How Long Does Embroidery Take?
It all boils down to how long it takes to embroider different designs. Embroidery is a craft that requires patience, focus, and attention. If you are someone who wants to be quick in completing tasks, then this is not the thing for you.
There is no clear time frame on how long it takes to embroider. In every design, you have to be patient and attentive while doing your work. It helps if you love what you do because if not, then it will take longer than expected.
If you want to get the most out of your time in stitching designs, I suggest using machine embroidery. It makes things faster and easier for those who are eager for fast results.
You can estimate how long the embroidery will last if you know a few things about its type and the process used to make it. For example, embroidery that is applied to knitted items is usually slightly challenging and takes up quite a bit of space.
Some of the designs will be time-consuming and involve intricate stitching while others will be relatively simple to complete. Also, the embroidery may be made from a fabric that is softer or more durable, which will also determine how long the item will last.
Also, there is a big chance that hand embroidery is not possible if you want to finish a lot of items in a short period. You can choose machine embroidery and save yourself from doing all the steps manually.
In this article, we were able to share how long it takes to finish some embroidery work. Hopefully, it helps you plan your next project accordingly. If you have other questions regarding this topic, feel free to contact us anytime.
Here is the table showing the estimated time it may take to embroider on average.
| No. of Stitches | Estimated Time | Embroidery Speed |
| --- | --- | --- |
| 1,000 | 1.13 Minutes | 800 SPM |
| 10,000 | 11.3 Minutes | 800 SPM |
| 1,00,000 | 113 Minutes | 800 SPM |
| 1,000 | 51 Seconds | 1,100 SPM |
| 10,000 | 8.5 Minutes | 1,100 SPM |
| 1,00,000 | 85 Minutes | 1,100 SPM |
Practical and Software Estimation is considered
Note: These results are based on a single-needle embroidery machine with a multicolor design.
How Long Does Embroidery Take With A Machine?
Many people are not aware of the fact that embroidery can take a long time to finish. And that is a very big worry when they want to buy or make an item using this method. But you do not have to worry anymore because you will learn in this article how long it takes embroidery to finish with the machine.
Another way of learning the time it takes to embroider with the machine is by learning from other people who have already done it in their endeavors and have already uploaded their results.
There are many ways of learning about the process, one of which is through videos, where you can see how someone else has been doing the same things as you are doing today. You can learn a lot of things from it. The first thing you will learn is how to do the rest of the project by yourself. You can now see how long it takes to do embroidery with a machine.
Skill, on the other hand, is something that you have attained after having gone through many challenges and obstacles in your life. Embroidery too has its time challenges, but with that, you will have learned all about those challenges, and in time, you will master them and become an expert in this field.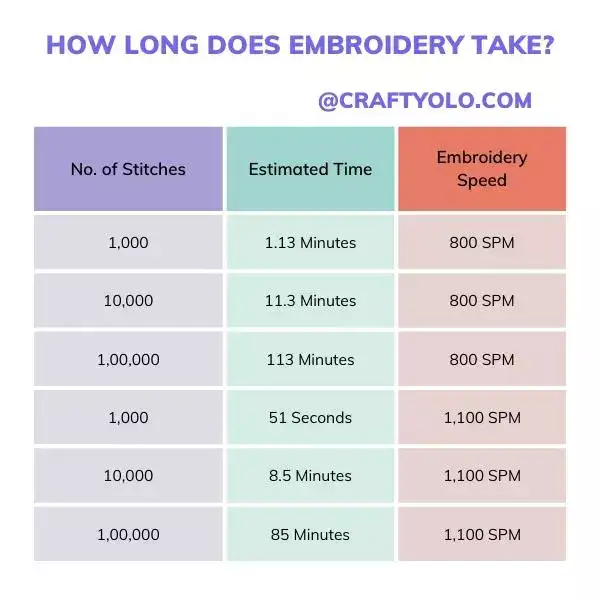 How Fast Are Embroidery Machines?
An embroidery machine can run at different speeds. On average, it can go at 1,000 to 1,500 stitches per minute. But you will need to set the desired speed.
You can run a machine at 500 stitches per minute or 850 stitches per minute. It all depends on how fast you want your embroidery design to be finished. You may choose a faster speed if you have a deadline to meet.
If you do not have any time frame, it is better to stick with the normal speed of an embroidery machine. You will finish fast and lessen your total work time compared to running too fast and ruining your design.
Are Embroidery Machines Easy To Use?
Embroidery machines are very easy to use compared to other sewing machines. It is because embroidery is a different type of embroidery. Since it uses a different stitch, it is not as challenging and complicated as normal sewing.
Most of the embroidery machines have the same functions, such as foot control for speed and needle drop-off for bobbin insertion, and automatic thread cutter.
The important thing about embroidery machines is their software. It will help you combine one type of stitch to produce the unique design that you want. The software has a USB port so you can easily connect it to your computer.
It also comes with an LCD monitor with buttons and knobs, which will help you operate the machine. You need to know how long it takes to finish a design before stitching. It will save some time in planning the design and fabric.
How Do You Do Embroidery Fast?
There are many methods to embroider fast. It all depends on your workflow and how you want your design to look. But here are some of the ways that help you finish faster:
Do a quick sketch of the design in several colors and then transfer it to the fabric.
Draw a line that shows where you want to start stitching. It will help you avoid mistakes when doing machine embroidery at full speed. You can transfer your drawing to fabric and start using the machine.
Use a small or large hoop to create different designs on your fabric so that you can have an arrangement of colors or patterns with different motifs in different sizes or shapes.
Use an embroidery foot and stitch on the fabric to create a design that is already drawn or already there.
Work on small areas at a time to avoid long stretches of stitches. You may do that by using a hoop or stitching according to the design you are working on.
Use the basting stitches for sewing and then use the machine for filling in areas and details.
Use a pattern to help you position and outline the stitches. Use a light source for it to be easier.
Use more than one color of thread to create a design that is more colorful and creative, like working on a garment or an embroidery project by using different colors of thread at the same time.
Use a smaller embroidery hoop that is made especially for machine embroidery and is designed especially for finishing small designs in just one day or two days.
Is Embroidery Harder Than Cross Stitch?
A lot of people think that cross-stitching is hard and a time-consuming hobby. It is. Cross stitch involves a lot of time and effort to complete one design or pattern. It all depends on how big your pattern is, the colors you will use, the materials you will work with, etc.
Sometimes cross stitch takes just a couple of hours to finish one design but it also depends on your skill level and the design you want to create.
You can finish a cross stitch within one day if you use bigger hoops and bigger fabric pieces. It all depends on what kind of cross-stitch project you want to make and how fast you want it done.
But if you want to start cross stitch, it means that you will learn a lot of techniques and skills. It is a good hobby for beginners that also allows you to earn some extra money.
Embroidery could seem like an easier option since it only requires one material which is fabric. But it is not that simple. You will need to learn new techniques and skills like machine embroidery.
Even if it is more difficult, you will have a lot of designs to work on. You can choose which designs would be good for you and your skills. Both cross stitch and embroidery require time and patience to create a beautiful design that everyone will love.
If you are just starting with embroidery, it can seem harder than a cross stitch or some other needlework projects. But once you learn all the techniques and skills, it will become easier for you to finish one project. Not only that but there are so many things to learn about embroidery compared to cross stitching or other needlework projects because of the stitches and patterns that it has.
How Long Does It Take to Embroider a Quilt?
You can find several different quilts online if you're looking for inspiration and planning your next project. Some people have found that working with a pattern can help them produce more intricate and impressive results when embroidering. If you're just starting, it might be best to consider hand-stitching only one small portion of your quilt for the first few times. These smaller portions will allow you to get used to the different stitches before you start in on the big ones on your whole work.
Quilts are large pieces of fabric that take time to embroider. Everyone can finish one on their own. It is an easy task, but it takes time. If you are a beginner, it will take a lot of time for you to finish an embroidered quilt. I do not recommend hand embroidery since it takes a lot of time.
Most often, people prefer machine-made quilts because they get to save more time in the stitching process. If you can finish a sewing project in less than 12 hours, then surely you can finish an embroidery in less than 24 hours.
The number of stitches needed will also reduce your total work time in finishing your project. If you are working with a more experienced embroiderer, they might be able to produce the same results in one day. It all depends on their skill level and the quality of their equipment. And remember, these are all general estimates.
If you want to get detailed about this stuff, then you can always get in touch with someone who has worked with a quilt before or has access to the machine itself. Some quilters have taken pictures of their work so that others can see how long it took them to do things. If there's anything out there that can help you estimate your time, then there's a good chance it will be available online somewhere.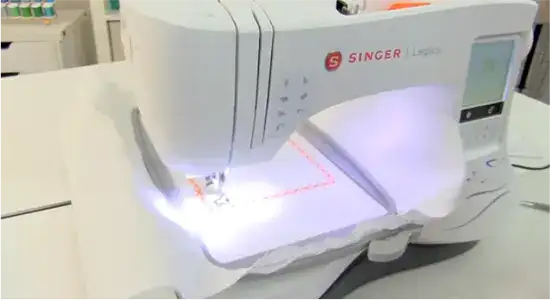 How Long Do Custom Patches Take?
How long it takes to cover a shirt with embroidery patches depends on the type of fabric used. Using cotton or linen will require a longer time because they will stretch. You can expect a longer time if you are using a thicker fabric like denim or leather.
In the past, people used to embroider patches on cotton shirts but they can now use denim, leather, and canvas too. But if you are using thicker fabrics, it will take longer to do the stitching.
Although it is quicker to cover a shirt using denim and other thick fabrics, you need to make sure that the design is neat and clear for its completion. Making the design more elaborate can take more time due to the size of your work area too.
How Long Does It Take To Embroider A Hoodie?
If you are using a small one and you embroider it by hand, you will finish it in less than 2 hours. If you use a machine, the time shortens to almost half of that.
Designs for hoodies must be small and straightforward. It is not advisable to make it elaborate because this type of work needs less attention and focus when stitching patches.
You can run about 1000 stitches per minute and complete it in less than 1 hour of continuous work. Embroidering a hoodie is also more complicated than embroidering a shirt, so you need more time to do it.
How Long Does It Take To Embroider A Dress?
Embroidering a dress is one of the most difficult tasks you will ever encounter. It requires patience and perseverance that are usually not found in people. You can do embroidery on a machine but it will take longer than if you do it by hand.
The reason why embroidering dresses are difficult is because of the delicate nature of these items. You will need to spend a lot of time selecting the right colors, getting versatile designs, and everything. You will also need to find the right design and keep adjusting and upgrading the design until you get one that you like.
You can also modify the design and choose different colors if you want to do embroidery on a dress. This way, you just need to put your embroidery design on a new dress and you are good to go.
Embroidering a dress can only be done if the designs are easy, less complicated, and not too complicated. Spend some time and select the best design first before starting.
How Long Does It Take To Embroider A Patch?
Embroidering patches usually takes around 10-15 minutes. Sometimes, you will find people that have done embroidery on a dress in only 50 minutes. This is what happens when you are limited to some small area.
You need to find a design that would not take you long to do. But, you also must have all the time needed for the embroidery as well.
The full time you spend on your work will depend on the design. Some patches can be done in an hour.
If you plan to make embroidery on your clothes, you should also consider how long it will take. Some people are limited to small designs like names and symbols. So, they can finish in a very short period.
Final Thoughts
As you can see, the longer and more detailed the design is, the more work it is to do it by hand. In bulk orders, it is recommended to use machine embroidery. It will save you time and effort, and, you can finish all of your orders in a short period.
Rather than waiting for days to complete orders, you can complete them in a short period. Investing in a machine also means that you won't need to apply a lot of effort.
You will not get tired at all if done properly. Be sure to know what you are going to embroider before you buy a machine.
---
SOURCE:
Reddit – First embroidery project. How long did it take you to feel like you had some skill?
Reddit – This embroidery took me over 40 hours to finish but I'm so proud of it!
Reddit – How hard is what you guys do?