Necchi Q421A
Necchi Q421A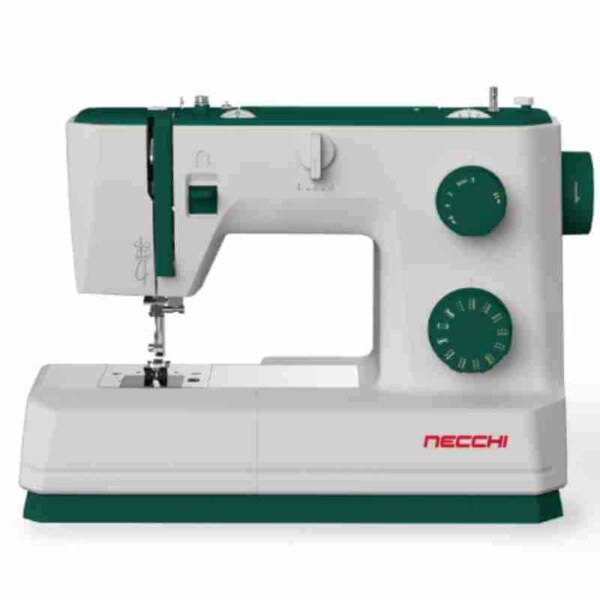 Availability

:

Yes, Online
Specifications
Body
| | |
| --- | --- |
| Body Material | Plastic |
| Color | White |
| Dimensions | 18.0 x 9.75 x 13.40 inches |
| Sewing Area | - |
| Weight (lbs) | 19 lbs |
Performance
| | |
| --- | --- |
| Sewing Speed | 1,000 SPM |
| Sewing Speed Control | No |
| Drop Feed | Yes |
| Foot Pressure Adjustment | Yes |
| Free Arm Configuration | Yes |
| Knee Lift | No |
| Needle Positioning | Yes |
| Needle Threading | Manual |
| Number of Presser Feet | - |
| Thread Cutting | Automatic |
| Thread Sensor | No |
| Thread Tension Control | Manual |
| 1-Step Buttonholes | No |
Stitching Features
| | |
| --- | --- |
| Buttonholes Styles | - |
| Custom Stitches | No |
| Lock Stitching | No |
| Max Stitch Length | 5.0 mm |
| Max Stitch Width | 7.00 mm |
| Adjustable Stitch Length | Yes |
| Adjustable Stitch Width | Yes |
| Number of Stitches | 21 |
| Reverse Stitches | No |
| Stitch Selection | By Dial |
Automatic Features
| | |
| --- | --- |
| Automatic Buttonholes | Yes |
| Automatic Speed Adjustment | No |
Others
| | |
| --- | --- |
| Bobbin | Class 15 |
| Bobbin Type | Drop-in |
| Bobbin Winding | Manual |
| Dedicated Bobbin Winding Motor | No |
| LCD Screen Display | No |
| LCD Screen Size | - |
| Touch Screen LCD | No |
| LED Lightning | Yes |
| Extension Table | Yes |
| Start/Stop Button | - |
| Warranty | 25 Years |
| Accessories | All Purpose Foot, Zipper Foot, Buttonhole Foot, Button Sewing Foot, Non-Stick foot, Pack of needles (#11, #14, #16), Twin needle, Edge / quilting guide, Bobbin (4x) , Spool, holders, Auxiliary spool pin, Spool pin felt, L-screwdriver, Seam ripper / brush, Soft cover, Extension table |
Description
Necchi Q421A is a computerized sewing machine with a sewing speed of 1,000 SPM (Stitches Per Minute) which is not adjustable. Sewing at a constant speed for every type of material is not liked by many sewing experts because every type of material requires a specific sewing speed to have a better sewing experience. Also, some users are just beginners and want to sew at a slow speed because they can not handle it at a faster speed but experts want to save their time by sewing at maximum speed. In short, adjustable sewing speed is a great way to make your sewing experience awesome but it does not come with a Sewing Speed Controller.
It does come with 21 built-in stitches along with this incredible sewing speed. There is buttonhole style among these 21 built-in stitches and it does not come with a 1-step buttonhole functionality. Nowadays, people love to work on their projects utilizing automatic features in their sewing machines. So, you might be thinking, what automatic features does Necchi Q421A have to offer to its users? Well, it does not come with Automatic Needle Threading but with Automatic Thread Cutting.
Free-Arm configuration is also an important part of a sewing machine because you need to work on different kinds of projects like Sleeves, Pockets, and stuff like these. So, Free-Arm configuration plays a very important role in such cases and this sewing machine comes with Free-Arm configuration.
It comes with an Automatic Thread Cutting and does offer Drop Feed feature to its users which makes users' quilting experience more pleasant. Moreover, Stitch Length and Stitch Width are adjustable with Necchi Q421A. It has a stitch length of 5.0 mm and a stitch width of 7.0 mm to offer. You can select your favorite stitch from available stitches by clicking a simple button.
What is the price of Necchi Q421A?
The price of the Necchi Q421A Sewing Machine is $250. You can buy Necchi Q421A online and it is available on Amazon and SewingMachinesPlus to buy.
What are the automatic features of the Necchi Q421A Sewing Machine?
Automatic features are a great way that make your sewing experience more pleasant. Necchi Q421A does not come with Automatic Needle Threading and also you need to set thread tension manually because Automatic Thread Tension control is not available. Also, it comes with Automatic Thread Cutting so if you are used to an automatic thread cutting then this might be the right fit for you.
What is the sewing speed of Necchi Q421A?
Necchi Q421A comes with a sewing speed of 1,000 SPM (Stitches Per Minute). Its sewing speed is not adjustable and you can not adjust it as per your own choice. 1,000 SPM sewing speed is great at the price point at which Necchi Q421A is available. It is great to have a sewing speed of 1,000 SPM under a sewing machine coming under $250.
How many stitches are there in Necchi Q421A?
21 stitches styles are available in Necchi Q421A and you can select stitches of your choice by clicking the button. Stitches Length and Stitches Width is also adjustable. The maximum stitch length is 5.0 mm while the maximum stitch width you can use is 7.0 mm.
Is Necchi Q421A a Computerized or Mechanical Sewing Machine?
Necchi Q421A is a Mechanical Sewing Machine and it does not come with an LCD display. You have to operate it mechanically and can select stitches by dial. There is not even a single computerized feature in it, even a screen display is not provided.
What is the bobbin size of Necchi Q421A?
Necchi Q421A uses Class-15 Bobbin and bobbin winding is Manual. Necchi Q421A comes with a top drop-in bobbin but does not come with a dedicated bobbin winding motor.
Buy Now
User Reviews