Handi Quilter Moxie
Handi Quilter Moxie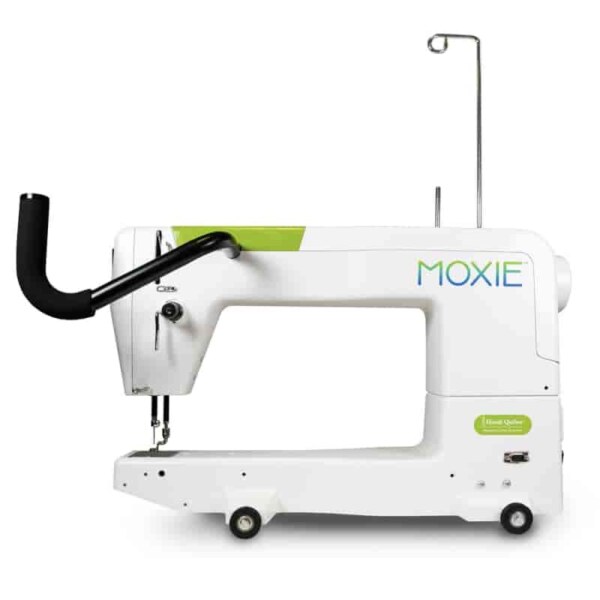 Stitching Speed

:

1,800 SPM

Availability

:

Yes, Online
Specifications
Body
| | |
| --- | --- |
| Body Material | Metal |
| Color | White |
| Dimensions | 24 × 24 × 24 in |
| Weight (lbs) | 60 lbs |
Quilting Features
| | |
| --- | --- |
| Quilting Frame | 8-foot (10-foot frame is optional) |
| Throat Space | 15 Inches |
| Stitching Speed | 1,800 SPM |
| Stitch Precision Mode | Yes |
| Basting Stitch | Yes |
| Stitch Cruise Mode | Yes |
| Front Handlebars | Yes |
| Rear Handlebars | Compatible (optional) |
| Low Bobbin Alarm | - |
| Needle Positioning | Adjustable |
| Programmable Front Handlebar Buttons | No |
| Programmable Rear Handlebar Buttons | No |
| Rear Screen Display | - |
| Rear Touch LCD | - |
Others
| | |
| --- | --- |
| Bobbin | M-Class |
| Bobbin Winding | HQ Bobbin Winder |
| Needle Threading | Automatic |
| LCD Screen Display | Yes |
| LCD Screen Size | 1.44 Inches |
| Touch Screen LCD | Yes |
| Thread Breakage Sensor | - |
| Number of Presser Feet | 2 |
| LED Lightning | Yes |
| USB Port | Yes |
| Warranty | 10 Years |
| Accessories | 3-Piece Leader Set, How-To-Quilt Kit, Accessory Kit with 5 bobbins, 20 needles, Pin-Point Oiler, Needle Threader, and, Side Clamps, Quarter-inch Ruler Foot and Open-toe Foot, Decorative Decals to Personalize Your Machine ,Stand-alone Bobbin Winder |
The very first thing to consider in a long arm quilting machine when buying a new or used is arm length. These machines are named as Long Arm Quilting Machines because of the size of their arm. But, the size of the arm is not fixed in every long arm quilting machine, it varies from one model to the other. The cheaper ones come with small length of their arm and you can get a machine with really a large arm if you have enough budget. Handi Quilter Moxie comes with 15-inch long arm and it is the best under its price range.
A professional quilter needs to have a machine that can produce steady and even stitches. A long arm quilting machine should provide you a professional quilting environment so a good stitching speed must be part of a good long arm quilting machine. The fast stitching speed means the more fast you can sew and finish your projects. Time and quality should be priority when you are working professionally so you should consider a long arm quilting machine with fast stitching speed. Handi Quilter Moxie offers you a stitching speed of 1,800 SPM (Stitches Per Minute) which is the best speed at this price. An average sewing speed from mid-range long arm quilting machine to most expensive long arm quilting machine is 2,000 SPM.
Stitch density is the number of stitches per inch. For quilting, dense means neat and tidy stitches. Handi Quilter Moxie offers you 4 to 18 SPI (Stitches Per Inch) which means you can create a neat quilt with this option. You can choose how dense or loose your stitches will be by adjusting the SPI to get perfect results when you are creating a decorative design.
The quilting machine is in a very technical design with many knobs and buttons which makes it hard to control. Sometimes you may confuse the controls and accidentally ruin your work. A touch screen computer display can help you move the fabrics easily. It is much easier to use and it is more durable so you don't have to worry about breaking it easily like other parts of the long arm quilting machine. Moxie has a 1.44″ inches full-colour touch screen that is easy to use but it is not a perfect screen display. Handi Quilter Moxie screen display could be improved a bit more.
The frame of a long arm quilting machine is important to ensure the sturdiness and strength. A good frame should be capable to hold long arm quilting machine from moving around when you are using it. The Handi Quilter Moxie is a quilting machine with 10 or 12-foot quilting frame and you can also buy an optional quilting frame of 12 if you want a bigger frame. With this quilting frame, this long arm quilting machine can hold a large fabric so you can work conveniently without moving your works frequently to prevent excess movement while working especially when working on delicate projects.
This is not just the end, Handi Quilter Moxie comes with M-Class bobbin which can hold more thread than a normal Class-15 or such other options. Do you want a bit of automation with some advance features? Well, here it is, it comes with a low bobbin alarm which alerts you whenever your bobbin is low at thread. You can also thread your needle by its Automatic Needle Threader which saves your time and enegy in threading this long arm quilting machine.
Moreover, you control your long arm quilting machine with the help of handlebars. And, Handi Quilter Moxie comes with Front Handlebars and on the front end of the bars, there are programmable buttons which seems quite handy in controlling the machine. Moreover, Rear Handlebars are also very convenient if you want to control Handi Quilter Moxie at its best and it does not come with these but the real handlebars are completely compatible with it and can be purchased separatly.
What is the price of Handi Quilter Moxie?
The price of Handi Quilter Moxie Long Arm Quilting Machine is $4,999 and you can buy one online at Amazon and SewingMachinesPlus.
What is the size of quilting frame of Handi Quilter Moxie?
Handi Quilter Moxie comes with 8-foot loft frame and if you want to use a longer quilting machine then there is an extension of 2-foot. By adding the extension you will have 10-foot quilting frame but you need to pay $495 more if you want to add that extension.
User Reviews